Analysts, commentators and sports writers have a lot to say regarding any lineup in the NHL. Every team has its own question marks and every front office strives to answer them with trades, free agency and player development.
Niklas Kronwall isn't a number one defenseman. Jonathan Ericsson is a pylon.
Mike Green is a defensive liability. Danny DeKeyser needs to do more.
Kyle Quincey makes too much. Brendan Smith makes stupid mistakes.
Jakub Kindl is useless. Why can't Xavier Ouellet or Alexey Marchenko just play?
Looking at these questions, it's fair to wonder if Detroit's defense can build off of an "over-achieved" 2014-15 season.
Kronwall had another solid season as the go-to defenseman for Detroit and put up an honorable 44 points (9 G, 35 A) while averaging a team high 23:50 minutes per game.
His partner, Ericsson, continues to get caught out of position and create defensive errors that often lead to penalties or goals against.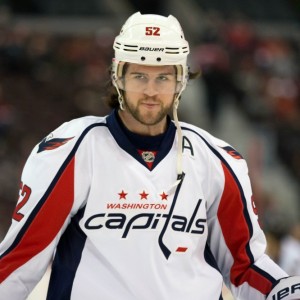 Green wasn't brought in to block shots and shutdown opponents but rather provide an offensive spark and keep the puck out of his own end with his smart sense and passing.
DeKeyser has come a long way since joining the team and is arguably the most solid of the bunch in his own end. He should continue to develop and learn while hopefully adding onto his 31-point total of the 2014-15 season.
He will be expected to bail his partner out when Green occasionally finds himself deep in the offensive zone.
Quincey and Smith are the largest questions surrounding the defense. While Quincey has comfortably found his role as a body-throwing shutdown defender, Smith continues to struggle to find consistency and levelheadedness when he is on the ice. Evidence provided below.
However, with Smith being given another two-years it shows that Holland still believes in Smith's potential and may think new coach Jeff Blashill can help with growing pains.
Then there is Kindl, who spent the entire 2014-15 season in Mike Babcock's doghouse. With 13 points (5 G, 8 A) in 35 games, the 28-year-old Czech would mathematically put up a modest 30 points in a full 82 game season. Perhaps Blashill has Kindl fitting into his plans. Perhaps not, in which case Holland should look to move Kindl's $2.4 million cap hit that is under contract for the next two years.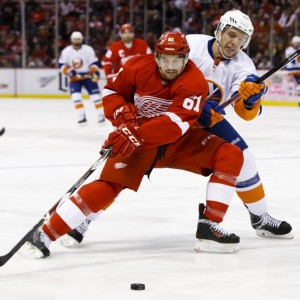 In regards to Ouellet and Marchenko, both players appear to be NHL ready and will fight for a roster spot in the coming season.
Neither will make the team as a seventh defenseman but rather making the team means taking away a roster spot from one of the top six.
Then of course there is also the free agent singing of Robbie Russo who signed a two-year entry-level contract with Detroit in mid-August.
It's possible that Russo makes the difficult leap from college to the NHL, which would mirror the path of DeKeyser who joined the Red Wings in 2013.
The difference between the two is that the New York Islanders selected Russo in the fourth round of the 2011 Entry Draft while DeKeyser went undrafted in his respective year.
This doesn't mean Russo is destined to be better than DeKeyser, but it does mean he had showed more promise during his draft year than DeKeyser had.
In all, there are questions of uncertainty that surround the Red Wings defense as well as the last line of defense with goalies Jimmy Howard and Petr Mrazek pushing each other for the starting role.
I offer opinions and insight on the Detroit Red Wings organization and its prospects.