He's always been very serious and very driven. I'm not at all surprised that he's reached his goal. I remember when he was a kid, and we'd watch Herning's games on video, and he'd ask about the technical and tactical details and the small things that make a difference…

– Frits Nielsen, Frans Nielsen's Father
Could there be a better combination of words and adjectives to describe Frans Nielsen?
Since stepping into his first NHL action during the 2006-2007 hockey season, Islanders fans have witnessed first-hand the progression that has made Nielsen into one of the best two-way forwards in the NHL. Employing a calm, focused, and stoic demeanor, Nielsen has been a staple in Islanders Country for several years now, and it is no secret that Isles fans far and wide adore their Danish Prince.
Possessing a quiet – yet unmatched – intellect, one could tell that Nielsen has honed his craft as a tactician throughout his lifetime. Working hard to achieve results, Nielsen climbed the Islanders' organizational ranks because of his work ethic and desire to improve his game in any way possible.
Although Nielsen's name might not have been recognized by Islanders fans until the pivot started to show his potential as an NHL player, his ability to stick with a developing product has helped in a variety of ways. Not only has Nielsen aided the maturation process of the younger Islanders as one of the Isles' "veteran" presences, he has also helped a fanbase realize that there are a new core of Isles players that are willing to restore New York's status as a powerhouse hockey organization – regardless of what the cost could be.
The Formative Years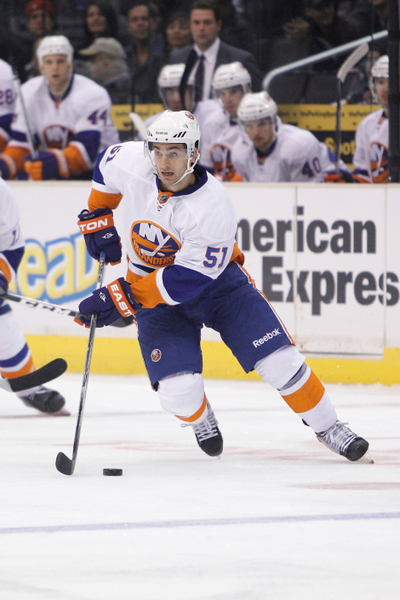 Frans Nielsen's path to the NHL was never a simple one. Playing for his hometown team (Herning), Nielsen piled on the points while playing in Denmark as a youth. Maintaining a near point-per-game scoring pace in Denmark, Nielsen found himself splitting his '01-'02 hockey season between the SHL (20 games) and SuperElit (29 games).
Despite the fact that Nielsen was registering almost a point and a half per night in the SuperElit league for the Malmö J20 team during the '01-'02 hockey season, the forward found the SHL to be much harder to crack offensively.
By the end of the '01-'02 hockey season, despite his relatively small sample size, Nielsen piqued the interest of Mike Milbury – who used the Islanders' 87th overall pick to draft the center. Even though Nielsen wouldn't see the Isles' lineup for several more years, the Danish forward kept working toward his end-goal as he kept getting more and more SHL games under his belt with every passing hockey season.
Sure, Nielsen wasn't able to eclipse 18 total points in a single SHL season, but the center's value was certainly on display for everyone to see once the playoffs rolled around. Appearing in 24 postseason games between Malmö's J18, J20, SuperElit, and SHL teams, Nielsen scored more than a point-per-game as he registered 28 points (18G, 20A) in all of his playoff contests while playing hockey overseas.
Similarly, Nielsen's excelled in other pressure-filled situations such as international tournaments. To put his success on the international stage into perspective, Nielsen failed to register a point in international competition just once while playing for his country. Representing Team Denmark in more than a dozen international tournaments, the forward was able to show just how well he could handle such enormous responsibilities.
Of course, using international tournaments – especially the WJHC – to judge a player's long-term worth can certainly be deceiving, but the fact that Nielsen was able to repeatedly perform on such a pressure-packed stage spoke for itself. Being a point-per-game player in about half of his international tournaments, Nielsen definitely stood out as a marquis name when representing Team Denmark. Not only did the centerman show his propensity for being a composed and reliable player during international play, he put on display the value that he would eventually bring to the NHL as a member of the New York Islanders.
Earning His Keep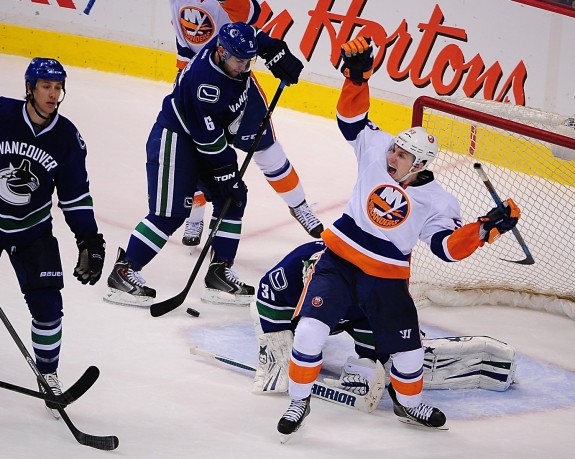 While Nielsen only played in 31 games for the Islanders between 2006-2008, the pivot was able to receive some quality developmental time with the Isles' AHL affiliate in Bridgeport. Playing in 102 games for the Bridgeport Sound Tigers, Nielsen scored 82 points (30G, 52A) for New York's affiliate – something that gave the Islanders organization a glimpse of what he could offer to a franchise going through a rebuild.
Starting with the 2008-2009 NHL season, Nielsen became a permanent fixture in New York's lineup. Despite the fact that Nielsen was not scoring at the same pace he was during past international competitions and postseason appearances overseas, the forward only kept improving with every passing season.
With his point totals gradually increasing each season, Nielsen quietly became a force to be reckoned with as he grew more comfortable with his role on the team. While Nielsen would be shuffled between the Isles' lines, the center never complained about line assignments or duties that he was placed on – regardless of how they impacted his offensive production and play-making abilities.
Perhaps Nielsen's disposition toward his hockey play was plain to see when THW caught up with the centerman at Barclays Center and asked him about prospects going through the Islanders' system and what they could expect in the near future:
For me it was just about trying to learn every day and working hard. Trying to be the hardest working guy out there and doing all the small things right, and when you do that usually you get success and the points will come. There are no shortcuts, it's hard work, and it's something that Garth Snow likes too – he was the same way when he played, he also had to work his way up. He liked it when guys would show that they want to be here [Islanders] and be down there [prospect pipeline] and get better, something that they'll be rewarded for here.
Embodying the Isles' current mentality under Garth Snow and Jack Capuano, Nielsen demonstrated the qualities that the Islanders' organization has been looking for in the players that they have drafted and hope to develop. However, what is most revealing about Nielsen's quote – and it goes back to the way that Frits Nielsen described his son – is the way that Nielsen pays attention to detail.
Being a tactician forces one to be an extremely cerebral individual, and that is something that Nielsen has mastered throughout his life. Wanting to do all of the small things right, Nielsen made it a point (through his quote) to show that doing the most remedial and menial of tasks will usually pave the way to one's success in the NHL.
For Nielsen, hard work comes first, then come the points – which are ultimately a byproduct of one's dedication to detailed play on the ice.
A Silent Motivator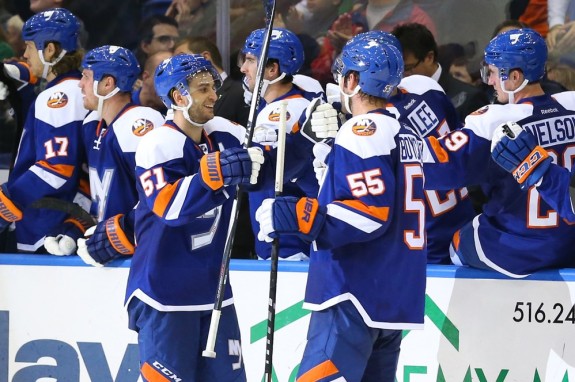 When one sees Frans Nielsen during a postgame interview, they might think that the center is somewhat of a subdued character in the Isles' dressing room.
Quiet in his demeanor, yet deeply expressive and detailed when talking or answering a question, Nielsen might not seem like the optimal option to be donning the "A" on his sweater for the Islanders, but honestly, is there anyone better suited to fulfill such duties?
Over the past several years, Nielsen has led the Islanders through his play on the ice. Of course, comparing Nielsen's scoring prowess to that of other New York forwards such as Kyle Okposo and John Tavares wouldn't be fair to the Danish center, but the pivot's two-way play is certainly unmatched.
Playing both sides of the puck without any hesitation, one can find Nielsen on the Isles' penalty kill year in and year out as his defensive acumen, spatial awareness, and hockey IQ allow him to be one of the most effective penalty killers in the league. In the same light, Nielsen's hustle also makes him a deadly option on the Isles' man-advantage. While Nielsen currently has four powerplay assists this season, the forward recorded more than a third (5G, 15A) of his total points (58) on the man-advantage during the '13-'14 NHL season.
Sure, Nielsen might not amass his points in a flashy way, but he certainly makes his points count. Throughout his career as a New York Islander, Nielsen has been paired with quite a lot of different teammates, but has treated them no differently from one another as he constantly strives to better those around him – especially his linemates.
A forward doesn't necessarily have to lead his team through stellar offensive play, and Nielsen is a testament to that type of mentality. Never placing himself on a pedestal or above the progress of the Islanders, Nielsen has developed into an all-around player that everyone in the Islanders' organization adores – and rightfully so as he is a coach and GM's dream player, one that can do most anything that is asked of him at the drop of a dime.
Carving A Niche
For many players in the NHL, carving a niche can be a difficult thing. Not everyone can fit in perfectly with a given team, but having a player that knows their strengths – and how those strengths help their team on the ice – is an asset in and of itself.
Not only has Nielsen been able to fit into the Islanders locker-room and culture in seemingly flawless fashion, he has also helped his team by knowing his strengths on the ice. Utilizing solid vision and timing, Nielsen has made a name for himself as a multi-faceted player.
Finding himself in a variety of situations – from even-strength to shorthanded to the man-advantage – Nielsen has become a player that Islanders' head coach Jack Capuano can use under almost any circumstance.
While Nielsen has been able to display his dependability in a multitude of game situations, what has distinguished the Danish forward from his competition has been his absolutely spectacular conversion rate in the shootout. Converting on 56.9% of his attempts in the shootout, Nielsen has been an absolute gem for the Islanders in the shootout.
Sure, breaking in alone allows a skater a great amount of possibilities to beat the opposing netminder, but one cannot expect to beat an elite-level goalie with an average move. When the whistle blows in the shootout and Frans Nielsen breaks in, one can see the hand and stick-work required in order for the pivot to perfectly set up his patented backhand.
But don't take my word for it, just watch this lengthy tribute to Nielsen for yourself below as it has plenty of examples of his prowess in the shootout:
Make no mistake of it though, Nielsen isn't one to become complacent despite having an immense amount of success with his backhanded shot. Yes, Nielsen's backhander is his bread and butter in the shootout – or when on a breakaway – but the forward, true to his diligent and technical nature, has also added other moves to his repertoire in order to keep opposing goaltenders guessing all the time.
Gauging His Worth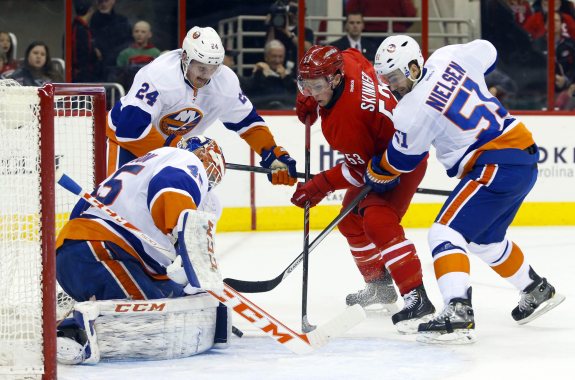 For a team going through a full-scale rebuild, the New York Islanders sure lucked out when it came to keeping drafting someone like Nielsen, and keeping him in the organiztion – a remarkable feat given some of Mike Milbury's impulsive trade decisions.
Nielsen has been nothing short of a team player and has never put himself above the team's success – regardless of seeing some hard times that would have probably soured or discouraged players of a different mental composition. Of course, John Tavares, Kyle Okposo, Travis Hamonic, and other players have made – and will continue to make – the transition from their respective developmental stages to the Islanders, but Nielsen has somewhat transcended a simple developmental process.
As previously mentioned, Nielsen embodies the type of character that Garth Snow is trying to build the Islanders around. With the upper echelon players shouldering their end of the workload, individuals such as Nielsen provide a perfect example to the younger generation of Islanders who will one day hope to be in New York's lineup.
Nielsen's demeanor inside the locker-room and on the ice is one that future Islanders hopefuls could use as a blueprint to success. Superstars such as John Tavares come around every once in a while in NHL drafts – and the teams that select such players should count their blessings for such an opportunity – but not every player can perform up to such standards.
Frans Nielsen might not be a superstar center in the NHL, but he is definitely a player that makes his teammates' jobs that much easier by sticking to the role that he is asked to fulfill and/or needs to play.
Sticking to a hard-nosed work ethic and an unrivaled determination, Nielsen has not only endeared himself to the Islanders' front office, he has also become a model of New York's new identity – a value that just cannot be quantified or measured. No longer are the Islanders a group of mercenaries scratching and clawing their way into the playoff bubble.
Instead, led by character individuals such as Nielsen, the Islanders have become a united core of players – ones that simply will not put themselves above their teammates or the ultimate goal, winning Lord Stanley's Cup.
In his third year with The Hockey Writers, Toli covers all things related to the New York Islanders. Focusing on the Islanders, the NHL Draft & draft-eligible prospect goalies, and hockey history, Toli can be contacted on Facebook by searching/messaging Toli Metter and on twitter by searching @ToliMetterTHW.