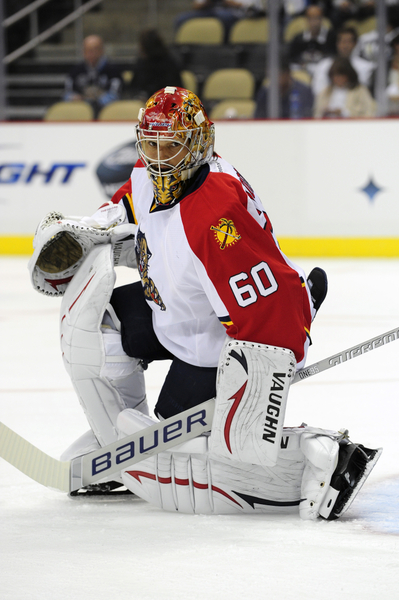 The Florida Panthers have a problem!  That problem is with the goal-tending position. During the off-season the Panthers brought veteran, Jose Theodore to South Florida to lead the team to what fans hope will be a playoff season.  While most Panther fans were disappointed to see fan-favorite, Tomas Vokoun head to Washington, the Panthers seem to be facing a new dilemma.  Backup goalie, Scott Clemmensen has been out after having minor knee surgery.
Insert, Jacob Markstrom.   Last week, vs the Islanders, Theodore faced 10 shots in the first 40 minutes then cramped up.  Markstrom came on in relief and stopped all 18 shots that he faced.  Two days later, Markstrom got the start vs Montreal.  He stopped an impressive 40 shots in a 2-1 win.
Theodore was back in after that game in Saturday's 3-2 win over Buffalo.  All of a sudden, it looks like we may have a battle for the #2 spot…and arguably the #1 spot!  Coach, Kevin Dineen stated "we have two guys playing extremely well."  Theodore stated "I was so happy to see Jacob get in there and do so well…one of my jobs here is to help him and try to mentor him the best I can."
So, how do these guys compare so far?
Well, after 12 games, Theodore has 8 starts, a record of 4-2-1,  with 20 goals against and a .910 save %.
Markstrom has 4 starts, a record of 2-2-1 with 9 goals against and a .940 save %.  That's 3rd best in the NHL, by the way!
Tonight, cross state rivals, the Tampa Bay Lightning will be in town.  The Lightning have been hot, winning 5 of their last 7 games.  However, the Cats are 16-3-3 against Tampa Bay at the BankAtlantic Center since the 2005-06 season.  It looks like Theodore is getting the nod for tonight's start.  It will be interesting to see how he performs and how things will play out with Clemmensen's pending return.  Needless to say, this is a surprisingly good "problem" for the Panthers to find themselves in!