Did you work late last night? Did your significant other make you run errands while the game was on? Did your dog chew off your TV cable wires?
Have no fear – THW's Monica McAlister has your back, covering everything in the hockey world from From Abdelkader to Zuccarello every morning. Check in daily to quickly get up to speed on all things hockey – recaps, storylines, videos and great links.
While You Were Sleeping
Nashville Predators 4 San Jose Sharks 3 (OT)
Dallas Stars 5 Carolina Hurricanes 2
Tampa Bay Lightning 4 Florida Panthers 3 (SO)
Vancouver Canucks 6 Chicago Blackhawks 2
Calgary Flames 2 Colorado Avalanche 1
Up into the Netting
Money Money Money! Nashville's Rinne gets his money, but did the Predators doom themselves?
Movember Tribute to the Best Mustaches in the NHL.
And a happy birthday to defenseman Mike Commodore.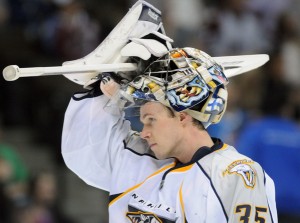 Top Spots:
Points: Phil Kessel – Toronto (21)
Goals: Phil Kessel – Toronto (10)
Assist: Denrik Sedin – Vancouver (13)
Plus-Minus: Tyler Seguin – Boston (10)
GAA: Martin Biron – NYR (0.95)
Save Percentage: Josh Harding – Minnesota (0.965)
Wins: Kari Lehtonen – Dallas (10)
Shutouts: Pekka Rinne – Nashville (3)
Northwest: Edmonton Oilers
Pacific: Dallas Stars
Central: Chicago Blackhawks
Atlantic: Pittsburgh Penguins
Northeast: Toronto Maple Leafs
Southeast: Washington Capitals
Face-Off
7:00 p.m. EST
New York Islanders at Boston Bruins (Versus)
10:30 p.m. EST
Los Angeles Kings at San Jose Sharks
An avid hockey lover that grew up in Michigan and lived in the Washington D.C. area while going school for Sports Management. Volunteer with the American Special Hockey Association (ASHA); and follows as much SM-liiga and Elitserien as possible along with the vast array of North American leagues.