OHL HONOURS TOP PERFORMERS OF THE MONTH OF OCTOBER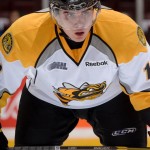 The OHL announced earlier in the week that Nail Yakupov (Sarnia Sting), Dougie Hamilton (Niagara Ice Dogs), Artur Gavrus (Owen Sound Attack) and Brandon Maxwell (Sarnia Sting) were the top forward, defenseman, rookie and goaltender (respectively) for the month of October. Read more over at the Official OHL Website. Video highlights available for viewing here.
THE HOCKEY GUYS' 2012 NHL DRAFT RANKINGS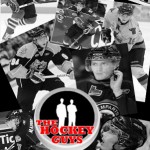 Yours truly and credentialed OHL writer Todd Cordell released our collaborate of the Top 30 Rankings for the 2012 NHL Draft. Head on over to The Hockey Guys website and download our attractive guide. Our rankings will be updated monthly over the course of the year.
MISSISSAUGA DRAWS EMPTY SEATS
The attendance at the Mississauga St.Michael's games is downright pitiful. Go ahead and check out the picture of the turnout for Sunday's game versus Bellville. There is no excuse for the lack of support this good team receives from its fan base. The Majors are not a bad team as they currently sit at a 10-5-1-2 record and were ranked 5th in the latest CHL Rankings.
@Sunayas tweeted during Sunday's game versus Belleville,
"Legendary Bulls broadcaster Jack Miller (@Sportscouncilor) just guestimated the crowd at today's Majors game at 500 for his listeners."
BREAKING NEWS: OSHAWA GENERALS MAKE COACHING CHANGE 
Nick Kypreos (@RealKyper) tweets,
#OHL news. Oshawa Generals will announce Gary Agnew as new head coach as early as today. Chris DePiero will now handle GM duties only.
The Oshawa Generals had high expectations coming into the 2011-12 OHL Season (my favourite in the East), and with a 8-10-0-2 record and fourth place standing in the East Division, General Manager Chris DePiero decided to make a change.  DePiero will step down as head coach and take on the sole responsibility of General Manager.  It's expected that Oshawa will announce Gary Agnew as the new Gens head coach. Agnew was previously in the NHL for the Columbus Blue Jackets as their assistant coach and has also coached for the London Knights (OHL), Kingston Frontenacs (OHL) and Syracuse Crunch (AHL).
MOVE-ember: THE OHL TRADING FRENZY
Thomas Wharry breaks down all the OHL trades that broke earlier last week in his "MOVE-ember" article and touches on some possible deals that could happen in the upcoming weeks.
 KIRK'S CALL:  CONFIDENT HAMILTON TEARING IT UP IN OHL
Kirk Luedeke, Bruins specialist and prospect guru, recaps Dougie Hamilton's strong start to the season and touches on Hamilton's chances of making the World Junior team.  As we all know, Hamilton was the final piece of the Phil Kessel trade and the Boston Bruins used the Leafs first round pick to select the big defenseman from the Niagara Ice Dogs.
SPITFIRES COMMIT TO REBUILD FOR MEM CUP in 2014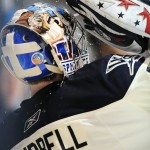 It's no secret that the Windsor Spitfires are going to make their bid as hosts for the 2014 Memorial Cup and General Manager Warren Rychel made the decision to kickstart the rebuild by trading away two valuable players. The three Spitfire trades last week are deals that will help Windsor rebuild for the 2014 Memorial Cup in hopes of icing a competitive team.
Spits trade Campbell, Kuhnhackl for four players, 10 draft picks
Jack Campbell has made his debut with the Greyhounds and earned a 3-2 win. Good article by Neate Sager about Campbell's nervousness of playing in his first game with his new team.
SUBWAY SUPER SERIES COMES TO ONTARIO THIS WEEK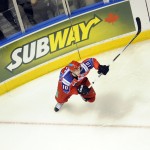 The SUBWAY Super Series gets underway tonight when Team Russia heads to Victoriaville to take on Team QMJHL. The Super Series features top prospects (both drafted to the NHL and not) from the junior hockey circuit in Canada. The Russians will make their stop in Ottawa on Thursday as Nail Yakupov and his teammates face off against Team OHL. Every Ontario Hockey League player is represented in the 6-game series whether it be on the roster of Russia or Team OHL. Read more here.
The Russians have arrived (Video Preview)
KUHNHACKL ARRIVES IN NIAGARA BUT MAKES AWFUL DEBUT; MURPHY INJURED
Tom Kuhnhackl was acquired from the Spits last week in a trade that sent the rights to Phillip DiGiuseppe and Jaroslav Pavelka to Windsor (plus four draft picks). In his debut for Niagara, Tom Kuhnhackl laid a punishing head check on Carolina Hurricanes' top prospect Ryan Murphy. It was a play that would earn Kuhnhackl a 5-minute major and a game ejection, but the German forward also injured himself on the play. With David Branch handing out suspensions like it's candy on Halloween you can expect Kuhnhackl to receive a heavy suspension when the league meets this week (my guess is 15-20 games).
Kuhnhackl hit on Murphy (Video).
Murphy out indefinitely with concussion (FC Article)
2012 NHL DRAFT: PROFILES & MORE
NHL.com writer Adam Kimelman shares his recent story "Seven to Watch: Top OHL prospects for 2012 Draft". The players highlighted are hard to argue but for all those prospect junkies out there who love Mock Drafts might find some debates in Kimelman's mock draft. You can also find mock drafts from Mike Morreale and Steve Hoffner over at NHL.com. Personally, I love reading Mock Drafts but I find it way too early to be posting mock drafts after only 12 NHL games. In saying that, it's always fun to speculate and these mock drafts might help others get familiar with some more unknown draft prospects.
Gemel Smith (F) – Owen Sound Attack (2012OHLDraftEligiblePlayers)
Nick Ebert (D) – Windsor Spitfires & Sergey Kuptsov (F, 2013 Eligible) – Mississauga Majors (InTheOBlog)
"Jesse Graham prepares for NHL Draft" – Jeff Blay of The Good Point gets a closer look at the smooth skating defenseman, Jesse Graham, from the Niagara Ice Dogs as he eyes the first round of next year's NHL draft.
Hot off the Press…"2012 NHL Draft Get-to-Know Jarrod Maidens" – Hockeybuzz's Brian Huddle gets personal with Owen Sound Attack forward Jarrod Maidens in his Q&A.
The Hockey Writers own Christopher Ralph with the first "Next Ones" release for the 2012 NHL Draft –  Nail Yakupov -The Next Ones: NHL 2012 Draft Prospect Profile.  I have had the priviledge of writing for "The Next Ones" series and look forward to contributing again this season.  Be sure to read the Nail Yakupov profile.  He's going to be a superstar!
OHL WESTERN CONFERENCE UPDATE
The Scouting Report shares its views on four 2012 NHL Draft Eligible players competing in the OHL's Western Conference.
GETTING TO KNOW GREYHOUNDS YOUNG GM @KyleDubas
Faceoff.com has a very interesting read on Kyle Dubas' rise to the second youngest OHL General Manager in league history. Go ahead and get to know the talented Dubas in "Age a non-factor for young OHL GM".
OHL SIGHTS & SOUNDS
OHL News Radio Edition
Terry Doyle speaks with Jamie Oleksiak (Saginaw Spirit, Dallas Stars' prospect) and George Burnett (Belleville Bulls Coach.GM) in the latest edition of OHL News Radio.
OHL Media Guide
The Ontario Hockey League has posted their annual Media Guide containing information on players and organizations of all twenty OHL Teams. Download the free PDF file.
VIDEO: Best Goals of October Available for Viewing HERE (Ryan Strome, Brandon Saad, Jordan Subban plus more)
VIDEO: Sean Monahan (2013 NHL Draft Eligible) Video Compilation

FIGHT: Greyhounds Alex Morgan vs. Frontenacs Derek Froats (Friday, Nov. 4th)

LONDON KNIGHTS RETIRE COREY PERRY'S #94 JERSEY
The London Knights honoured star NHL forward Corey Perry by retiring his number 94 jersey Friday night in a ceremony that got really emotional for the reigning NHL Hart Trophy winner.

BUZZING THE NETS' DYNAMIC DOZEN
Neate Sager provides us with his Top 12 Canadian Hockey League teams and this time around there are only two OHL teams. Sager's Dynamic Dozen uses a Ratings Perceived Index (RPI) that factors in team records based on the strength of their opponents. Interesting quote regarding the Sarnia Sting,
"This does not happen often: three times on Saturday, the Sting scored against the Guelph Storm only to give up a goal in return within a minute."
As an avid Sarnia Sting follower, I can confirm that this franchise has been giving up quick goals following their own goals for what seems like forever. It's laughable at times.
OHL RINK RATINGS
I stumbled across this site today and wanted to share it with other OHL fans as it provides us with a great resource. Kevin Jordan is a London Knights' fan who has developed an OHL Rink Ranking as he travels across Ontario rating arenas in the areas of Atmosphere, Architecture, Interior Layout/Design, Seating, Scoreboard, Arena Employees, and Facilities. Check it out to see where your rink was ranked.
OHL LEADING SCORERS
TOP OHL SCORERS (ending Monday, November 7th)
1. Tanner Pearson (Barrie Colts): 17GP-13G-24A-37P
2. Nail Yakupov (Sarnia Sting): 18GP-12G-23A-35P
3. Colin Behenna (Barrie Colts): 17GP-11G-22A-33P
TOP OHL DEFENCEMEN SCORERS
1. Dougie Hamilton (Niagara Ice Dogs): 17GP-8G-17A-25P
2. Cody Ceci (Ottawa 67's): 17GP-5G-13A-18P
3. Alex Basso (Sarnia Sting): 18GP-3G-14A-17P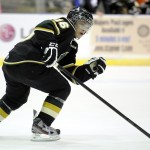 TOP OHL ROOKIE SCORERS
1. Max Domi (London Knights): 18GP-8G-11A-19P
T2. Artur Gavrus (Owen Sound Attack): 19GP-8G-8A-16P
T2. Patrik Machac (Brampton Battalion): 18GP-5G-11A-16P
OHL PLAYER OF THE WEEK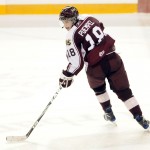 The Ontario Hockey League has announced that Peterborough Petes' forward Matt Puempel is the OHL Player of the Week  (ending Sunday, November 6th) as he finished the week with 4 goals, 6 points and a plus-6 rating.  The Ottawa Senators' 2010 first round round selection has 20 points in 18 OHL games this season.  You can catch Puempel in action on Thursday night in Ottawa when he suits up for Team OHL in the Subway Super Series (on Rogers Sportsnet).
My passion for the game has led me to writing about hockey, specifically dealing with the future of hockey and it's prospects.
You can find more of my work at DobberProspects.com, TheHockeyGuys.net and OHLWriters.com
Outside of the rink, I enjoy spending time with my friends, golfing, kayaking and fishing as well as competing in several of my own hockey leagues.
If you so do choose, please feel free to follow my thoughts and work on twitter @RossyYoungblood