Jim Neveau, Senior NHL Columnist
With the third lowest salary cap commitment in the league, the Nashville Predators are a team that has certainly made a habit of living successfully on a frugal budget. General Manager David Poile is widely considered to be one of the savviest executives in the game, and Nashville's track record with him on board has been a solid one, with six playoff appearances to his credit and the team's first playoff series victory last year against the Anaheim Ducks.
The success that this team has had over the years has been due in large part to a reliance on defense, which traditionally comes with a less expensive price tag than a team loaded with offensive juggernauts, and the Predators' identity has been firmly established in this area. They are blessed with arguably the best defensive tandem in the league with Shea Weber and Ryan Suter manning the blue line, and they also have one of the most gifted goaltenders in the league in Pekka Rinne. Those three are more responsible for the Predators' successes and failures than any other player on the roster, and after a few years of lower salaries, their incomes are starting to go higher because of it.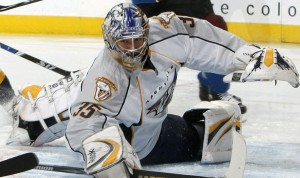 Last off-season Weber was the first in the group to really hit a nice jackpot, as he was awarded a 1-year, $7.5 million contract in arbitration. Weber had requested $8.5 million, and the team had reportedly offered him $4.75 million, a laughably low amount for a perennial Norris-contender. The arbitrator saw that the trend in the league is to pay huge amounts of money for top-tier defensemen, and Weber was certainly paid like one after that. The Predators will now have to re-sign him at the end of the season when he hits restricted free agency again, and his salary might jump a little at that point as well.
As for Suter, he will be an unrestricted free agent at season's end, but with the cap space the Predators have, they surely would have been able to afford a raise from his $3.5 million that he's making this season. That is, until they made a huge splash on Thursday afternoon and inked Rinne to a massive 7-year $49 million contract. He was in the final year of his contract with the club and eligible for free agency July 1st, but the team avoided that and made him the highest paid goaltender in the league.
The initial reaction to the news of Rinne's signing was that it was a smart move for the team from a PR perspective. Having a franchise goaltender that's as good as Rinne is good for the morale of the fan base, and inking him shows a commitment to winning and to keeping the core of the team intact. This off-season was going to be shaping into one of trepidation for fans in Nashville, but they are now 1/3rd of the way toward having their nerves fully soothed.
Unfortunately, this deal doesn't make a whole lot of sense from either a financial or hockey standpoint. There is absolutely no arguing that Rinne is one of the top goaltenders in the game, but is he really worth that much money, especially considering that both Weber much of a threat to go anywhere, but Poile and the Preds' brass has now made it interesting to see whether or not the team will part from its spend-thrift ways to keep Suter in the fold for the kind of money he is going to command.
After all, Suter is heading into a free agent market that once again will be heavily diluted by teams keeping their key players. Last year, guys like James Wisniewski were huge beneficiaries of this trend, with guys like Brent Seabrook and Kevin Bieksa re-signing with their clubs. This year the pickings are just as slim, so a guy like Suter is going to be able to demand a premium price, despite the fact that he doesn't have the offensive chops that teams seem to covet in spending big bucks on blue liners.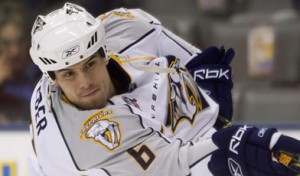 In the same vein of hockey trends, teams are also moving away from spending big bucks on free agent goaltenders. With exceptions like Ilya Bryzgalov heading to Philadelphia last year, teams just aren't as willing to put that much money into that position, and the past few years are littered with examples of players who found themselves ostracized because of their contract demands. Antti Niemi won a Stanley Cup with Chicago in 2010 and was let go even though he would have only commanded a $2.75 million salary in arbitration. Both Tomas Vokoun and Evgeni Nabakov went into July 1st as the best goaltender available on the market, and Nabakov ended up in Russia instead of the NHL, and Vokoun is essentially playing for a song in Washington this season.
Needless to say, NHL General Managers are spending more time, energy, and money into building an effective blue line corps, and the players that are being affected most adversely by this are goaltenders. Therefore, it could be logically thought that they would have less leverage, especially in light of some of the garbage contracts that teams are faced with now, notably the deals of Roberto Luongo and Rick DiPietro.
Instead of taking advantage of this, Poile played right into Rinne's hands and made him the highest paid goalie in all the land. While there's no question that the 29-year old is one of the top netminders in the league, there is little reason to suspect that any team would have come close to ponying up $7 million for him. Dale Tallon might have made a run at him in Florida, and teams like Winnipeg and New Jersey (if Martin Brodeur retires) could have been in the mix, but none for that type of money.
What's also baffling is that the Predators are a team that is custom built to just throw a solid guy in net behind their stellar defense, and yet they chose to potentially sacrifice re-signing Suter to bring back Rinne at that price instead. Teams like Chicago and Phoenix jettisoned their star goaltenders and are still thriving thanks to their defensive philosophies, and Nashville has been doing the same thing for years as well. Guys like Vokoun, Dan Ellis, and Chris Mason have all looked solid while wearing Predator colors, and yet none of them even got a sniff at a contract nearly as large as the one given to Rinne.
Besides the impact it could have on the team bringing Suter back, the signing of Rinne to such a lucrative deal could have an adverse effect on the team's relationship with Weber. After being low-balled in negotiations last season, Shea and his camp are likely going to make all sorts of noise about getting a long-term deal of their own, but at a higher rate than the one Pekka got. A salary of between $8 and $8.5 million isn't out of the question, and it may be better to just pay Weber his long-term money than to risk having him become a malcontent with another one year contract after this season.
Overall, this move by Nashville seems like a rare misstep for a regime that has been noted for its successes with a smaller set of resources. Barry Trotz and Poile have really made the team what it is today, and fans in Tennessee have to hope that the Rinne signing isn't one that comes back to bite them later on down the road. The team certainly got its franchise goalie locked up, but could the cost be too high? Only time will tell.
James started out for The Hockey Writers covering the Atlanta Thrashers in 2009, and has also covered the Chicago Blackhawks, served as NHL Correspondent, and is now a Managing Editor and the site's NHL Central Blogger. He also writes for The Golf Writers.