With 12 goals and 16 points, Anders Lee has been one of the lone bright spots on what has been a sub-par season for the New York Islanders. On pace to eclipse his personal record of 25 goals, Lee has turned it up at a time when the Isles need offense. Trying desperately to stay afloat in the highly-competitive Metropolitan Division, Lee has been a savior of sorts.
What Went Wrong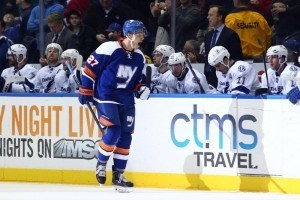 Last season, Lee was snake-bitten. He couldn't buy a goal. But he was still a presence in front of the net, even if the results weren't there. This season, through the first 20 or so games, Lee seemed reluctant to return to the goal crease. And would you blame him? A Johnny Boychuk shot to his leg ended his season last year, and Lee needed time to get back to the style of play that made him a regular in the NHL. But it's not like the Islanders didn't try everything they could to get Lee going. The fact that he has played with eight different players is a testament to his struggles this season.
What Went Right
Lee has scored seven goals in his last ten games. More importantly, the goals came against teams like the Boston Bruins, St. Louis Blues, Chicago Blackhawks, Detroit Red Wings and Ottawa Senators. If the season ended today, four out of those five teams would be headed to the Stanley Cup playoffs. Even better, Lee has found chemistry with Josh Bailey and John Tavares, the Islanders' most productive offensive players.
During his 25-goal rookie season, Lee got into the dirty areas, where a player of his size needs to be in order to contribute. He often scored goals that were a tribute to his grit, hockey smarts and size and not his shot. During the last few weeks, Lee has returned to the front of the net, but he's also showcased his speed and shot. He's taken advantage of two-on-ones and put himself in the proper place to score. That's something you can't teach a hockey player. It's something Lee has always known. He just had to remember it.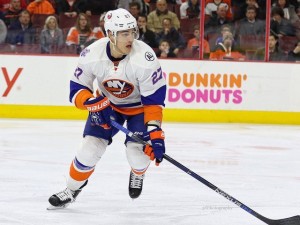 Lee's resurgence came at exactly the right time. With an injury to Casey Cizikas, Brock Nelson was forced back to center the second line, away from Tavares and Bailey. But with Lee's reinvigorated play, the Islanders may have their best first line combination of the season. Although it's not on par with what could have been had the Islanders not waived PA Parenteau before the season and had Andrew Ladd produced to his abilities. Still, it's the best trio the Islanders could possibly have right now.
Can Lee Stay Nuclear?
Playing with Tavares and Bailey is Lee's best bet to stay productive. If he stays hot, there's no reason why he won't score 30 goals for the first time in his NHL career. While the Isles may not make the playoffs this season, Lee's hot play will provide the Islanders with the offense that left with Kyle Okposo. That, at the very least, has to be enough to make Lee's season a successful one.