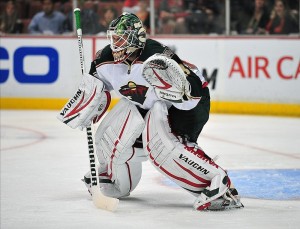 Most teams in the NHL have a solid staring goaltender that they count on to be in net for the better part of the year. The Minnesota Wild must not have gotten the notification that this was the normal way to go about things.
Last year, the team went through five different goalies in one season. Injuries plagued the team with Niklas Backstrom exiting early in the season, Josh Harding having to sit out most of the year due to multiple sclerosis, and Darcy Keumper later suffering a head injury during the post season.
Towards the end of the year, the club relied heavily on Ilya Bryzgalov, who the Wild signed at the trade deadline. Luckily for Minnesota, the Russian netminder came up big for the team and helped propel them into the offseason.
Let's also not forget to include John Curry, who started in net twice during the 2013-14 season.
This season doesn't look to be any different than the last. Minnesota has Niklas Backstrom signed through the 2015-16 season, while Harding, Curry, and Johan Gustafsson have been signed through this year. The team is also said to be working on resigning Kuemper, although he has reportedly been difficult.
This leaves the Wild with four to five solid starting goaltender options and a difficult decision.
The Choices Are Endless
If it were up to me, I'd say the Wild would probably benefit from organizing some sort of Hunger Games-like competition in order to choose a starting goalie. Each backstop has some positives and some negatives, and each of them have a different style of play, but they've all been consistently good when healthy. This makes deciding which three to keep and who gets to start an even more difficult task.
Does the team go with a veteran like Harding or Backstrom, but risk getting plagued by injuries and having to scramble mid-season? Or is the smarter option to select a younger player like Curry and hope he can handle playing in the big leagues? Or should they all just be thrown into some crazy goalie challenge and whoever comes out alive gets the job? Who really knows how the choice will be made, but regardless, I've compiled some pros and cons to each goaltender below.
The Veterans
33-year old Niklas Backstrom has been with the Wild for going on nine years. This definitely makes him the veteran out of the goalie group and may give him an advantage in the eyes of coach Mike Yeo. On the plus side, Backstrom knows the organization, the team's style of play, and his presence can provide leadership for some of the young guys. On the other hand, the Finn is prone to injury and may not make it through an entire season healthy.
Minnesota fans have also expressed displeasure with Backstrom recently. Many feel it's time for him to go and give the new guys like Kuemper, Curry, and Gustafsson a chance. I can't say I disagree with them. After the past few seasons, it is hard to have faith that he can support the team and remain the franchise goalie. Nonetheless, he's signed for another two years, so the team might as well make use of having him around.
The Wild also have the option of going with a more experienced goalie and choosing Josh Harding. Everybody loves Josh Harding's story. The Skaskatchwan native battled MS early last season but somehow managed to have an absolutely incredible start, going 18-7-3 with a 1.65 GAA in 29 games before he was sidelined by illness.
Harding is an inspiration, a fan favorite, and a solid goaltender. On the ice, there aren't many negative things to say about his play. However, the Wild need to take into consideration that Harding may not be able to play next season. It's a gamble selecting him as the starter for this season, but if he can stay healthy and play like he did last year, the payoff would be huge.
The Young Guns
The Minnesota Wild definitely don't have a shortage of talented, upcoming goalies. Johan Gustafsson, John Curry, and Darcy Kuemper – if he resigns – are all examples of the depth in goal that the club possesses. Even without Kuemper, the Wild have a strong core group of young netminders.
Although he only started twice in net for the Wild last season, John Curry showed promise and could become a regular in the team's goalie rotation. The Boston University grad had one win in his short stint with the team, but obviously impressed Chuck Fletcher enough to earn a contract through the coming season.
Swedish goalie Johan Gustafsson has yet to show off his skills in the NHL, but he's proven he has talent during his time in the Swedish Hockey League. For the past two seasons, Gustafsson has played with Lulea HF, as well as the Iowa Wild in the AHL, where he posted impressive numbers. In 33 games with Lulea, the 22-year-old worked his way to a 1.70 GAA and .933 SVS%. He may have some older, more experienced compitation, but Gustafsson could be a solid fit for the team this season.
The Wild may also have Darcy Kuemper as an option, if he resigns. Contract negotiations between the club and Kuemper have reportedly been moving quite slowly and not much progress has been made. However, this is similar to how things went when Kuemper signed his entry-level deal with the Wild three years ago, so it's still completely possible he resigns in the near future.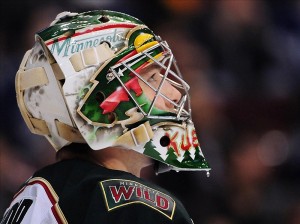 The Final Three
The Wild are said to be considering carrying three goaltenders on this year's roster, and if that ends up being true, they have to eliminate two goalies within the next month or so.
In my opinion, Backstrom and Harding are in without a doubt. These guys have experience and it would be a slap in the face to both of them if they were not included on the starting roster. If this is the case, that leaves one spot open and three goalies fighting for it.
If Kuemper resigns, my guess is he'll fill the third spot. He played exceptionally well when the Wild needed him to come up big last year. Although he's only 24 and probably should still be in the minors getting a bit more experienced, last season he proved he can indeed play at an NHL level and do it well. Kuemper played six playoff games for the team and was probably a big part of why the team made it as far as they did, as well.
Nonetheless, the Wild may not even have Kuemper as an option when the season starts.
If this is the case, I'd assume the team would go with Backstrom, Harding, and Curry. Curry has a bit more experience than Gustafsson and is also older. Gustafsson, at 22, still has a lot of learning to do and would most likely benefit from another season or two in the minors. There's no point in rushing a good thing when other options are available.
On the other hand, if Kuemper agrees to a deal with the Wild, he will undoubtedly fill the third spot in the rotation with Backstrom and Harding.
The Waiting Game
With all of this being said, there's honestly no way to accurately predict how the Wild's goaltender situation with turn out. This team always seems to have a complicated time with its goalies, so for now we'll just have to keep our fingers crossed that it all works out and wait until October to see how things play out.