The Calgary Flames haven't made the playoffs since 2008-09 and it doesn't look like they'll be returning to the postseason anytime soon. Brian Burke and company are, however, starting to draft really well and select players who will be the future for this team. As it stands right now, the Flames have a great blend of prospects at every position. In the next few seasons they should be getting a chance to prove their worth in the NHL. Here are the top five prospects for the Calgary Flames.
Criteria:
Skaters can not have played more than 42 games.
Goalies can not have played more than 25 games.
5. Jon Gillies – NCAA – Providence – G
Since Mikka Kiprusoff left the Flames, the goalie carousel in Calgary has been shuffling through netminder after netminder. They were able to sign Jonas Hiller in the offseason, but the likely goalie of the future will be Jon Gillies out of Providence College. After two seasons in the USHL, Gillies was drafted in the 3rd round of the 2012 draft. The big man between the pipes has gone on to be one of Hockey East's most polished goalies. At 6'5″, Gillies moves very well side-to-side and forces players to beat him up top since he covers the majority of the bottom half of the net. With Hiller backstopping the Flames for the immediate future, Gillies will probably head back to Providence to help lead them to a Frozen Four berth.
4. Emile Poirier – QMJHL – Gatineau – RW/LW
A 1st round pick in 2013 for the Calgary Flames, Emile Poirier picked up right where he left off this season. Faster and stronger, Poirier went on a torrid scoring pace this season for the Gatineau Olympiques of the QMJHL. He scored 43 goals and added 44 assists this season all while finishing the year a +30. The dangerous, speeding winger from Montreal still has a few years to go before reaching the NHL, but he's already showing signs of being a catalyst in the offensive zone.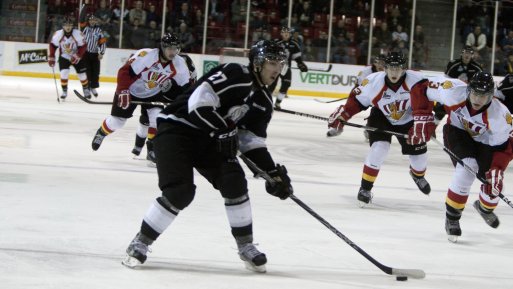 3. Tyler Wotherspoon – NHL – Calgary – D
Tyler Wotherspoon spent three season with the Portland Winterhawks honing his game to where it is today. He spent most of last season with the Abbottsford Heat of the AHL and was able to play 14 games for the Calgary Flames. THW's Ryan Pike has seen Wotherspoon's game develop over the last few years and he's been enamored with his play. He mentioned:
"He's an extremely reliable defensive defender that has translated to the pros well in first year out of junior. He showed some surprising offensive upside during 14-game stint in Calgary and probably is the most likely AHL defender to graduate to the big league."
2. Johnny Gaudreau – NHL – Calgary – LW
One of the most undersized players in the league, Johnn Gaudreau was a standout at Boston College. He had to find ways to beat the much larger players that the NCAA develops, so he used his quickness and shifty hands to get out of trouble and reek havoc for goalies. This past year, Gaudreau scored a whopping 80 points and ran away with the Hobey Baker.
After signing an entry-level contract, Gaudreau will have to earn his spot on the Calgary Flames during training camp. The NHL can be a punishing league for smaller players. Therefore it might be better to get some experience in the AHL and add some weight to his scrawny frame before making the jump.
1. Sam Bennett – OHL – Kingston Frontenacs – C/LW
Ranked 1st by many drafting guides, the Flames lucked out when Sam Bennet fell to them 4th overall in 2014. Bennett is a gamer who doesn't back down from any competition despite his lanky build. Leading up to his draft he showed a tireless work ethic, a willingness to get drive the net, and an ability to score at will. Many compare him to Doug Gilmour who just so happens to be his GM in Kingston. In 57 games last year he scored 36 goals and 55 assists, all while tacking on 118 PIMs. Barring an outstanding training camp, Bennett should be back with the Fronts next year tearing up the OHL.