Following the abysmal playoff-push the Capitals had in 2014, just 9 wins in 21 games, the Capitals decided to fire coach Adam Oates and elected not to bring back General Manager George McPhee. Oates was considered by many to be too weak on his players, and it was reflected come game time.
The Wrong System.
In his first season as Capitals head coach, the team had a rocky start, but came back with a vengeance down the stretch, winning 8 of their last 10 games and taking the Southeast Division as arguably the hottest team going into the playoffs. Even though the Capitals pushed the Rangers to 7 games, they never really seemed to be in the series, and had no player with more than 4 points in the series. They fell in 7 games. In 2013-14, the Caps teetered on the brink of a playoff spot for most of the season, but it seemed as if Oates was afraid to hold accountability to players for bad defensive plays, because it was never fixed. Bad decisions plagued the team all year, and it was an issue that was never addressed.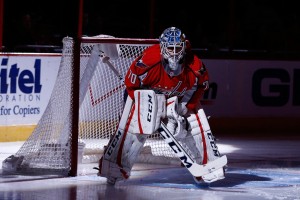 Braden Holtby also suffered mightily under head coach Adam Oates. From The Washingon Post:
"Nothing against what the philosophy was with the changes," Holtby said Monday. "I think it just had to do with my personality, my natural instincts that didn't quite coincide with the changes, and that led to a lot of second-guessing myself and a lot of overthinking things. The moment you start doing that you start to struggle, and once you struggle, obviously your confidence goes down a bit."
Holtby broke into the NHL in the 2010-11 with a storm. In 14 games he went 10-2-2 with a .934 S% and a 1.79 Goals Against Average. Holtby only played 7 games the next season, but became the teams go-to-guy in the 2012 playoffs. The Caps ousted the defending champion Bruins in 7 games and then went on to lose to the Rangers, but if there was one bright spot out of everything it was that Holtby seemed to be the future. He finished the 2012 playoffs with a .935 S% and a 1.95 Goals Against Average. That success was about to come to a screeching halt. Oates was hired in before the lockout shortened 2013 season and almost on cue, his numbers started to suffer. There was no doubt that the changes Oates wanted to make on Holtby's game, was having the worst effect possible. Fast forward to this season, and Holtby finished with a career worst .915 S% and 2.85 Goals Against Average. Now that Oates is gone, Holtby may be able to get back the game he had early in his career, and if this happens, the Capitals could be in for a very pleasant surprise.
The Defense Issue.
It's something that has always been associated with the Caps, and especially their captain, Alex Ovechkin. A lot of people were quick to point the finger at the captain, because of the reputation he has for his lack of defensive play. But was that really what was wrong? Adam Oates had a reputation for not holding his players accountable for things like this, and maybe he was too light on Ovechkin. Coming into this season, Ovechkin was a career plus-82, during the 2013-14 season, Ovechkin was a minus-35, by far a career worst for the superstar. However, despite the defensive stigma he has associated with him, Ovechkin has surprisingly only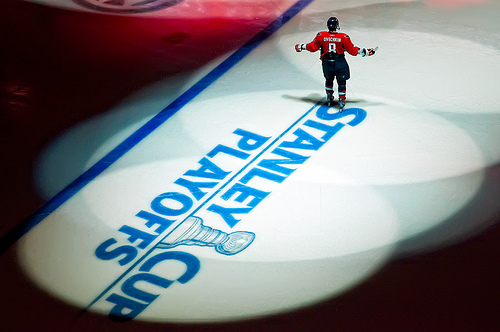 had 3 seasons where he has finished in the minus category (06-07 – minus-19, 11-12 – minus-8, and 13-14 – minus-35). To say having a minus-35 rating would be uncharacteristic of Ovechkin would be an understatement, and if you dig deeper, you'll find that the problem didn't just rest with him. Ovechkin's linemate Nicklas Backstrom was also a career worst minus-20 this past season. He had only had one season in the minus category in the past (11-12 – minus-4). Even Marcus Johansson was also a career worst minus-21. The top line suffered defensively, the whole season, and that is out of the norm. Bringing in a new system under Trotz will be a much needed refresher for that line. Trotz is no stranger to dealing with big ego's and will not be afraid to put his foot down. In 2012, the Predators suspended two of their top players, Andrei Kostitsyn and Alexander Radulov for violating team rules.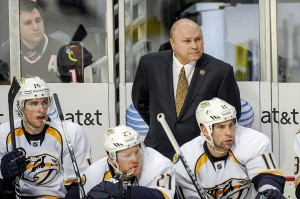 This was during the playoffs, so don't expect Trotz to let anything blow over lightly. Accountability is something the Capitals did not see under Oates, and it is certainly something that Barry Trotz will bring to the table.
Another very big bright spot on defense is the additions of Brooks Orpik and Matt Niskanen. Orpik is a defensive minded defenseman who will be a welcomed addition to a team that could use a stay-at-home, big defenseman. Orpik also brings a plethora of experience, with 700+ NHL games under his belt. Matt Niskanen is a more offensive-minded defenseman who will fit in well. Niskanen really fell into his own in Pittsburgh this past season, putting up 46 points while still managing to finish a plus-33.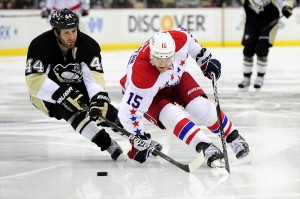 He is going to be a huge piece for the Capitals moving forward. Mike Green suffered the last two years under Adam Oates, losing the offense side of his game that he was well-known for. Bringing in a guy like Niskanen may encourage him to take the offensive risks he used to excel at, and get him back to his game. Maybe the Caps could even pair him with a guy like Orpik so he would be more inclined to step up his offensive game, knowing Orpik is capable of covering him. The Capitals now have a good balance of young and veteran defenseman, along with offense and defensive minded defenseman. Look for a huge improvement this upcoming season on the defensive front.
Putting It All Together.
The departure of Adam Oates the past season has really opened up some new doors for the Caps. Barry Trotz took average teams in Nashville, and turned them into playoff teams. Now, Trotz is equipped with a good defensive core, a goalie who has shown flashes of greatness in the past, and an offense who is capable of being lethal against other teams. It may take a few seasons, but if the Capitals can get some of their most important players back into form, this team could be a very serious threat in the Eastern Conference in the coming years.