With each NHL offseason, there is change to a some varying degree. General managers re-assess their roster; coaches implement strategies to ensure their team's success; scouts hop on planes hoping to uncover the next great talent. For fans, there is hope that a forward will generate more scoring, a defenseman avoids costly turnovers, their goaltender's glove hand will get quicker-more production in general. The next season can't possibly be as bad as last, can it? There is always hope.
The Red Wings find themselves at a crossroads. Ken Holland has vowed to improve the roster via trades and free agency. But if the Wings plan on being in contention next May and June once again, players must build on past campaigns to reach a new high watermark in 2016-2017. This week's edition of The Grind Line examines players to look out for once the puck drops in October.
Tony Wolak: Tomas Jurco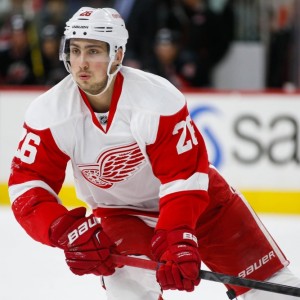 After the Detroit Red Wings drafted Tomas Jurco, fans quickly took a liking to the Slovak forward when his stickhandling skills video/highlight reel made its way around social media. And when the Red Wings called up the 20-year-old forward during the 2013-14 season, it seemed that Jurco was destined for great things in Hockeytown. He finished the season with eight goals and 15 points in 36 games.
Since then, Jurco has only scored seven goals total in two full NHL seasons. This past year, Jurco only managed six points in 44 games, mostly on the fourth line. For most of the season, Jurco and fellow former highly touted prospect Teemu Pulkkinen essentially swapped five-game stretches on the fourth line while the other sat in the stands.
Now entering his fourth NHL season, the now 23-year-old Jurco will look to capitalize on his outstanding 2016 IIHF World Championships and solidify a roster spot with the Red Wings' top-nine forwards. The young winger had a team-leading five points in seven games for Slovakia.
After the 2015-16 season ended, Ken Holland and Jeff Blashill promised to add more size to the lineup.
holland: legitimate criticism of team is size, we are too small. priority at draft.

— gregg krupa (@greggkrupa) April 25, 2016
Jurco's 6'1", 205-pound frame may not be that of a typical power forward, but he really learned to play physical this past season. Taking a page out of Pavel Datsyuk's book, Jurco learned to anticipate contact better and counter it with a shoulder of his own.
Given the Red Wings' recent playoff failure, Henrik Zetterberg's decline, and Pavel Datsyuk's likely departure, the coaching and management staff has made it clear that there is an open competition for playing time among all Red Wings players.
holland: younger players will need to come in and support older players, as zetterberg and datsyuk did for yzerman.

— gregg krupa (@greggkrupa) April 25, 2016

 
Jurco is a prime candidate to take advantage of this opportunity. He can start fresh and show Red Wings' management that he's worthy of not only playing time, but special teams work as well.
Given his talent and the available ice time, it's reasonable to think that Jurco can score double-digit goals this season and 25-30 total points. This year could be a big leap forward for the former second round pick.
Geoffrey Chiles: Dylan Larkin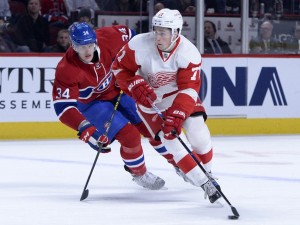 Dylan Larkin will take no one by surprise next season. The Red Wings scored just over 2.50 goals per game last season; if it wasn't for Larkin's team-leading 23, that average would be even lower. The Wings' Rookie of the Year lit the lamp 23 times in 2015-2016 to pick up the offensive slack for Datysuk, Zetterberg, and the rest of the aging core. He was the first teenager to play for the Wings since Jiri Hudler in 2003, and only the sixth rookie in team history to lead the club in goals. He's just scraping the surface of his capability.
Larkin's ice time was 16:33 a game last season – an unusually high TOI for a 19-year-old, but Larkin's no ordinary player. He was consistently on the ice against the opposition's top defensive pairing, and still shined, despite fewer goals from linemates like Zetterberg and Nyquist. The Waterford native, though a natural center, typically played on the wing to generate more offense. Larkin scored only one goal in the Playoffs, but it was huge:
The Red Wings will need more of that in 2016 with Datysuk potentially retired. It's much to ask of a 19-year-old, but Larkin has shown an ability to exceed expectations. Teams now have a template for stopping him (neutralize speed, prevent getting to the front of the net), but that doesn't mean he can't have an even more successful sophomore year.
Larkin needs help around him. Holland spoke about adding players through trades and free agency, and with more focus on Larkin, he'll benefit the most from highly-skilled linemates. A successful World Championships showed just how creative Larkin can be with time and space (nine points in ten games). With better talent on his lines and increased power play time (only 2:14 per game last year), a faster and stronger Larkin should crack 30 goals next season.
Jacob Messing: Andreas Athanasiou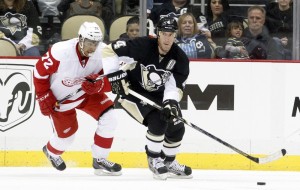 Called up for a six-game stint in November, Athanasiou's time on ice was sheltered, but he managed to registered 11 shots on net and a game-winning goal against Vezina Trophy candidate Braden Holtby for a 1-0 Detroit victory.
He returned to the lineup in February, playing in Detroit's last 31 games and tallying eight goals and 13 points. More often than not using his speed to drive play and put his team in the right positions to succeed, most of the time playing less than ten minutes a night.
Athanasiou proved to score some big goals for the Red Wings during the season when a tiebreaker put them into the playoffs over the Boston Bruins when both teams finished with 93 points. Athanasiou's 1-0 game-winner over Washington and shootout winner against Columbus gave the Red Wings four huge points that help them find the postseason.
A postseason that saw Athanasiou chip in a goal and go plus-1 while averaging less than nine minutes of ice time in the five game series.
Fans demanded more of Athanasiou last season, citing his speed and ability to maximize his minutes as reason to use him in a larger role while the team began to slip during the end of the regular season.
Many fans will get their wish in 2016-17 because Jeff Blashill can't keep Athanasiou under wraps forever if he can continue to maximize his playing time and put the puck in the net. His tremendous speed and stickhandling display that Athanasiou has the skill set to grow into a legitimate top-six player for the Red Wings.
In fact, per SportingCharts.com, Athanasiou ranked third in the league in goals per 60 minutes for all players who played at least 200 minutes with 1.62. That left him behind only Alex Ovechkin (1.87) and Patrick Kane (1.65).
Brandon Peleshok: Gustav Nyquist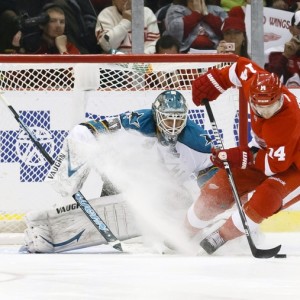 While several factors may have contributed to Nyquist's deflated point totals, Detroit's regression with the man advantage is the most likely culprit. The team had one of the best power plays in the entire league in 2014-15, finishing second in power play percentage (23.5%) and first in power play goals (69). This season, they scored 19 fewer goals with the man advantage, resulting in the team falling to 13th (18.8%) in the league. While Nyquist was able to improve his even-strength totals (31 points, up from 30 in 2014-15), his production on the power play was cut in half.
Despite a change in how the coaching staff utilized Nyquist – his TOI and EV TOI dropped by more than a minute per game – his ability to maintain his production at even strength bodes well for the skilled forward. While it could be a case of Nyquist settling in, it is likely that he can return to the 50-60 point range if the Red Wings can get their power play back on track.