The Detroit Red Wings have quite the prospect pool sitting across the OHL, WHL, QMJHL and especially the AHL. This week, The Grind Line takes a look at some of those prospects of Detroit's AHL affiliate, the Grand Rapids Griffins.
Each of us outline a Red Wing prospect we would like to see play at the NHL level to close out the regular season.
Tony Wolak: Ryan Sproul 
One player I'd like to see get a shot with the Red Wings this season is Ryan Sproul. Through 50 games in Grand Rapids this year, Sproul has registered six goals and 13 assists for 19 points. The Mississauga native is one point behind Nathan Paetsch and Robbie Russo for the team lead in points by a defenseman. Sproul's six goals lead all Grand Rapids defensemen, however.
Coming out of juniors, the Red Wings (and fans) had high expectations for the offensive, right-handed defenseman. Sproul finished his final season in the OHL with 20 goals and 66 points in only 50 games with the Sault Ste. Marie Greyhounds. Sproul contributed 32 points in his first full season in the AHL, but the total has declined in the two years since.
Since Sproul will require waivers to pass between the Red Wings and Griffins next season, Detroit should give him a look for a game or two this year to estimate his value. Sproul is strong offensively, but his knock is his poor defensive zone play.
At only 22, Sproul still has maturing to do in order to become a well-rounded defenseman. It wouldn't be the first time Detroit has dealt with a player of his offensive caliber and defensive woes (see Brendan Smith).
However, if the Red Wings' management team has already forecasted his future and deemed Sproul not ready for NHL games, they should look to trade him while he still has perceived value/potential. If Sproul will not be a part of Detroit's defense next season, why lose him on waivers for nothing?
With Danny DeKeyser, Brendan Smith, Xavier Ouellet and Alexey Marchenko already in Detroit, and Vili Saarijarvi, Joe Hicketts and Robbie Russo in the system, the Red Wings have the ability and depth to move Sproul if they choose. Otherwise, give him a shot with the varsity squad.
Jacob Messing: Anthony Mantha
Anthony Mantha is already a well-known name among Red Wing fans. Drafted 20th overall in 2013, the 6-foot-4, 190-pound winger was fresh off consecutive 50-plus goal seasons with the Val-d'Or Foreurs of the QMJHL.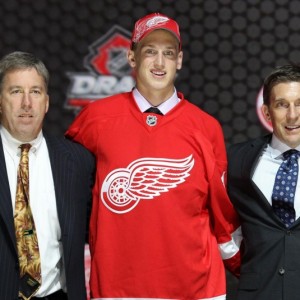 There was talk—and hope—within the organization that Mantha could be the first Detroit prospect to jump from junior hockey to the NHL since 1999. But, just prior to training camp in the Traverse City Prospects Tournament, Mantha hit a rut and broke his tibia.
General manager Ken Holland announced Mantha would be out 6-to-8 weeks for recovery and then report to the Griffins to start his professional career. Upon reporting to the team, the time Mantha missed was evident. He struggled to find his game through his first professional year of hockey, tallying just 15 goals and 18 assists for 33 points in 62 games.
After Mantha's rookie season in Grand Rapids, Red Wings executive Jim Devellano was blunt when asked about Mantha's season, calling it "very, very, very disappointing,"
Fast-forward to Feb. 21, 2016; Mantha sits third on the Griffins in scoring with 16 goals and 18 assists for 34 points. In 16 fewer games—and another 25 left on the schedule—Mantha has set a new career high in goals and points.
On Feb. 17, Mantha continued his strong season by recording his first professional hat trick, while adding an assist, to lead the Griffins to a 4-1 win over the Milwaukee Admirals. Naturally, following Mantha's breakout game, coach Jeff Blashill was asked about Mantha seeing time in Detroit.
Blashill took the questions in stride, saying that Mantha would need to fill a top-six scoring role and that he would need to beat out players including Tomas Tatar, Henrik Zetterberg or Dylan Larkin. That's just not going to happen in the middle of a playoff race.
However, with any potential injury, Mantha should be rewarded for his effort in Grand Rapids this season and granted a taste of the NHL. Perhaps following Jimmy Howard's best game of the season, a game that saw no goal support which resulted in Detroit being shut out for the first time this season, a goal scorer like Mantha could find a chance.
Sometimes, a player just fits—go ahead and ask Philadelphia's Shayne Gostisbehere.
Brandon Peleshok: Andreas Athanasiou
It's kind of cheating, since Andreas Athanasiou is already playing on the Red Wings' roster, but he is someone I would like to see finish the season with the team. With Larkin making the main roster out of training camp, the philosophy of prospects needing to "overripen" appears to be shifting in Detroit, if only a little.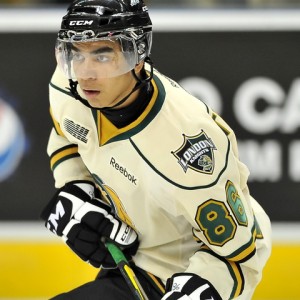 Athanasiou is playing in just his second year of pro hockey and has amassed 48 points in 81 games with the Griffins. Since his call-up to Detroit, the speedy center has notched five points through 15 games.
During his junior career, it was tough to get a read on Athanasiou. Despite finding himself further down the depth chart with the London Knights, he showed some offensive potential. When the Knights honored his request for a trade, Athanasiou joined the Barrie Colts, where he would go on to flourish offensively.
So, what is Athanasiou's offensive ceiling? It's tough to say at this point, but his versatility has served him well and it's the reason he's with the Red Wings right now, according to Blashill.
"AA has got a pretty unique ability to have an impact in six or seven minutes because of what his game is, it equates to skating and energy," Blashill told the Detroit Free Press.
The native of London, Ontario has been used in a bottom-six role thus far, averaging just 8:24 per game. While he hasn't been used on the penalty kill on a regular basis, it's something that Blashill believes Athanasiou is capable of doing if necessary.
There's reason, however, to believe that he is capable of much more. Based on his speed alone, the 21-year-old forward has the ability to force the opposition's defense to back off, creating space for his teammates. He also possesses very good hands around the net.
With the Red Wings' management sending Joakim Andersson down to Grand Rapids and scratching Tomas Jurco in last night's game against the New York Rangers, it appears as if Athanasiou will get the opportunity to prove his worth.
Is there a prospect you would like to see get a chance in Detroit this season? Comment below.
I offer opinions and insight on the Detroit Red Wings organization and its prospects.