Sunday afternoon, the Minnesota Wild took the ice for the team's first-ever outdoor game, the 2016 Coors Light Stadium Series.
Despite Minnesota's rocky past few weeks, a coaching change and a tough opponent in the Chicago Blackhawks, the Wild proved that they know how to put on a show. It's safe to say the game probably couldn't have gone any better for Minnesota and the 50,426 fans that packed into TCF Bank Stadium.
Stadium Series Success
After taking the ice to fireworks and F16s, the Wild continued the fireworks in the game.
Only three minutes and 25 seconds into the first period, Matt Dumba scored the first goal in Wild outdoor-game history. Dumba might've scored the first goal, but he also opened the floodgates for the rest of his team.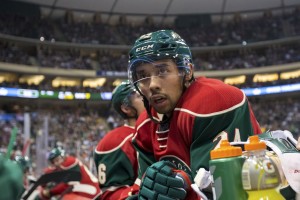 Minutes later, former Golden Gopher Thomas Vanek added to the Wild's lead. But Minnesota didn't stop there. Nino Niederreiter, Jason Pominville, Ryan Carter and Erik Haula all tallied goals, propelling the Wild to a 6-1 victory over the Blackhawks.
Minnesota not only managed to win its first outdoor game, but dominate.
The Wild yet again scored five-plus goals for the fourth consecutive game under new coach John Torchetti, but this team didn't just score goals. They played like the team Minnesota knew at the beginning of this season. They were focused, never let the Blackhawks take control, and finally found what they seemed to lack during their mid-season slump: passion and energy.
"I think the score speaks for itself … It was awesome," Dumba said of the Wild's dominant win. "I think the whole day was just an adrenaline shot. Even when I woke up this morning, I was just so excited to play."
The score truly does speak for itself in this case. Some have questioned if the Wild were really back to their winning ways, or if the team had just been playing second-rate opponents over the past three games. This team quieted all its critics Sunday afternoon.
Outdoor Excitement
A dominant 6-1 win would be exciting for the Wild whether it happened inside or outside, but defeating the Blackhawks in front of 50,000 fans in TCF Bank Stadium was something truly special for this team and its fans.
"Walking out and seeing 50,000 crazy fans out there supporting us, you know, it's only fun if you win and we did so it makes it a great day," Vanek said after the game.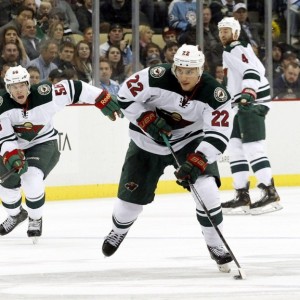 "Usually I don't celebrate too much, but today I was pretty fired up, so it was fun. I was just pumped, I don't know. We were all just pumped as a group, and we had a great start, and never let them into the game," the former Gopher said about playing again on his college campus. 
Teammate Niederreiter agreed.
"It was definitely a different experience. An outdoor game like that was definitely breathtaking," Niederreiter said. "It was fun that we won – more special, and a great atmosphere. It's just so much fun going out there … you look around and everything just feels so big, ginormous. Seeing the fans was great, and it was a good hockey game. It's a dream come true. Tonight was just another chapter, and just another great memory."
There's no denying this Stadium Series was another great memory for the Wild, its fans and the State of Hockey.
Winter Classic next year?
Alli covers the Minnesota Wild and has been a contributing writer with THW since August 2014. She is currently a journalism and sports management student at the University of Minnesota. For all of your Minnesota Wild news and updates, follow her on twitter: @allibaker23