Our weekly Detroit Red Wings Hotstove has a new name: The Grind Line.
This week we're taking a look at three bounce-back candidates from this past season.
Spencer Meisner: Tomas Jurco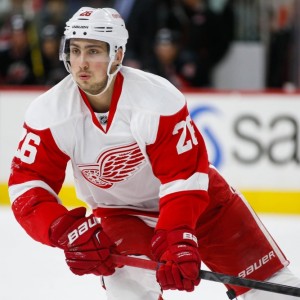 Tomas Jurco's season last year was underwhelming. He was the youngest out of the holy trifecta to take the ice, and it showed. After putting up 15 points in 36 games two seasons ago (0.42 PPG), he managed only 18 points in 63 games last season (0.29 PPG). This past season, he went on five-game pointless streaks five different times, and was often relegated to the fourth line. This offseason, Jurco worked  hard and it has payed off. He has looked great this preseason, and is looking at home on a line with Brad Richards and Tomas Tatar. Under rookie head coach Jeff Blashill, Jurco will find his stride again, and evolve into an offensive force.
Tony Wolak: Jimmy Howard
If he can avoid giving up juicy rebounds, Red Wings goaltender Jimmy Howard is a prime candidate for a rebound season in 2015-16. After putting up all-star numbers in the first half last year, Howard suffered a groin injury against Washington after a miscommunication with Kyle Quincey.
Now fully healthy, Howard enters the year in a battle with Petr Mrazek for the starting goaltender job. If Howard can manage the mental aspect of the competition, find comfort in his positioning, and continue to work on his lateral movement, he can reclaim the starting goaltender job in Motown; and if Howard wins the job with strong play, rather than by default choice, the Red Wings could pose a legitimate threat in the playoffs once April rolls around.
Related: 5 Detroit Red Wings with Something to Prove
Brandon Peleshok: Johan Franzen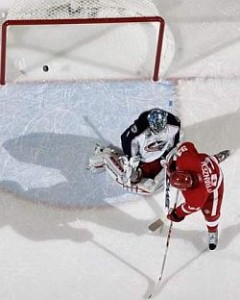 Johan Franzen is going to surprise plenty of people during the 2015-16 season. His 2014-15 campaign ended after he sustained a concussion on Jan. 6. Since then, the man they call the 'Mule' has struggled to get himself back into game shape, experiencing multiple setbacks during that time. Many Red Wings fans (myself included) have questioned Franzen's decision to play this year, but he seems determined to finish his career on his terms. While he will most likely start the year on Detroit's third line, that could change based on how he responds to the pace of the regular season. Franzen will receive his fair share of time on the power play, which has always boosted his point totals. One thing is certain – the Mule plays his best hockey when engaged mentally and physically, and he appears to be both right now.