What's The Grind Line? Apart from the once-famous line of Kris Draper, Kirk Maltby, and either Joe Kocur or Darren McCarty, The Grind Line is also The Hockey Writers' weekly column about the Detroit Red Wings. This week Tony Wolak, Devin Little, Ian McNaughton, and Patrick Brown are the muckers who make up THW's forechecking unit and sound off on Red Wings topics.
---
Just like that, we're halfway through the 2020-21 season. Detroit's record sits at 7-16-3 and their .327 points percentage is tied for 29th in the NHL.
In this week's edition of The Grind Line, The Hockey Writers' Red Wings coverage team doles out their midseason awards to celebrate Detroit's highlights and lowlights so far.
Related: Red Wings News & Rumors: Trade Deadline, Mantha & More
Red Wings' Best Forward
Tony Wolak: Dylan Larkin
Though his counting stats don't reflect offensive prowess, Larkin has been a constant threat on the ice for the Red Wings. It's clear there's maximum effort from the new captain each time he steps onto the ice.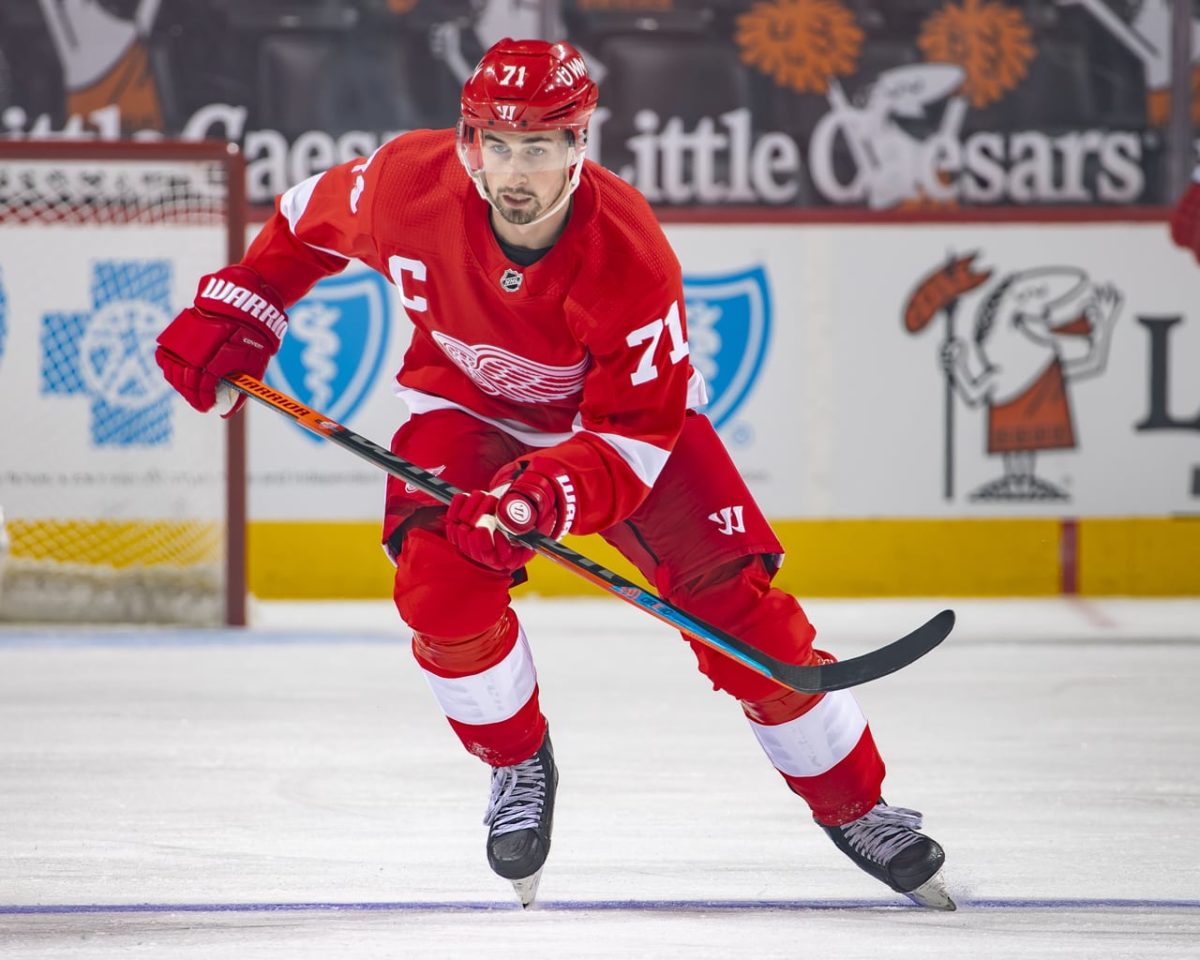 Devin Little: Dylan Larkin 
While he's not lighting up the scoresheet like you would hope, the Red Wings' captain is getting it done in just about every other facet of the game. There may not be a player on this team that is held back more by the roster's lack of talent than Larkin. 
Ian McNaughton: Dylan Larkin
The only player outside of Larkin you can make an argument for is the team's leading scorer, Bobby Ryan. But I have to go with Detroit's captain because of how well-rounded his game is. He's becoming a better defensive forward, mostly because the team needs him to be, and is fun to watch in general. 
Pat Brown: Bobby Ryan
As much as I'd like to take Larkin—and there's no doubt he's leading by example—Bobby Ryan's impact on the offensive side of the puck has been great to see. He's consistently creating opportunities, leads the team with 13 points, has the top point share of any forward that's played 10 or more games (1.0), and takes care of the puck. If he continues to play at such a high level, Steve Yzerman may command a king's ransom for him at the trade deadline – and someone will pay it.
Red Wings' Best Defenseman
Tony Wolak: Troy Stecher
Four assists in 19 games isn't much, but Stecher's defensive zone presence has been a revelation for the Red Wings. 
Devin Little: Troy Stecher
It's hard to do more good things than bad things when you're playing on this team. It's even harder to take a cap dump like Marc Staal and make him look like a desirable trade asset. Stecher is doing God's work this season and he doesn't get near enough credit for it from around the league.
Ian McNaughton: Filip Hronek
Hronek has the most point shares of any non-goaltender on the team and is playing nearly 24 minutes a night. He also has 34 hits this season, the second-most of anyone on the team, which is not what I would've expected from the 6-foot, 183-pound blueliner. I'm not going to criticize him too much because of this weird season we're having, but no goals through 26 games is extremely concerning. 
Pat Brown: Filip Hronek
I was torn between Hronek and Stecher, but the former's impact on both sides of the ice can't be ignored. Offensively his 10 assists leads all defenseman, and Ian already pointed out his point share. Defensively he's turned the puck over just 11 times (only Patrik Nemeth and Danny DeKeyser have fewer among defensemen), all while playing the most minutes of anyone else on the blue line. His Corsi-for percentage is tops among defensemen as well, at 51.7. Hopefully he can find the back of the net soon.
Most Valuable Player
Tony Wolak: Jonathan Bernier
While watching the Red Wings play Columbus Blue Jackets last week, Fox Sports Detroit displayed Bernier's stats while showcasing the starting netminders. My reaction was to say out loud, "Those are goalie stats from a good team." Bernier gives the Red Wings a chance to win every night – whether he gets offensive support or not.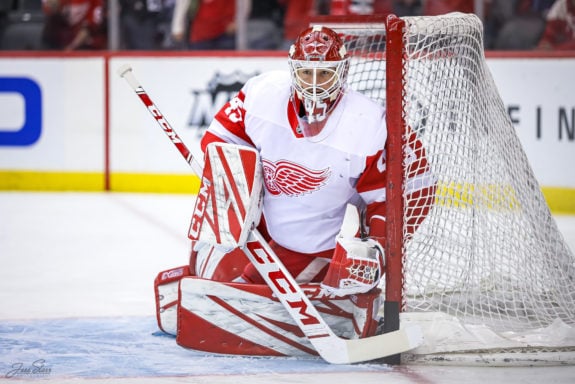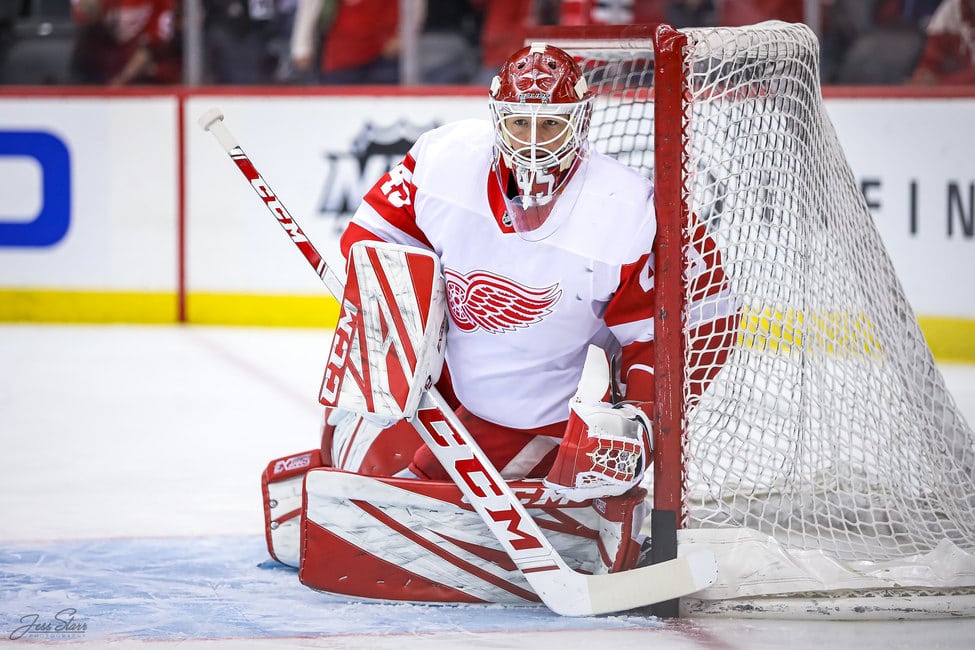 Devin Little: Dylan Larkin
Connor McDavid is a perennial Hart Trophy candidate because he's the best player in the league. By that logic, Larkin is the Red Wings' MVP because he is without a doubt the top player in Detroit. He's really settling into his new role as the captain, and things would be a lot worse in Hockeytown if he weren't here. 
Ian McNaughton: Jonathan Bernier
Bernier was one of the better players for the Red Wings last season and so far, he's carried that over into 2020-21. He has a .910 save percentage so far in 13 games, which is better than both Frederik Andersen and John Gibson. Since goaltending has been their best position this season, I have to give credit where credit is due.
Pat Brown: Dylan Larkin
The newly minted captain is exceeding expectations to this point. Not only does he rank near (or at) the top in just about every statistical category on the team, but he continually leads by example, never shies away from a tough question, and competes at a high level every night. His steadfast leadership clearly impacts his teammates, who have not mailed it in despite enduring yet another losing season. I know we're a little ways away from it, but I cannot wait to watch him lead a playoff-caliber team.
Red Wings' Biggest Surprise
Tony Wolak: Offseason Acquisitions
I know this is a cop out, but all of the skaters Yzerman brought in during the offseason have exceeded expectations. Stecher, Staal, and Jon Merrill have been outstanding defensively. Sam Gagner has been one of the best defensive forwards in the NHL. And Bobby Ryan is currently leading the team in scoring. The fact that only Thomas Greiss has laid an egg to this point is incredible.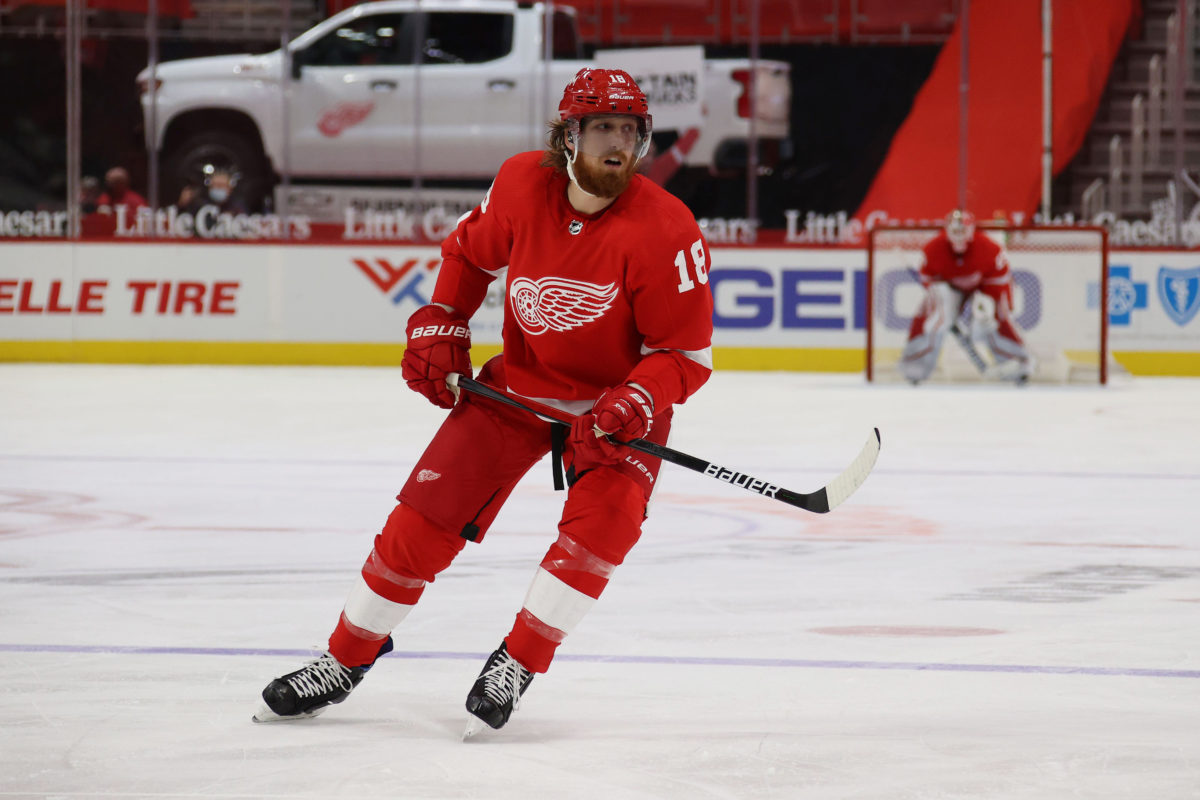 Devin Little: Marc Staal
Attribute as much of his relative success to Stecher as you want, but the fact remains that the middle Staal brother has been better than advertised this season. I'm of the belief that if you acquire a pick for taking a player on AND that player goes on to do some good things for you on the ice, you're having your cake and eating it too. Acquiring a second draft pick for him isn't off the table either. 
Related: Diving Into the Detroit Red Wings' No-Trade Clauses
Ian McNaughton: Troy Stecher
Stecher was a very low-key signing, but he's turned out to be a wonderful piece on the Red Wings' back end. Similar to Hronek, he's still without a goal this season but has been one of the more creative defenseman in terms of playmaking and breaking out of the zone on defense. There's a chance, if he isn't exposed to the Seattle Kraken, that he gets an extension after the season. 
Pat Brown: Luke Glendening
It's been truly impressive what Glendening has done in the faceoff circle this season, winning 67 percent of his draws. Of any player that's taken 30 or more faceoffs this season, Glendening's percentage leads the NHL. The 31-year-old is having a career year in the circle, and he has almost as many points as he did in 60 games last season. 
Red Wings' Biggest Disappointment
Tony Wolak: Anthony Mantha
Six goals through 25 games is simply not enough for Detroit's most talented forward. Sure, Jeff Blashill split him and Larkin up, but there needs to be more production from the hulking winger. 
Devin Little: Filip Hronek
At the quarter mark of the season, I mentioned Hronek as a disappointment on The Hockey Writers' Grind Line Live because, at that time, he had zero goals and nine points, and he didn't look as sharp as we've seen him before, even going back to last season. Since then, he's added just a single point, and his inconsistencies have continued. He is not a top-pairing defender in this league and I think that this season is really exposing that fact.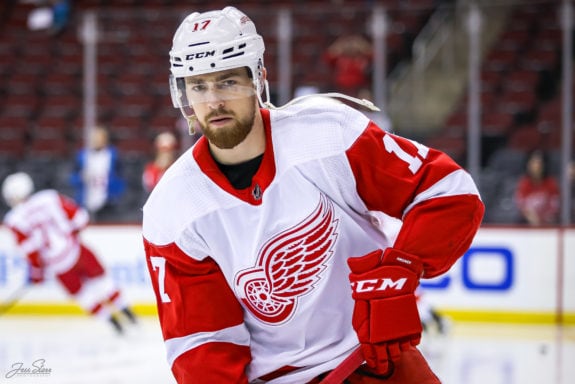 Ian McNaughton: Anthony Mantha
Similar to Hronek, I'm not going to criticize him too much in this weird season. Mantha is tied for third on the team with points (10), which isn't nothing. What really concerns me is the plus/minus numbers. I know plus/minus doesn't tell the whole story, but when you're a minus-16 like Mantha (which is six worse than the next closest player), you know something has been off.  
Pat Brown: Jon Merrill
This was a tough one, but Merrill's numbers are far lower than I expected after Yzerman signed him during the offseason. He's done little to help the Red Wings effectively control the puck (his Corsi-for of 43.8 ranks 22nd on the team), and has turned the puck over 14 times in 20 games. Credit where credit is due: Merrill's 32 blocked shots lead the team and his point share of 1.0 rank fourth, so it's not all bad. 
Bold Prediction for the Second Half
Tony Wolak: Michael Rasmussen Becomes a Regular
Now that Valtteri Filppula and Frans Nielsen have been waived for the purpose of being sent to the taxi squad, it's Michael Rasmussen's time to step up and solidify his role as Detroit's third-line center. His improved even-strength play and ability to play the net front on the power play will keep him in the lineup for the rest of the season.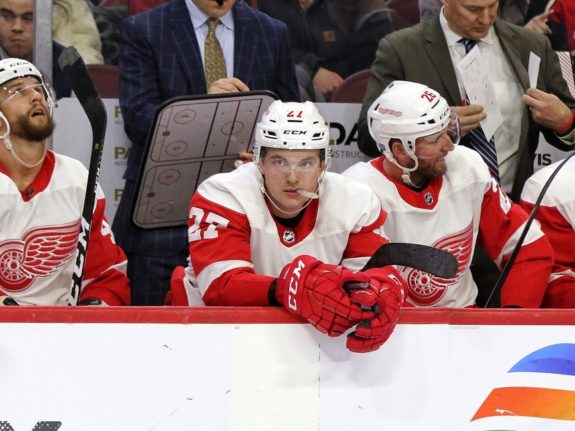 Devin Little: The Kids Will Start Taking Over
This shouldn't be a bold prediction given the Red Wings are very much rebuilding, but as one of the oldest teams in the league, we haven't seen the team's youth take over in a meaningful way yet. That will change as we approach and pass the trade deadline as Yzerman will move out some veterans, making way for the likes of Evgeny Svechnikov, Givani Smith, and Dennis Cholowski.
Ian McNaughton: Red Wings Will Go On a Run
Six of the next 10 games for the Red Wings are against teams with a losing record. Eight of those next 10 will be played at Little Caesars Arena. If there was ever a time for Detroit to go on a run and start a winning streak, these next few games are as good of a time as any to make it happen.
Related: Red Wings Trade Chips: Value, Comparables & Potential Trade Partners
Pat Brown: Mantha Gets Hot
Fans have witnessed Mantha's streakiness before, and it will be on full display as the team comes down the homestretch of the season. The Red Wings will look very different after the trade deadline, and I think Mantha will make the most out of the inevitable ever-changing line combinations that will follow.
Stats courtesy of Natural Stat Trick and Hockey-Reference.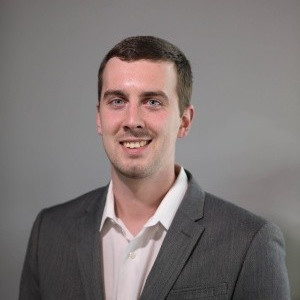 Tony Wolak is based in the Washington D.C. area and covers the Detroit Red Wings for THW. As a former junior and college hockey player, Tony has a unique perspective on Red Wings topics.