Huge money is often thrown around during Free Agent Frenzy, as general managers rush to sign big-time players they feel can improve their squads.
However, in the scramble to ink UFAs before other GMs get their hands on them, sometimes the guys with the chequebooks are prone to under-thinking and overspending.
This is never more apparent than when looking at some of the deals dished out on July 1, 2016 that have aged like milk.
Inspired by Basu's Tweet, let's revisit the 10 players mentioned who never came even close to being worth the dollars doled out to them that day.
Milan Lucic
Size. Strength. Nastiness. A scoring touch.
Those are the assets that make a ferocious, old-school power forward so enticing, and those are the assets the Edmonton Oilers tendered Milan Lucic a $6 million dollar AAV over seven seasons to have at their disposal.
Lucic had spent eight seasons with the Boston Bruins and was a key member of their 2011 Stanley Cup-winning club. Providing a mixture of offence and grit, he was a fan favourite and had recorded 40-plus points in a season five times.
Related: Bruins' Top 5 Draft Picks of the 2000s
After spending 2015-16 with the Los Angeles Kings and recording 20 goals and 35 assists for 55 points, then-Oilers GM Peter Chiarelli — who was the Bruins' GM when they won the Cup in 2011 and drafted Lucic in 2006 — initiated a reunion.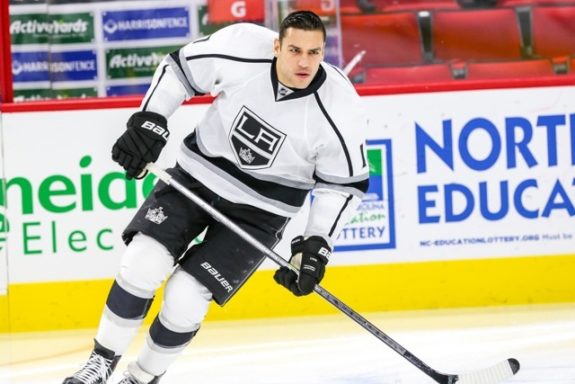 Lucic's first season with the Oilers was strong as he produced 50 points playing left wing on a line centred by Connor McDavid.
Lucic and McDavid, however, ultimately proved to be incompatible. Lucic's brute-force play style and lack of hands did not jibe with McDavid's pure skill and breakneck speed; fans and pundits alike accused Lucic of being a dinosaur.
Lucic's production fell drastically in the next two seasons: to 34 points in 2017-18 and to just 20 points in 2018-19.Yes, the Oilers paid Lucic $300,000 per point in 2018-19.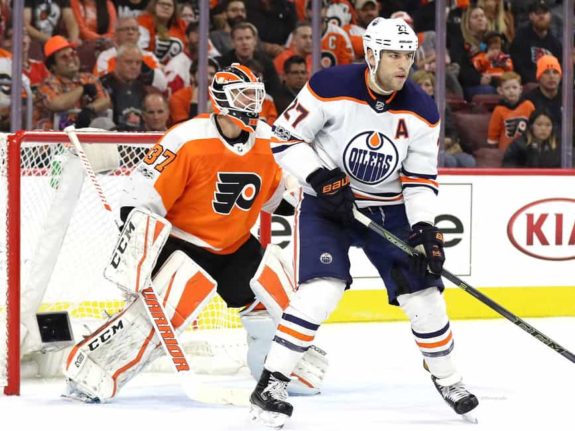 Wrote THW's own Jim Parsons during the 20-point season:
"Anyone who has watched Milan Lucic play for the Edmonton Oilers this and last season has watched a player who seems disinterested, ineffective and snake-bitten. It's a situation that has to be frustrating for the player, the organization and definitely the fans who know the team has committed millions of dollars to an asset who was brought in to help the franchise become a year-after-year contender in the playoffs."
The contract was a boat anchor and one of Chiarelli's worst moves as GM. But in July 2019, Ken Holland — Chiarelli's successor just two months into the job — found a trade partner in the Calgary Flames. He exchanged one struggling veteran with a big contract for another, sending Lucic a couple hours south and receiving James Neal in return.
In 2020-21, Lucic and Neal still play for the Flames and Oilers, respectively, and each have two years left on their contracts after this season. Lucic had 20 points in 2019-20, while Neal had 31.
Related: Milan Lucic: How the Mighty Have Fallen
Kyle Okposo
Okposo inked a deal — for seven years and worth $42 million — with the Buffalo Sabres after putting up 64 points for the New York Islanders in 79 games and eight more in 11 playoff games in 2015-16.
Drafted by the Islanders seventh overall in the 2006 NHL Entry Draft, Okposo had spent his entire nine-year career with Islanders to that point, recording as many as 69 points in a season and being a fixture on their top-six, often playing with John Tavares.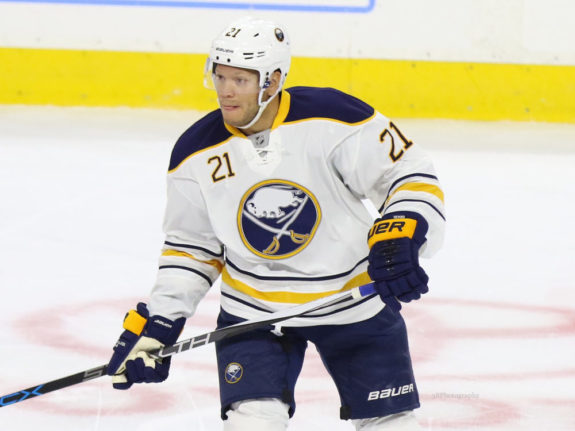 When the right-winger signed with the Sabres, though, his production and effectiveness fell. It remained respectable enough for his first two seasons Upstate, in which he produced 45 and 44 points respectively. However, in 2017-18, he was a team-worst minus-34.
In November, 2019, Okposo suffered his fourth concussion of his Sabres tenure; those concussions have also hampered him greatly. He recorded just 40 points in 2018-19 and 2019-20 combined.
He's still with the Sabres, and has two seasons left on his contract after 2020-21. He ties up $6 million per year for a team that wants to re-sign Taylor Hall and Sam Reinhart this summer.
Andrew Ladd
A few months after being traded by the Winnipeg Jets to the Chicago Blackhawks, Andrew Ladd signed a 7-year, $38.5 million contract with the New York Islanders.
That contract is one of the worst in the entire NHL as Ladd has completely failed to live up to his billing. The two-time Cup winner has played just 181 games, struggled with a number of injuries such as an ACL tear, and recorded only 72 points as a member of the Islanders.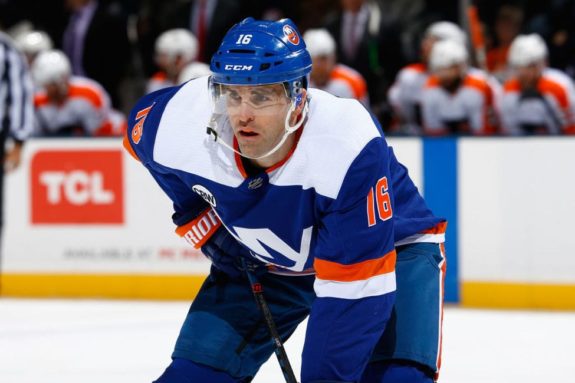 In November, 2019, Ladd was waived and assigned to the team's AHL affiliate, the Bridgeport Sound Tigers. He's currently with the team on a one-year AHL contract.
Jets GM Kevin Cheveldayoff should be thankful Ladd turned down the $35 million-over-six-year deal he reportedly offered the former captain (from "Contract negotiations between Jets and Andrew Ladd stagnate," Winnipeg Free Press, Oct. 1, 2015.)
Related: Ladd Trade Was, Is & Will Be Good for Jets
That albatross of a contract would have prevented Cheveldayoff from re-signing game-changing defenseman Dustin Byfuglien and would have seriously hamstrung his ability to sign other young stars in the years that followed.
Loui Eriksson
In 2015-16, Loui Eriksson had a resurgent season for the Boston Bruins. He posted 63 points and looked more akin to the player who had three-straight 70-plus point seasons with the Dallas Stars between 2009 and 2012, rather than the player who had struggled a bit in his first two seasons with the Bruins.
Eriksson leveraged his resurgence into a six-year, $36-million contract with the Vancouver Canucks, who had finished second-to-last in the Pacific Division and were 29th in goals scored.
The Swedish left-winger had scored 30 goals in a season twice, but his first four seasons in with the Canucks, he never even recorded 30 points and has played nearly exclusively on the bottom-six. His 13 points in 2019-20 was a career-low, as was his 12:24 of average time on ice.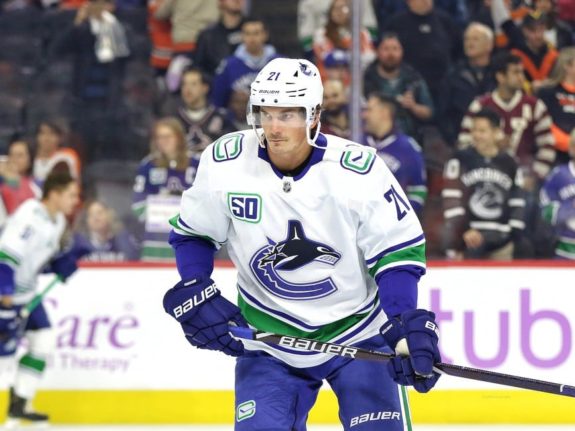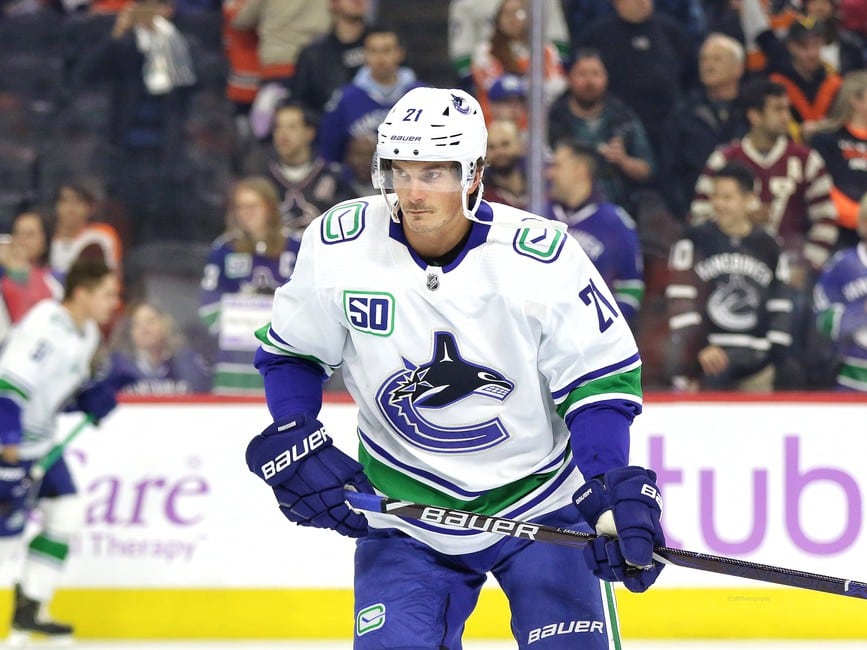 In August 2019, THW's own Shane Wilson wrote a scathing review of Eriksson's first three seasons on Canada's west coast.
Eriksson's time in Vancouver can only truly be described as such: Eriksson, a scary 6-foot-2 Swedish businessman, convinces you to hire him with slick talk and an impressive resumé. After the initial excitement of the hiring wears off and the standard three-month probation period comes to an end, Eriksson's effort dips drastically and you're left with a sub-par employee at a premium price.
"Now, you offered Eriksson a six-year, $36 million contract that he very quickly signed before you could figure him out. Now he is guaranteed your money," Wilson continued. "He is going to give 50% effort for the next six years and won't take responsibility for his poor performance."
Eriksson still has two years left on his contract after the 2020-21 season. Arguably, the money owed to Eriksson prevented Canucks' GM Jim Benning from signing Jacob Markstrom, Chris Tanev, and Tyler Toffoli this past offseason.
Frans Nielsen
After spending 10 seasons with the New York Islanders, shifty playmaker Frans Nielsen signed a big six-year deal worth $5.25 million annually with either a no-move or a modified no-move clause in effect for each season.
The Danish centre had produced 40-plus points four times in his career before joining the Red Wings and set career-highs in goals (25) assists (33) and points (58) in 2014-15.
The signing looked good early on as Nielsen recorded 52 points in his first season with the Red Wings and played in the 2017 NHL All-Star Game. In 2017-18 and 2018-19, he recorded 33 and 35 points respectively — lower, but still respectable.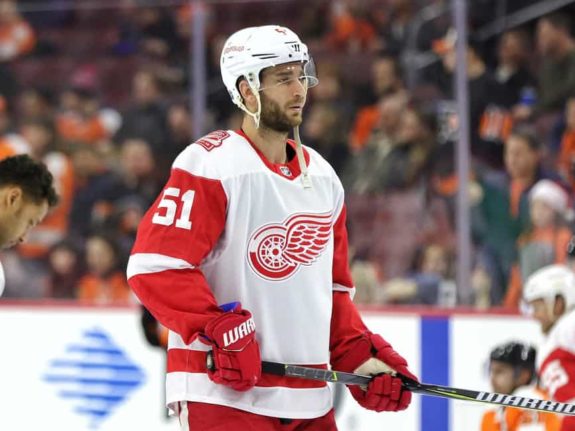 In 2019-20 where his production really fell off: he recorded four goals and five assists for nine points while skating just 13:41 per game — well below his career average of 16:32.
Related: Red Wings Seeing the Last Call for Nielsen & Filppula
Nielsen appeared in 18 games in 2020-21, registering three assists, before being placed on waivers. A buyout is definitely within the realm of possibility.
David Backes
It's not often a current captain moves teams, but David Backes did. The St. Louis Blues' second-round 2003 selection — a big, versatile forward who recorded 460 points in 727 games over 10 season had worn the "C" for the past five — signed a five-year, $30-million contract with the Boston Bruins.
But at age 32, Backes was already in the back-half of his career, making the move a risk. It turned out to be a bad one as Father Time caught up with him quickly.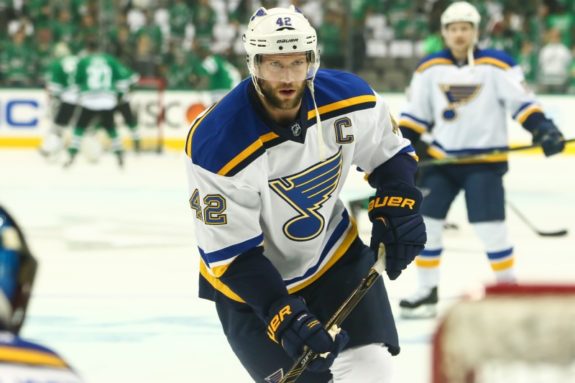 Backes recorded 38 points in 2016-17 and 33 the season after, decent but far from the 50-plus he'd recorded five times with the Blues. He also struggled with his health and missed time in 2017 after a colon surgery.
In 2018-19, he recorded only 20 points and skated an average of 13:02 per game, which were both were career lows. Backes and the Bruins advanced to the Stanley Cup Final but were beaten by his former team in seven games.
In February 2020 — one month after deciding to waive him — the Bruins traded him, Axel Andersson and a 2020 first-round pick to the Anaheim Ducks in exchange for Ondřej Kaše.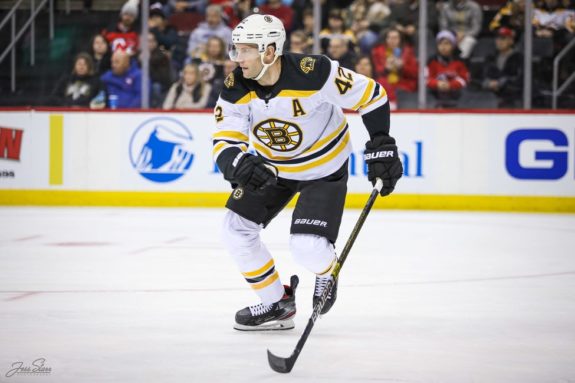 Backes continues to play for the Ducks on the last year of his deal. You have to wonder if this season will be his last hurrah.
Darren Helm
A life-long Detroit Red Wing, Helm signed the richest contract of his career when he signed a five-year contract with a $3.85 million AAV. That figure was almost double what the two-way forward made on his previous deal — $2.125 million.
Helm, a fifth-round 2005 pick, had twice produced 30-plus points in a season prior to inking the lucrative deal, and is well-known and well-liked in Detroit for his locker-room presence, leadership abilities, and speedy playstlye.
But he was never, and has never been since, a true top-six player worth nearly $4 million.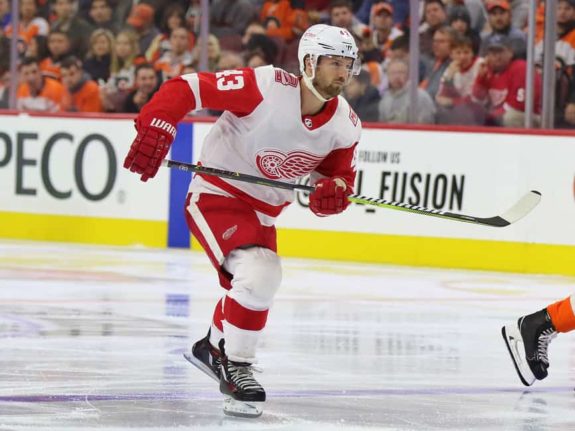 His best recent season was in 2017-18, when he produced 31 points for the squad at the start of its precipitous fall from competitiveness. In every other season, he recorded fewer than 20.
2020-21 is the final year of Helm's contract and it seems inevitable he'll be moving on from the Red Wings next season. THW's own Devin Little recently explored some possible trade destinations for the now 34-year-old.
Troy Brouwer
After recording 39 points with the St. Louis Blues in 2015-16, Troy Brouwer cashed in on a four-year, $18-million deal with the Calgary Flames.
The right-winger seemed like a safe signing. He'd recorded 33-plus points in his past five seasons — four straight with the Washington Capitals before doing it with the Blues — and brought a mixture of size and scoring ability.
However, his play declined significantly upon joining the Flames as he recorded just 47 points in 150 games over two full seasons, including a career-low six tallies in 2017-18.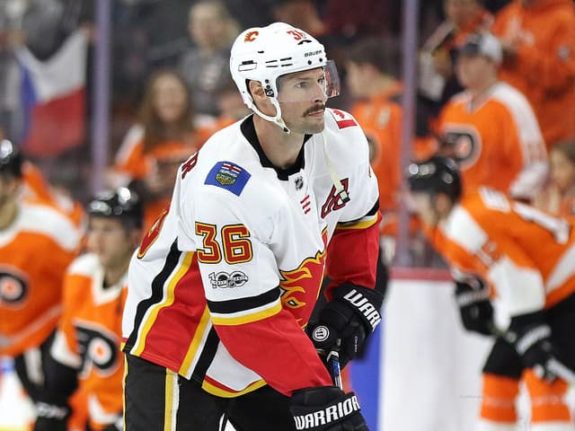 Then-Flames head coach Glen Gulutzan "tried nearly everything to ignite the spark in Brouwer which made him such an attractive option when he was signed," wrote THW's Joel Griffith in March, 2018. Griffith noted he was slotted on the right wing of every line, was given multiple looks on the power play, and was deployed on the penalty kill, too.
Related: What Happened to Troy Brouwer?
"At just 32 years old, he's not yet old enough to use age as a legitimate reason for his sudden decline in production since coming to Calgary," Griffith wrote. "As his second season with the Flames comes to a close, it's becoming more and more evident he's simply just not a fit with the team. And unfortunately, he's not going anywhere."

THW's Joel Griffith on Troy Brouwer
Griffith was wrong about that. After the season, the Flames bought out the final two years of his contract.
Brouwer spent 2018-19 with the Florida Panthers before returning to the Blues for 2019-20. He's currently an unrestricted free agent.
Matt Martin
After playing seven seasons with the New York Islanders, the Toronto Maple Leafs signed heavy, hard-hitting left-winger Matt Martin to a four-year deal worth $10 million.
Maybe new GM Lou Lamiorello was blinded by the fact Martin held the NHL record for hits in a season (382 in 2014-15). Maybe he just wanted to sign someone to signify that he'd arrive in the centre of the hockey universe.
Whatever the reason, the Leafs found out $2.5 million is a lot to pay per season for an enforcer, especially in an era when the game is faster than ever and fighting is nearly irrelevant.
Martin certainly dished out a lot of hits in two seasons with the Maple Leafs — 447 of them, in fact — and racked up 173 penalty minutes. However, he recorded just 21 points and by the latter half of the 2017-18 season, he was regularly a healthy scratch.
Related: Should the Leafs Dress Matt Martin?
After that season, the Maple Leafs — becoming a dangerous team with burgeoning generational forward talent — traded him back to the Islanders in exchange for Eamon McAdam.
Martin continues to play for the Islanders in 2020-21.
Dale Weise
Winnipegger Dale Weise — after splitting the 2015-16 season between the Montreal Canadiens and the Chicago Blackhawks — signed a four-year, $9.4 million contract with the Philadelphia Flyers.
The main reason he was able to cash in was because he had two near-30 point seasons while playing first-line minutes alongside Max Pacioretty and David Desharnais.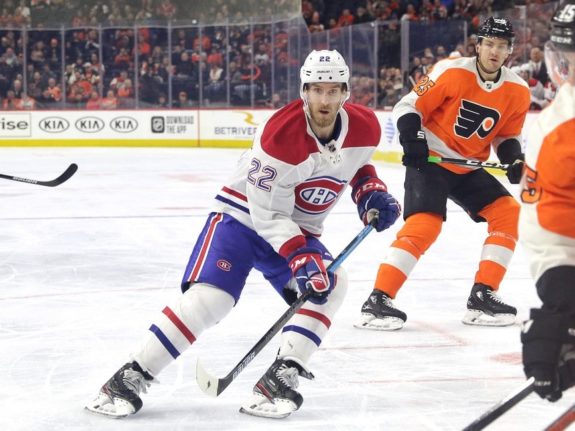 However, "Weise was a first-liner in position only," wrote THW's own Ryan Szporer in September, 2020. "He had a complementary skill set relative to Pacioretty, but that's a polite way of saying his offensive skills were in no way up to par with those of the former Habs sniper."

THW's Ryan Szporer on Dale Weise
The crash-and-bang winger seemed to fit in alright with the Flyers in his first season, but recorded only 15 points in a bottom-six role. The next season, he played just 46 games and notched eight points.
In 2018-19, after recording 11 points in 42 games, the Flyers placed him on waivers. He played three games for the AHL's LeHigh Valley Phantoms before being traded back to the Canadiens.
Weise split the 2019-20 season between the Canadiens and their AHL affiliate in Laval. He is currently an unrestricted free agent.
Which One's the Worst?
While all are very poor contracts, some teams got at least some decent years out of their 2016 free agent signees, even if their overall value wasn't good.
To this author, the absolute worst is a tie between Ladd and Eriksson, because both players' production fell off a cliff immediately upon joining their new teams. Lucic's contract is a close second, followed by Brouwer's.
Which contract do you think is the worst? Comment below and let's discuss!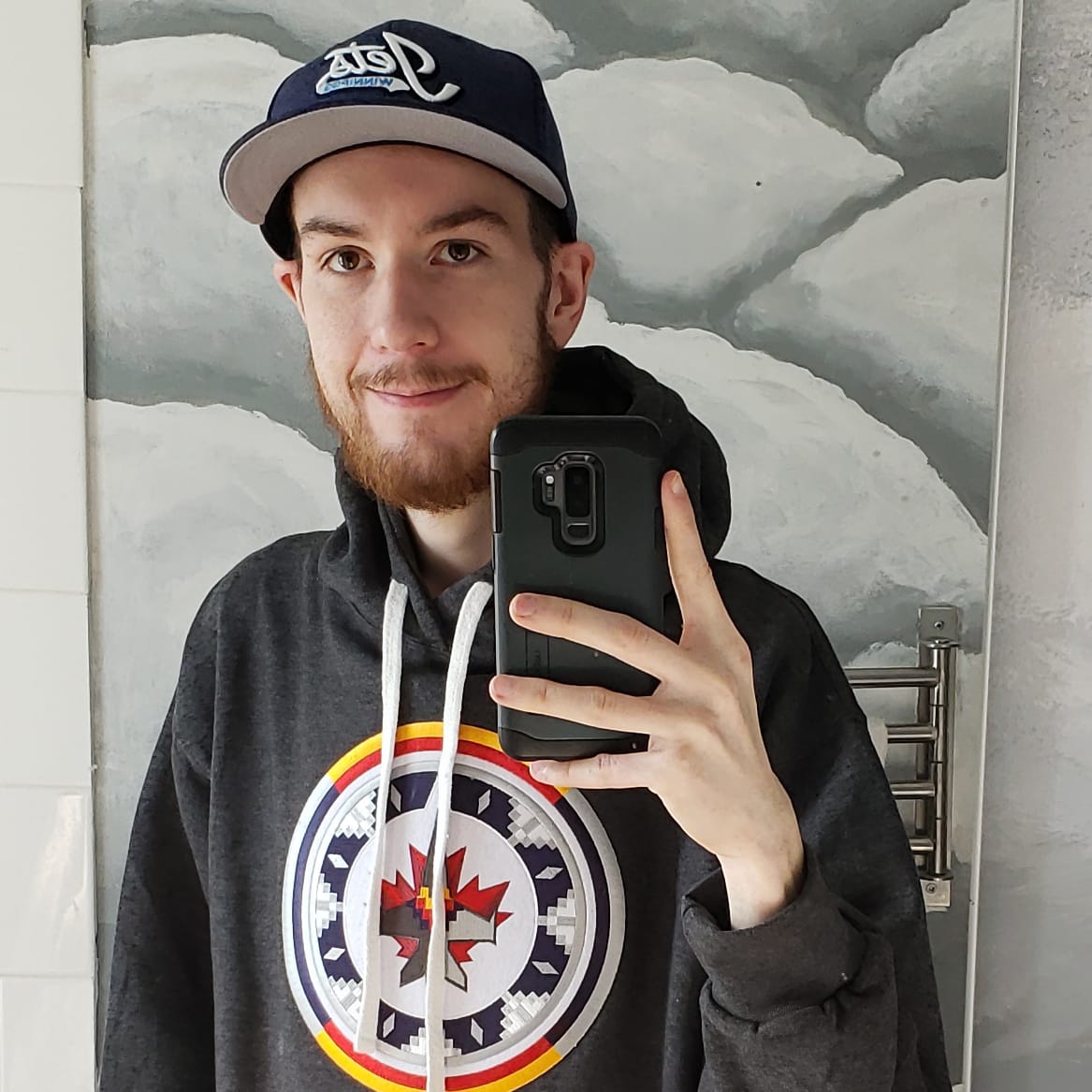 Declan Schroeder is a 27-year-old communications specialist and freelance journalist in Winnipeg, Manitoba. He holds a diploma in Creative Communications with a major in journalism from Red River College and a bachelors in Rhetoric and Communications from the University of Winnipeg.
Deeply rooted in the city's hockey culture, the original Jets skipped town when he was two and the 2.0 version came onto the scene when he was 17.