What's The Grind Line? Apart from the once-famous line of Kris Draper, Kirk Maltby, and either Joe Kocur or Darren McCarty, The Grind Line is also The Hockey Writers' weekly column about the Detroit Red Wings. This week Tony Wolak and Devin Little are the muckers who make up THW's forechecking unit and sound off on Red Wings topics.
---
Things have not been going well for the Red Wings, but their power play has been especially atrocious as of late. As of this writing, they rank 26th in NHL, converting at a paltry 11.8 percent. 
In this week's edition of The Grind Line, Tony Wolak and Devin Little sit down for a fireside chat to discuss how Detroit's power play can be improved.
Red Wings Power Play Woes
Tony Wolak: In your opinion, who shoulders more of the blame for Detroit's lackluster power play – the players on the ice or the coaching staff crafting the strategy?
Devin Little: I think that it's a little of both. As much as it's painfully obvious that the Red Wings' current power play scheme has gone stale, it is up to the players on the ice to make things happen. Even though there are a lot of talented offensive players sidelined right now due to COVID protocol, the team still has most of their top players available to them. While coaching has put these players in a position on the man advantage, I've seen too many shots from the point that travel not even 10 feet before they hit an opposing player standing right in front of the shot taker.
TW: I think it's more on the coaching staff. The overall scheme is ineffective – zone entries are difficult and the umbrella power play rarely utilizes the bumper or creates lanes for cross-ice passes. 
Detroit's coaching staff needs to adjust their strategy and show the players how to create more opportunities, whether that's moving around to find open space or giving others better shooting lanes. All five players need to be dangerous on the power play. As it currently stands, only the quarterback, right flank, and left flank are shooting. It's easier to cover three players than all five.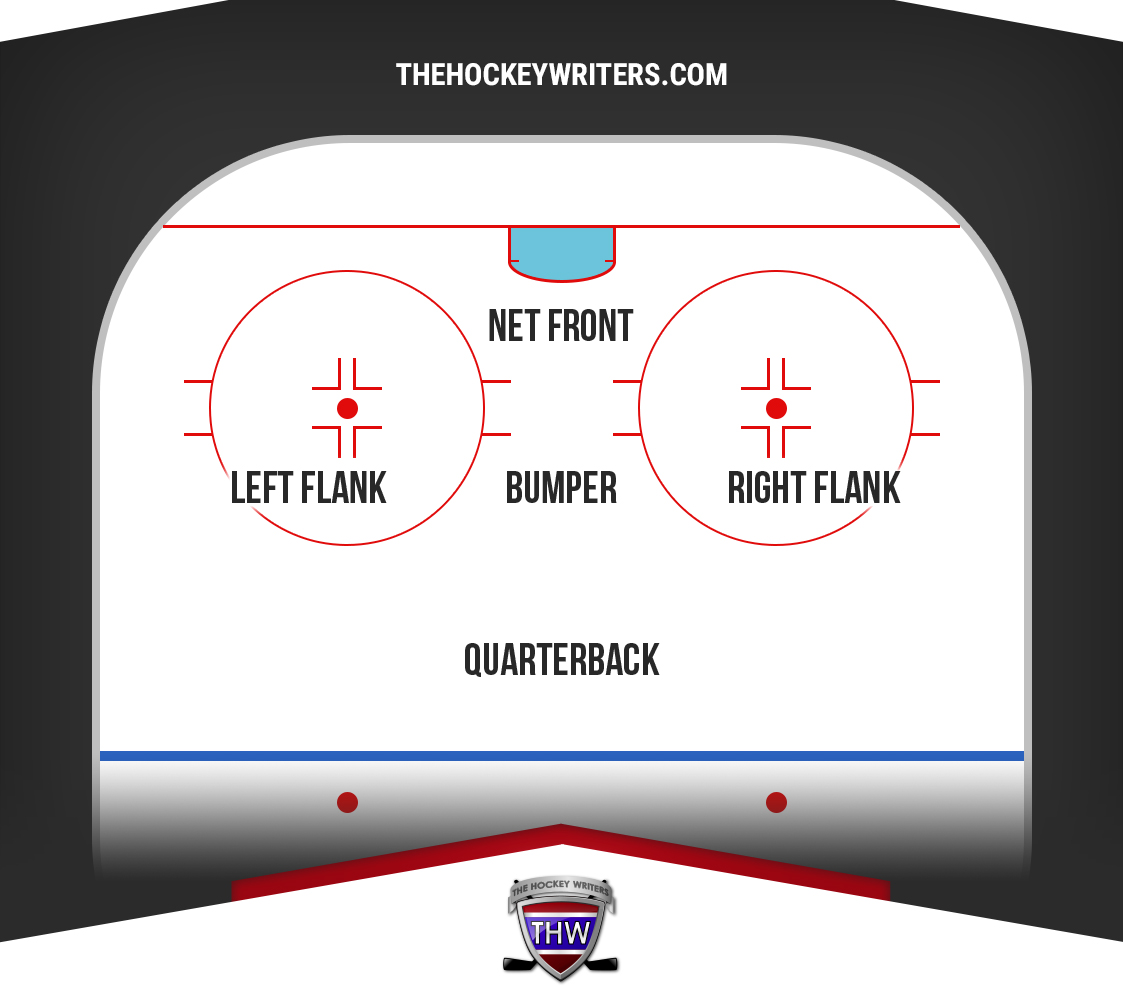 DL: That also means that they've mostly been keeping the puck to the outside, passing it around the perimeter of the offensive zone. In order to create real offensive chances on the power play, the puck has to penetrate the inside of the zone at some point. That's why I've been particularly impressed with Taro Hirose over the last few games. He seems to be the only player on either PP unit that seems capable of identifying passing lanes and putting the puck in a place where scorers can do their thing.
One thing we both seem to agree on is that it's time to go back to the drawing board for the power play. Is there any sort of schematic change that you personally want to see?
TW: I think the 1-3-1 scheme can be effective if the coaching staff creates more opportunities for the bumper. 
Let's say we have Filip Hronek up top, Dylan Larkin on the left flank, Anthony Mantha on the right, Tyler Bertuzzi screening the goalie, and Bobby Ryan as the bumper. Jeff Blashill and Dan Bylsma need to find a way to engage Ryan more. He could set up for a quick shot from the slot when Mantha has the puck or position himself for a high tip when Larkin has possession. 
The key here is for Hronek, Larkin, Mantha, and Ryan to move the puck quickly. That gets the penalty killers moving, opening up lanes and obstructing the goalie's sightlines. 
What about you, Devin? Do you have any changes in mind?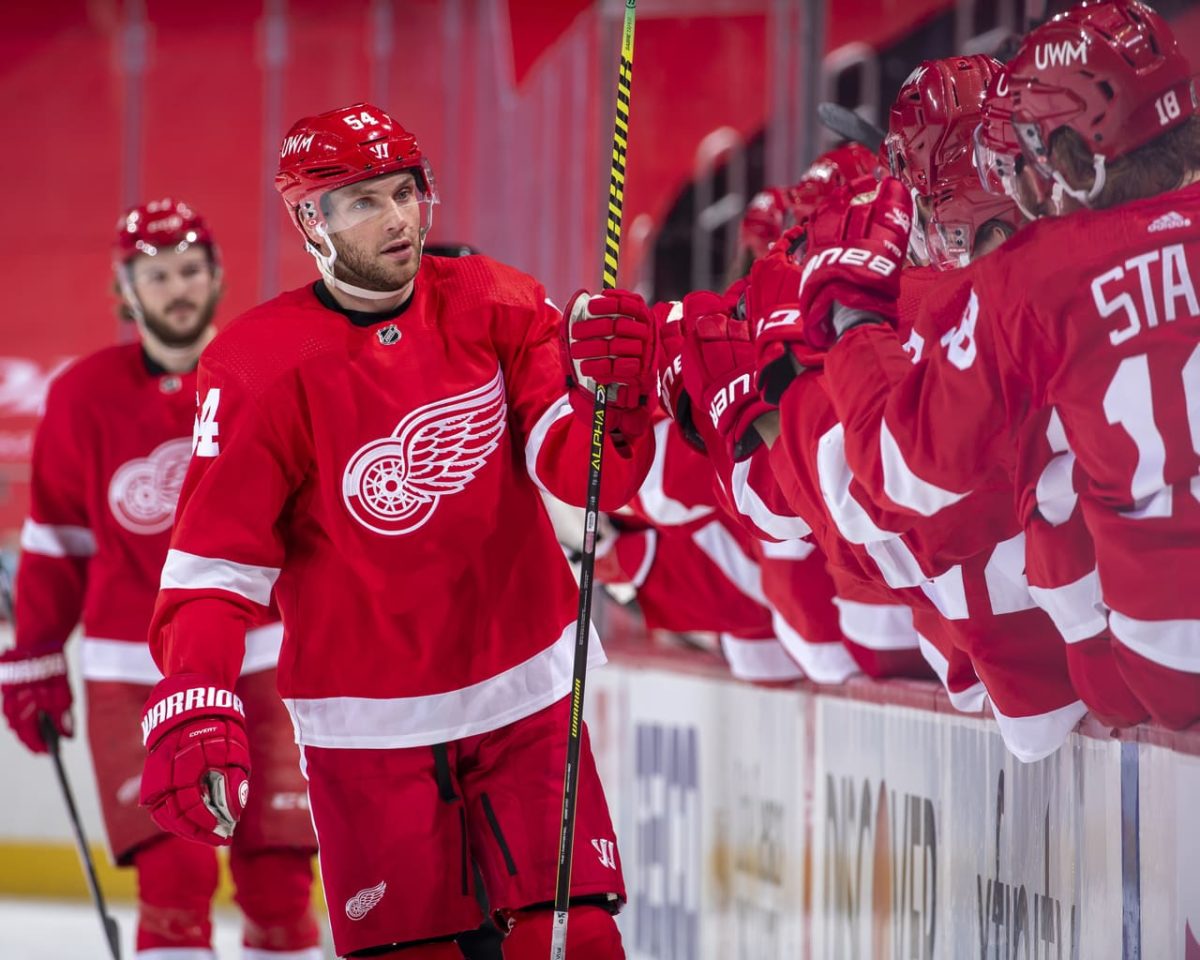 DL: Obstructing the goalie's sightlines is a big thing on the power play – and in any offensive scheme I might add. That's why I think the Red Wings need to readjust where they plan their attack from. 
I want to see them try controlling the puck down low and using the lower-third of the offensive zone to set up their attack. The goalie can't completely track the puck when it's behind them, and holding the puck behind the goal line almost always draws a defender in. Moving the puck from down low to a shot from up high gives the goalie a split second to get set and react. 
We've seen this idea work earlier in the season when Filip Zadina—whose offensive IQ is certainly missing from the power play—set up Bobby Ryan for his first goal of the season.
TW: I completely agree with this. As a goalie, I can say first-hand that it's more difficult to track pucks moving from behind the goal line to the slot than it is to watch the top of the umbrella pass the puck around.
Whether it's Ryan, Bertuzzi, or Michael Rasmussen in the net front role, the coaching staff should empower them to move below the goal line to receive passes. The two flanks should also move up and down the boards to create different pass angles.
Whether it's possessing the puck down low or better utilizing the top of the umbrella, it all comes back to one thing: Detroit needs to use their bumper better. Power plays are much more dangerous when they're able to give the bumper good looks from the slot.
DL: Unless you can sustain quality puck movement through quick and accurate passing, or you've got a guy like Alex Ovechkin on one of your flanks, the puck needs to get into that slot/bumper area. It might be a cliché, but that's where you score goals from.
TW: Speaking of the Alex Ovechkin spot on the left flank, I see Hronek better utilized there. But that also means Detroit needs a different quarterback up top. Is it time to put Dennis Cholowski in the lineup?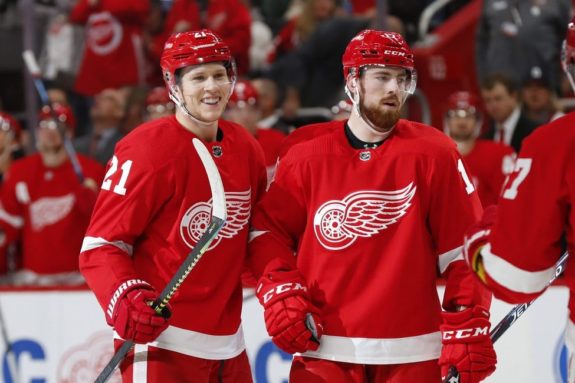 DL: I'm glad you brought that up because you and I have both mentioned Hronek's usefulness as a shooting option on the PP, and our colleague Pat Brown marveled at his shot during our latest The Grind Line Live episode. I think it's definitely time to move him into a shooting position and place someone else in that quarterback position.
If I'm the coach, I'm sitting Marc Staal for a couple games and inserting Cholowski so that he can get a few looks on the man advantage. His calling card has always been the offense that he can provide, and when he's on his game, he's arguably one of the Red Wings' top passers from the blue line. If you're looking to add a jolt to the power play, you aren't going to do it by taking Larkin and Mantha off of it, but you could do it by throwing a guy like Cholowski onto it.
TW: This may be crazy, but I'd also consider inserting Hirose as the quarterback for a power play or two. It can't get any worse, right? Okay, maybe that's a galaxy brain idea, but leveraging Cholowski as the quarterback should be considered at some point.
DL: I see where you're coming from though. Hirose has earned the right to play in a playmaker's position on the power play, and I would argue that the point is *the* playmaker's position
Optimal Power Play Units
TW: If you're in charge of Detroit's power play units, who are you putting on PP1 and how are you going to create additional looks?
DL: With the idea of making plays from down low in mind, I need to have somebody at the top and bottom of the formation that can create plays. You've got me thinking about Hirose up top now, so maybe I'll start there:
Quarterback: Hirose
Left Flank: Hronek
Right Flank: Mantha
Bumper: Larkin
Net Front: Ryan
I don't think using Larkin on the flank makes a ton of sense considering who else they could have in that position. I also think that he's the kind of player that you could place in almost any spot on the power play and he can do the job. He's who I want taking those low-to-high shots, as well as looking for rebounds. 
Mantha, Hronek and Ryan all have the ability to score, and putting them in a position to do so is imperative. The trick is getting Mantha and Hronek going so that they feel confident enough to take those shots instead of passing away their opportunities.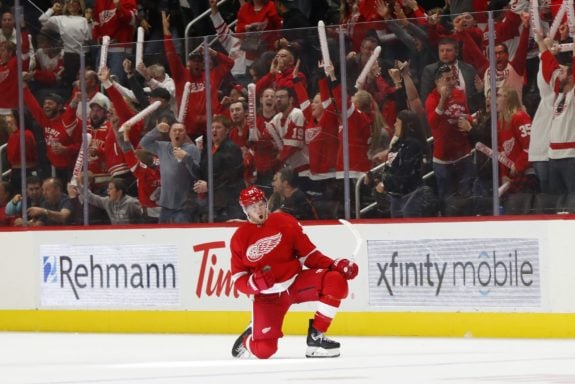 TW: I'm going with the following:
Quarterback: Hronek
Left Flank: Larkin
Right Flank: Mantha
Bumper: Ryan
Net Front: Bertuzzi
The goal here is to get Ryan more looks from the slot – the most dangerous spot on the ice. The power play should run through Larkin, who should use his vision and quick decision-making to get the other four players the puck or walk in and shoot if there's space. 
Each player should move around to create open passing lanes. This is especially critical for Larkin, who should be working up and down the wall to change passing angles. Ideally, the five players are moving the puck around quickly to draw the penalty killers out of their setup. This causes confusion (see: Red Wings general defensive zone coverage) and opens players up for quality looks. But utilizing Ryan for one-timers (from Mantha's flank or Bertuzzi behind the goal line) or high tips off Larkin or Hronek shots is paramount for Detroit's power play.
DL: Love it. Typing up a proposal for the Red Wings as we speak.
---
The Red Wings' power play could benefit from new perspectives. Moving on from the coaching staff is one way to do so.
Stats courtesy of NHL.com.
---
---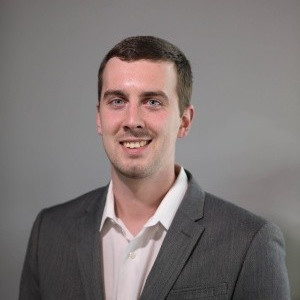 Tony Wolak is based in the Washington D.C. area and covers the Detroit Red Wings for THW. As a former junior and college hockey player, Tony has a unique perspective on Red Wings topics.