Through eight games into the Montreal Canadiens' season, there hasn't been anyone more consistent than 21-year-old Nick Suzuki. While the team has been strong all the way down the lineup, Suzuki has managed to be the only Canadien to put up a point in every game prior to the shutout loss on Saturday to the Calgary Flames. His seven-game point streak puts him alongside many Habs greats with most consecutive games to start the season with a point. Although, he didn't score a point in that game, he did have one of if not the best chance where Jacob Markstrom came across to shut the door.
Many second-year players may start their season off in a slump, much like Jesperi Kotkaniemi did last year before the injury bug followed him all season. However, Suzuki has found a whole new gear to start the season.
Suzuki is proving each game so far this season that he could take his game to the next level. Therefore, it wouldn't be surprising to see him eventually become the Canadiens' next franchise player. His game is just full of potential at just 21 years old.
Suzuki's Offense
A player who is on a seven-game point streak is always pretty impressive, but in Suzuki's case he had registered a single point in each game, making this a very consistent point streak. However, the thing is there have been nights where he could have registered two or three points. With that being said, due to his consistency and lack of luck to get more than a single point in each game, staying a point per game player is very much in reach even after the streak ended.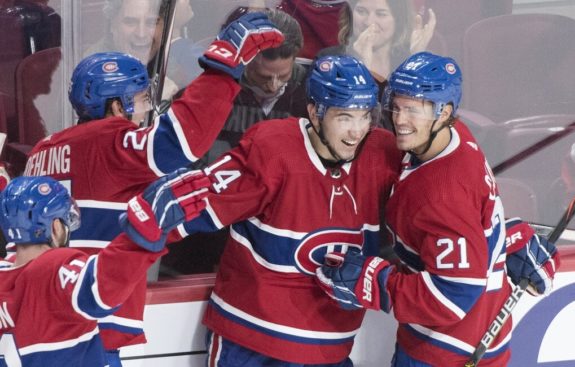 The reason for this is Suzuki is beyond smart with the puck, making amazing plays to set up his linemates, as well as create for himself. The last time a Canadiens player put up a point per game over a season, it was Alex Kovalev back in the 2007-08 season. However, Suzuki has a chance to become a perennial point-per-game player in the upcoming years. This is something the Canadiens haven't had since Vincent Damphousse put up back-to-back over a point per game seasons during the 1992-93 and 1993-94 campaigns with 98 and 94 points, respectively.
However, the league has changed a lot since the mid-1990s and scoring a point per game is a lot more impressive now. Therefore, Suzuki scoring around 75-80 points regularly in the future would be awesome to see, but he has potential to even pass that. Nonetheless, even Damphousse feels that Suzuki is currently the best forward on the team going forward.
Suzuki's on the verge of a big breakout this season and it should be fun to watch for fans, as it's been over a decade since the franchise has had a forward with so much talent, and over 20 years since they've had a legitimate offensive first-line centre. It seems like it is finally here and Suzuki is looking like the guy.
Suzuki's Defensive Game
If you thought Suzuki's offensive potential is amazing, his defensive game is just as good. While putting up points, he has managed to also be a key contributor in his own zone. The fact is his smarts go both ways on the ice. He is great at intercepting passes and creating breakouts from the defensive zone.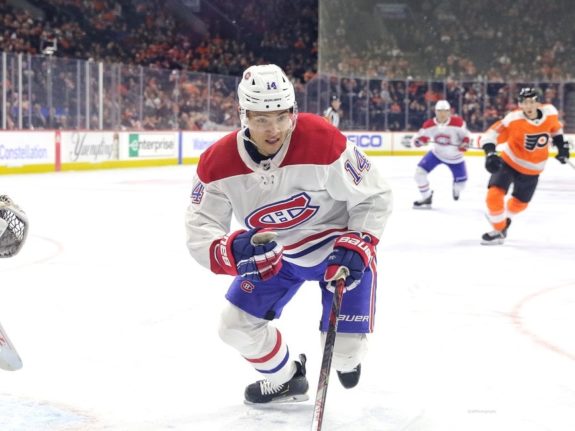 Suzuki has often been the guy relied upon on the penalty kill this season, especially on nights when Phillip Danault struggles much like the second night of the game series against the Canucks. The truth is at age 21, Suzuki is already looking like a 30-year-old on the ice for the Habs. Recently, his linemate Jonathan Drouin made comparisons between Suzuki and Boston Bruins star two-way centre Patrice Bergeron, saying he is like a mini Bergeron. Being compared to a four-time Selke Trophy winner is definitely not something to take lightly, as it is saying that Suzuki has the potential to be a star on the defensive side of the ice.
Suzuki needs to improve his faceoffs a lot to get to Bergeron's level as he has only won around 40% of his draws thus far. However, with enough practice he should be able to win more consistently. Once he can win faceoffs consistently he will really be on the path to being the next Bergeron.
While Suzuki is not a superstar yet, he has the potential to be a star in the very near future. Much like Bergeron, he should be able to contribute at around a point per game and also be elite defensively.
---
---
Nick is a journalism student at Concordia University. He has been writing about the Habs and hockey for almost 7 years now for websites such as AWinninghabit and Last Word on Hockey. he hopes to one day work TSN.