I could hand you some timeless quote about this exciting rematch ("revenge is a dish best served cold"), but a lot has changed since the Detroit Red Wings battled the Tampa Bay Lightning in the first round of the 2015 Stanley Cup Playoffs.
Most of the changes lay on the side of the Red Wings, who added Brad Richards, Mike Green and rookies Dylan Larkin and Andreas Athanasiou to their line-up as well as new head coach Jeff Blashill. Another key change is that it appears Jimmy Howard will be in net this time around in place of Petr Mrazek.
Howard, as expected, is in the starter's net for #RedWings.

— Ansar Khan (@AnsarKhanMLive) April 11, 2016
On the Tampa side, due to injuries, head coach Jon Cooper will be without Steven Stamkos (blood clot, 1-3 months), shutdown defenseman Anton Stralman (broken fibula, "a few weeks") and possibly Tyler Johnson, who left last game after an awkward fall into the boards on a push from Montreal defenseman Greg Pateryn. This time around, though, young-gun Jonathan Drouin seems like a lock to play the entire series, unlike last April.
So Hedman, Kucherov say good to go. Callahan encouraged. Unknown on Johnson. #TBLightning

— Joe Smith (@JoeSmithTB) April 11, 2016
The speedy Johnson notched seven points in as many games, including a couple back-breaking goals. It's entirely possible that he could play on Wednesday, but if he doesn't, it will benefit the Red Wings. Stamkos, the Lightning's top center, struggled against Detroit last season (generating just three assists), but it's hard to imagine he would stay that quiet once again. 
Brandon Peleshok: Detroit in 6 Games
Last month, The Grind Line outlined some potential playoff opponents for the Detroit Red Wings and I selected the Tampa Bay Lightning as an ideal first-round matchup. Despite the Bolts ousting them last season, I liked the idea of the Wings trying to exact some revenge.
While I thought Detroit might have a better chance against an inexperienced Florida Panthers team, a few key injuries to members of the Lightning has me convinced this could be the Red Wings' best chance of making it past the first round since 2012-13.
Despite Tampa Bay's injury woes, the goaltending situation in Detroit might balance out any advantage the Wings could gain from the situation. Mrazek was a big reason behind the Wings making a push against the Lightning last season and he has struggled to the point where Howard has reclaimed the number one position on the team.
While he has helped the Red Wings down the stretch, you have to wonder if Howard can perform the way Mrazek did against Tampa Bay.
X-Factor: Riley Sheahan
While you expect offense from the Red Wings' key contributors, I think a potential x-factor in the series could be Riley Sheahan. The 24-year-old center is heating up at the right time, registering seven points through his last 10 games.
Sheahan has played on a line with Tatar and Gustav Nyquist, and is currently serving as a net-front presence on the Red Wings' second power play unit. If he can carry his offensive touch into the playoffs, it could go a long way in helping Detroit get the better of Tampa Bay this year.
Jacob Messing: Detroit in 7 Games 
Digressing to those timeless quotes; it takes losing it to know how to win it. That's Tampa Bay in a nutshell. They've learned how to lose the Stanley Cup and now they're even hungrier to win it. But that's where injuries become more relevant, no Stamkos, no Stralman and potentially no one, two or all of their current day-to-day players, Tampa Bay is a much different team.
Even with Tampa Bay's injuries, the rematch will still be a hard-fought battle between two teams that may be sparking an inner-division rivalry. That's what often happens when two similarly talented teams go head-to-head again and again.
Detroit and Tampa Bay split their regular season series, 2-2. Moreover, Detroit potted eight goals whereas Tampa Bay potted nine.
But where I believe Detroit comes out on top is due to two words and one name; Pavel Datsyuk. No one on Detroit's roster wants to lose the first round, in what could be Datsyuk's last playoff series.
X-Factor: Tomas Tatar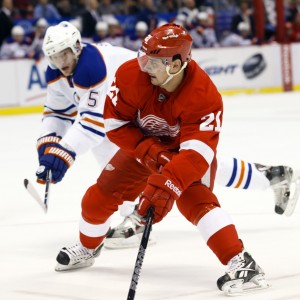 After a disappointing playoff debut against the Boston Bruins in 2014, Tatar stepped up against Tampa Bay last April to pot three goals and an assist for four points in seven games. If Tatar can build on his impressive sophomore playoff season, he becomes a real x-factor for the Red Wings this year.
All things considered, Tatar has had an inconsistent, low-scoring year versus his first two NHL seasons. Much of that can be attributed to usage and ice time considering his surrounding stats such as shooting percentage and possession is just as impressive as it as under Mike Babcock.
Tony Wolak: Detorit in 7 Games
Ah, sweet vengeance.
On Wednesday, the Red Wings take on the Tampa Bay Lightning in Game 1 of their first round matchup. Detroit will look to take advantage of an injury-riddled Lightning team that, as mentioned, will be without captain Steven Stamkos, top defenseman Anton Stralman and potentially, star center Tyler Johnson.
On the other hand, the Red Wings will arrive at Amalie Arena with a healthy roster, but have struggled over the past two games. They'll also enter the series with a new starting goalie, as Howard has taken over for a struggling Mrazek.
Another new factor that this series will feature is the potential loss of Datsyuk following the playoffs. This year, the Red Wings have the added motivation of sending Datsyuk off on a high note. The Magic Man will certainly be trying for one last Cup before returning to his native Russia in the offseason.
X-Factor: Henrik Zetterberg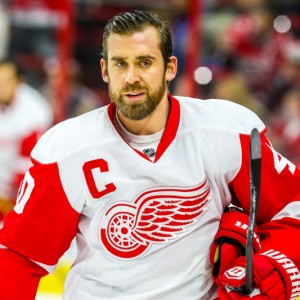 The other Eurotwin will need to step up and reassert himself as a dominant NHL player against a strong Tampa Bay team. After starting the season strong, Zetterberg has cooled off over the past few months.
In last year's series, Zetterberg was equally ineffective. He didn't find the back of the net in any of the seven games—a first for the Red Wings' captain. To that point, Zetterberg had not played a playoff series without scoring one goal.
To beat Tampa Bay, Zetterberg will need to lead the team offensively and help shut down the Lightning's high-flying offense. He'll need to reignite his line with rookie phenom Dylan Larkin and Justin Abdelkader and get good looks on the power play. Datsyuk may be the focus of the series, but Henrik Zetterberg is the player under the most pressure.
Who do you believe will win this first round rematch? Who is your X-Factor?
I offer opinions and insight on the Detroit Red Wings organization and its prospects.