Out of the gate, few players have been as explosive as Victor Rask of the Carolina Hurricanes. Currently second in team scoring with 10 points in nine games, Rask has provided strong evidence that he should remain the team's top center going forward. That is no small task for the third-year NHLer, as he has beaten out the likes of 10-year veteran Jordan Staal, who held the position last year. If this kind of play continues Rask could more than live up to the six-year, $24 million contract he signed in the off-season.
The Hot Start
Rask's strong start stands out as one of the few exceptional performances early on for the Hurricanes. Through the first nine games, the top line of Rask, Skinner, and Stempniak have combined for 13 goals or 52 percent of Carolina's entire goal total. The effects of Rask's performance appears not only in his point totals, however, as his possession numbers and shooting metrics also reflect just how dominant he has been.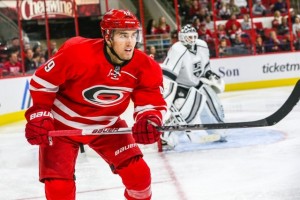 In terms of shot attempts for and against, Rask is an asset to an already strong puck possession team. His Corsi-for percentage (shot attempts for/ shot attempts against at even strength) is among the best on the team at 55.4. What makes this even more noteworthy is just how well he plays even when separated from his linemates.
According to hockeyanalysis.com, when on the ice together, Skinner and Rask have a Corsi-for percentage of 54.6. However, when Skinner plays away from Rask his Corsi-for percentage drops to only 40, while Rask still maintains a possession rate of 52.8. The same is true for Stempniak who has a 55.5 Corsi-for percentage with Rask, but only a 30.8 possession rate when away from him. 
In terms of converting on scoring chances, Rask is also a front-runner for the Hurricanes, as he currently boasts an outstanding, if not somewhat unmaintainable, 23.5 shooting percentage — this number will most likely regress to his career average shooting percentage of around 14 percent, over the course of the season.
Looking Forward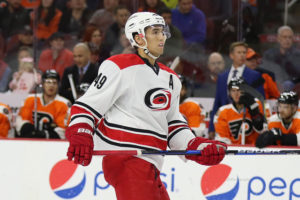 Rask is a player whose performance steadily increases season to season. During his rookie campaign in 2014-15, he was able to put up 33 points, with 11 goals and 22 assists. During his 2015-16 season, his numbers improved to 48 points, with 21 goals and 27 assists, good for second in team scoring that year. This year it appears that he is ready to take the next step forward, and could potentially be one of the strongest candidates to lead the team in points. For a team in desperate need of big, skilled forwards, Victor Rask comes as a blessing. Rask's record-setting scoring streak during October proves that he has the skill set to emerge as a top point producer for the Canes.
He already has the vote of confidence from Head Coach Bill Peters, who assigned the 23-year-old to be an alternate captain while the team is on the road. This confidence also extends to Rask's ice time, as he has moved from the third line to the top unit, going from approximately 16 minutes per night in 2015-16 to almost 19 minutes a night now.
Rask has seized the opportunities he has been given this year and delivered miraculous results so far. His ability to individually influence hockey games makes him an extremely powerful asset in this league. In conjunction with other young stars such as Teuvo Teravainen, Sebastian Aho and Noah Hanifin, Rask is a key member of a talented, young core of players that have assembled in Raleigh.