Even though the draft is now over, the Leafs still have a ton of work to do. It was a very successful weekend for the Leafs – adding Marner and two small players with first round talent, plus Martin Maricin constitutes an amazing weekend, I'd say – even if they didn't move any of their "core" players and officially kick-off the rebuild.
Still, despite the lack of player movement so far, the Leafs will definitely be making some trades, and after some other moves occured, perhaps new suitors and players are now available.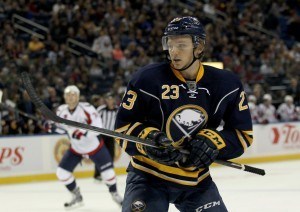 Enter the Buffalo Sabres
A month ago, the possibility of Kessel (or Phaneuf) going to the Sabres would seem insane. Now, however, after adding two first line centres over the weekend, the Sabres look poised to compete next season for more than the basement and top draft pick.
The Leafs are rebuilding and the Sabres are building- and fast. Blessed with an embarrassment of prospect capital and salary cap room, the Sabres are now the perfect trading partner for the Leafs.
Just check out their centres:  Jack Eichel, Ryan O'Reilly, Tyler Ennis, Zemgus Girgensons and Sam Reinhart.  That is the most incredible depth in the entire NHL at the most important position, and it doesn't even include the talented but enigmatic Cody Hodgson who the team will likely buy-out.
And it's a  position the Leafs are weak in.
The Sabres, even after they sign Ryan O'Reilly to a monster contract, will still have between 15-18 million dollars in cap room.  They could use a veteran defenseman and another scoring winger.
If you assume Girgensons will get moved to the wing, they have Kane, Moulson and then things start to get pretty thin, as Sargent Murtaugh would say.  Sure, they have some prospects, but if they want to compete now – and they should – they need some help on the wing.
Kessel and Phaunef
Kessel and Phanuef combine to make $15 million for the next six years. That is a lot. However, the Leafs could take on Cody Hodgson's deal, which goes for four more years at $4.25 million and they could take Brian Gionta's contract which is two more years at $4.25.
That means the Sabres would be getting Phil Kessel for free for the first two years of his deal and half price for the next two.  Instead of $15 million for both, the Sabres would be paying just $6.5 million for the pair of Leafs in the first two  years and $11 million the two years after that.
It's a pretty good bargain.
In exchange, the Leafs should get back Sam Rienhart and a first round pick (along with Hodgson and Gionta.) Reinhart is a 6'1 centre with elite passing and vision – he is exactly what the Leafs need.
The Leafs would be getting their future #1 C, along with a mid-round pick next year.  Cody Hodgson always has a chance to rebound, since he's only 25 and is really talented. All in all, it would be a dream return for the Leafs, but it also really helps the Sabres.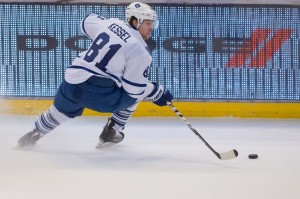 With Kessel and Eichel on one line and Kane and O'Reilly on the other, the Sabres would be close to unstoppable. They could play Dion on in the middle of their deep defense and he'd look great playing more reasonable minutes than he's been used to on Toronto.
All in all, it's just a fun idea to kick around on a Sunday, but from my perspective, it seems like a win-win for both teams.
Even if the Sabres balk at taking on $15 million in annual salary, there is still tons of potential to do a less complicated Rienhart for Kessel deal.  The Leafs have the ability to take salary, the Sabres have too many centremen. The Sabres could use a winger. The Leafs obviously need a centre.
Imagine a line that features JVR-Reinhart-Marner and then is followed by Panik-Kadri-Nylander?
That's how you rebuild a team.  This trade just makes sense.
Covering the Leafs for the Hockey Writers.