For what the Islanders might have lacked in recent history in terms of defense and goaltending, they have had a bright spot on the first line left-wing. For years, Matt Moulson manned the position until he was dealt for the even more talented Thomas Vanek last season. Now with both of those players being on different teams this season, a lot has been made about the vacancy on that line. How should the Islanders address it? Via trade? Via players they have?
Last year, Brock Nelson was given the lion's share of time on that wing when Vanek was injured or after he was traded, and all signs point towards Nelson being the opening day left winger on the first line. However, is that the correct decision? There are several other viable options on the team, which is a good problem to have.
Brock Nelson
As previously stated, we know what Nelson can do on that line. He's a strong player, not afraid to get in dirty areas and has a knack for finding the net. He projects as a sort power forward with offensive upside which is obviously a nice player to have on any team. However, the issue here is that Kyle Okposo is similar to this. Obviously lining your top line with tough, strong players is never a bad thing, but is it a smart move to put two of the stronger players on the same line?
The good part about this is that the Islanders are not a weak team by any means. Cal Clutterbuck is another wing player who's not afraid to get physical, and the same goes for the entire fourth line of Matt Martin, Casey Cizikas, and others. Nelson should be considered the favorite to land the spot on the top line, but that doesn't mean there's no contest.
Ryan Strome
Ryan Strome was drafted in the top five in 2011 and saw his first taste of NHL action last year. While he is a center by trade, he's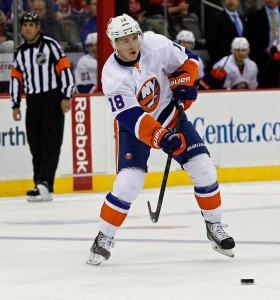 played wing at the professional level. Ryan Strome's biggest weakness may be his size-at 6'1, 188 lbs, he's not pushing other players
around by any stretch. What Strome lacks in size, however, he makes up in skill.
In 37 games played last year, Strome scored 18 points. In an 82 games season, that's about 40 points. About half a point per games for a rookie playing with non skill players on a weak team? Not too shabby.
Call me crazy, but the fantasy of Ryan Strome setting up JT and Okie is extremely enticing. Strome could be the top 6 quality playmaker he was projected to be, but we won't know until we see. Look for this to be something the team tries in pre season frequently.
Anders Lee
Anders Lee signed a one year deal this offseason, and it seems as if he's going to get a chance to play with the Islanders almost every day. Should his time be on Tavares' wing?
Lee has become a fan favorite pretty quickly. After scoring his first NHL goal on his first NHL shot, many fans have likened Lee to that of a younger, more talented Matt Moulson. He's not a pure scorer, but always seems to find his way to the net in order to be ready for the correct plays.
However, for how quickly Lee has shot up in terms of value to the team, there remains one glaring issue- his defense. Defensively, he make a lot of mistakes and putting him on the ice for extended time may lead to those deficiencies being highlighted. Putting him on the wing will obviously lead to his point totals going up, however if the team gives up more goals with him on the ice or takes penalties, it won't matter much. While I think Lee actually does have a very good chance to play on the first line, a bit more seasoning will do him some good.
A Good Problem to Have
This isn't the worst dilemma in the world, however. You mean to tell me it's a good thing to have multiple talented, young players to put next to one of the best offensive players in the NHL? Blasphemy!
Whatever route the Islanders decide to take, I'm sure that the team will have a talented wing next to Tavares and Okposo. And, who knows? Maybe the team isn't done making moves. A lot of things can still happen, so we'll have to take a wait and see approach. Until then, keep an eye on where players line up in camp and in pre season, because that's where you may find your answer.