Vladimir Tkachev for the Calder!
Wouldn't that be unreal? It's unrealistic, that's for sure, but now that I've got your attention, let's take a look back at the Young Stars prospects tournament in Penticton.
The four-team showcase of Western Canadian clubs was an entertaining one, with 48 combined goals scored in just 6 games — an average of 8 per game — plus a couple shootout goals for good measure. According to Quanthockey.com, NHL teams averaged a total of 5.34 goals-per-game during the 2013-14 season, so almost 3 fewer than these run-and-gun rookies.
Given those numbers, it wasn't a great showcase for goaltenders, and being a former one, I couldn't help but feel sorry for them, but it made for lots of highlight material (at their expense) and plenty to talk about in general.
Everybody enjoyed the extra offence, but I wouldn't go as far as to say it was good hockey being played at the South Okanagan Events Centre — more like "fun" hockey to watch. The first periods of almost every game were sloppy, as to be expected in the pre-season, and there was little in the way of systems play or structure throughout the tournament, which allowed the flashier forwards to really shine.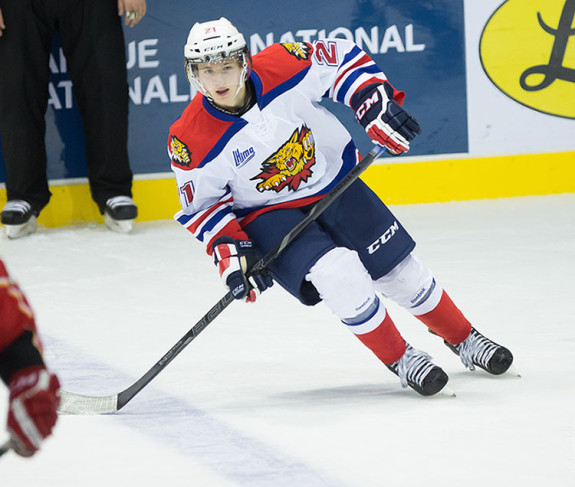 Enter Tkachev, the tiny undrafted Russian on a tryout with Edmonton, who turned just as many heads as the first-round picks he was competing against and alongside.
Taking one look at him in warm-ups prior to the Oilers' opener, he appeared out of place, almost as if he was the "minor hockey player of the game" just out for a stroll and the opportunity to stand on the blue-line for the national anthem. Then, he touched the puck, first in line rushes and later in game action, and suddenly the onlookers from press row were reminded why we were taught never to judge a book by its cover.
This kid's talent is off the charts. If Tkachev were even 5-foot-11 and 180 pounds, he probably would have been a top-30, perhaps top-10 pick this past June. But he's not — not even close. He was very generously listed at 5-8, 163 on the Oilers' website when, in reality, he looked more like 5-6, 140. He was the smallest player in the tournament by a significant margin and that's saying something considering Calgary's Johnny Gaudreau, another standout, is only 5-9, 160 and that might be a stretch too.
Tkachev was so small that his No. 64 jersey draped over his pants like a mid-length dress and resembled a cape whenever he got up to full speed. Yet, none of that was enough to discredit his dynamic skill-set, which earned him an extended look with an invite to Edmonton's main camp, which starts with physical testing Thursday before the players hit the ice Friday.
Tkachev will look like everyone's little brother there too, but if Penticton were any indication, I wouldn't write off his potential to score an entry-level contract sooner than later. He's a slick player who exudes extreme confidence with the puck on his stick and displays the offensive creativity that his countrymen have become famous for. He danced around a ton of defenders in Penticton with the greatest of ease, making guys twice his size look silly — Calgary's Keegan Kanzig, at 6-7 and 245 pounds, literally looked twice his size.
Tkachev had great chemistry going with the big Russian, 6-foot-5 Bogdan Yakimov, so I was interested to see how he would do with different linemates for Monday's finale against Winnipeg. As it played out, Tkachev didn't skip a beat with third overall pick Leon Draisaitl as his centre — that combination was just as good, if not better. Their wingman Mitch Holmberg scored one goal but probably should have had a hat trick after whiffing on a handful of their set-ups.
If not for a couple quality saves by Eric Comrie in the later stages, Tkachev could have been the hero in that contest — instead, it was Nikolaj Ehlers, Winnipeg's ninth overall selection, but more on him in a bit. I was somewhat surprised Tkachev didn't get a chance in the shootout, but I guess the coaching staff opted for Holmberg based on his familiarity with Comrie from the WHL as U.S. Division rivals.
Alas, it was only a pre-season tournament and we must temper expectations on Tkachev. No, he's not likely to win the Calder or even suit up for a regular-season game in 2014-15. For as good as he was in the offensive zone, his game also showed deficiencies in Penticton. Tkachev was a turnover machine at times and he had a habit of wandering, chasing the puck, losing his check and not really playing his position. Still, he's an intriguing prospect who managed to catch the eye of Edmonton's brass. They probably see that there's a lot to work with, but that there's also a lot of work to be done to refine his game. The odds are against Tkachev, and he'll need to grow or at least fill out a bit to survive in the NHL, but time will tell.
Overall, I'd rank Tkachev as my third star behind the aforementioned Ehlers and Gaudreau.
Ehlers likely stole the first star with a convincing performance against Edmonton, capped by his shootout-winning goal. He also scored twice in regulation to force overtime, showing off his blazing speed and wicked release by sniping on Frans Tuohimaa. He had already dazzled in Winnipeg's opener by ripping another wrister past Calgary's Joni Ortio on a spectacular individual rush. He was dominant in spurts at Penticton and you could see why they call him the Danish Jonathan Drouin. I actually see a bit of Marian Gaborik in Ehlers too, that being the younger, more exciting version of Gaborik from his Minnesota Wild days when he was sent flipping by Dominik Hasek.
Gaudreau was probably my second star. He scored the goal of the tournament in Calgary's opening game against Winnipeg on Friday. I'm sure everybody has seen it on YouTube by now. It was so nice that it finally dethroned Vincent Praplan's 360-goal from the Champions League in TSN's 1V1 challenge segment. Praplan's stunner had stood the test of time, but it was getting a little old for those of us who watch SportsCentre on a nightly basis.
https://www.youtube.com/watch?v=GL2BqE17kag
https://www.youtube.com/watch?v=T_dWb5P1WAI
Gaudreau is one of those guys you don't necessarily notice until he does something special and makes you go 'Wow', which he seemed to do at least once a game. He's got that game-breaking ability and he can pull off moves that other guys wouldn't even think of, let alone try.
Sam Bennett, the Flames' fourth overall pick in June, was pretty 'blah' in Calgary's opener, but he got better as the tournament went on and was arguably the best player on the ice against Edmonton on Saturday. He benefitted from playing with Gaudreau and said as much himself.
"You can see it in my play," Bennett told the Calgary Sun. "From the first game I played to the second game, he made me that much more comfortable and that much better. When you're a player that makes people better, that's an unbelievable attribute for you to have, and he definitely has it."
For all the knocks on Bennett physically — remember, he failed to do a single pull-up at the draft combine — he seemed to be playing with a chip on his shoulder in Penticton. Bennett was very feisty, finishing all of his hits and knocking down some of the bigger boys there. He's not scared to get dirty.
Draisaitl was kind of like Bennett. I didn't think Draisaitl was anything special in Edmonton's opener, when Yakimov appeared to be the best of the Oilers' big centres, although it was later revealed that Draisaitl was dealing with some leg-cramping issues in that game. He looked much better against Winnipeg on Monday, showing off his elite playmaking ability and vision. The Joe Thornton comparison is a good one in that he's big and not the best skater — it was noticeable from watching him live, that he's a bit slower than most — but Draisaitl was thinking the game a lot faster than almost anybody in that tournament. He's one of those guys who knows what he's going to do with the puck before he gets it.
Yakimov was impressive in the two games that he played, scoring in both. He only turns 20 next month, but he's played pro in the KHL and I think that gave him an edge in this tournament. His impact in Penticton was comparable to Draisaitl's, so it'll be interesting to see how they compete against each other and against pros throughout the pre-season games. Yakimov might be a darkhorse for one of those two available centre spots.
Darnell Nurse, the seventh overall pick in 2013, seemed to be going through the motions and was probably saving his best for main camp as a prospect with the potential to play some regular-season games. He didn't look bad in Penticton, he just wasn't as dominant as he could have been. But when he was challenged physically, Nurse ramped it up a bit, such as a shift against Winnipeg's Adam Lowry when they were bumping chests.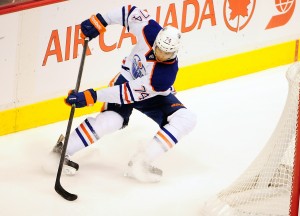 Nurse will be one to watch in the pre-season and I think he'll make it a difficult decision to send him back to Sault Ste. Marie. I expect him to be better than Keith Aulie and maybe even Nikita Nikitin, who might be the most comparable player on the Oilers' roster in terms of Nurse's skill-set.
Mitch Moroz, Kyle Platzer and Kale Kessy, in that order, were the other Oiler forwards who impressed me in Penticton. Edmonton certainly has some big, power forward types in the pipeline, which is promising. Add in Jujhar Khaira, Tyler Pitlick and Curtis Hamilton and their bottom six should be a strength in a few years.
Dillon Simpson was Edmonton's best defenceman at the Young Stars, in my opinion. Wearing the captain's 'C', he was very poised and made the right play 99 per cent of the time. C.J. Ludwig, son of Craig (Shin Pads) Ludwig, was another pleasant surprise, and I heard Dallas Eakins raving about Jordan Oesterle, specifically about his gap control, so they obviously like what they see in him.
Hunter Smith was a beast for the Flames, most notably flattening Kessy with an open-ice hit that was followed by a short scrap. Michael Ferland was another Calgary forward who made an impact, bagging a few goals and playing a meat-and-potatoes game similar to Moroz.
Aside from Ehlers, Nic Petan was probably Winnipeg's next-best forward. Like most the players in Penticton, Petan got better with each game he played. He's a bit undersized and not the smoothest skater, but he's got excellent offensive instincts. Scott Kosmachuk and Jimmy Lodge were also decent for Winnipeg.
On defence, the pairing of Josh Morrissey and Brenden Kichton were hit and miss, but like Nurse, they were probably pacing themselves for main camp. Winnipeg might have a spot for one of them, so whether they stay together or are split up now, they will be competing against each other.
I'd be remiss not to mention the host Canucks, but in all honesty, nobody really stood out from Vancouver. I expected more out of Bo Horvat. Maybe he was coasting towards main camp too, but he didn't show much of anything in Penticton and he'll need to be much better if he wants to make Vancouver's roster. Ditto for Nicklas Jensen, who was invisible and hardly warrants noting. Hunter Shinkaruk scored some goals but they were opportunistic goals, coming off rebounds or redirections. He didn't make any end-to-end rushes and wasn't as noticeable as he was at last year's Young Stars. Vancouver's best forward was probably camp invite Curtis Valk, another little guy from the Medicine Hat Tigers who was in the right place at the right time to score some goals and punch his ticket to main camp. I didn't mind Dane Fox either, as he showed off the shot that netted him 64 goals in 67 OHL games last season.
Vancouver's really hurting for defence prospects, that much was evident from watching this tournament. I tried to watch Jordan Subban pretty closely, hoping to see the second-coming of P.K., but there were no shades of his Norris-winning brother. Anton Cederholm might have been their best blue-liner, but that wasn't saying much as even Frankie Corrado was mediocre. Sure, it was a small sample size, but with Kevin Bieksa (33) and Dan Hamhuis (turning 32) getting older, some of these young guys are going to have to step up in the years to come.
In the end, Calgary (2-0-1-0) and Edmonton (2-0-0-1) finished tied for the best record, with five points each, while Winnipeg (2-1-0-0), with four points, and winless Vancouver (0-1-2-0), with two, brought up the rear. Those standings accurately reflected the way I'd rank these teams and their prospects based on this six-game tournament.
I was fortunate enough to be a guest on The Pipeline Show with Dean Millard and Guy Flaming on TSN 1260 radio in Edmonton this Tuesday to recap the Young Stars. It had been a while since my last appearance, back when I was pumping Shane McColgan's tires as a potential 100-point guy in the WHL, so I tried not to make any "BOLD" predictions this time around . . . as tempting as it was to blurt out Tkachev for the Calder!
Tough act to follow on Pipeline Show tonight, some kids named Nurse (@drtwofive) and McDavid (@cmcdavid97)…tune in! @TPS_Guy @DuckMillard

— Larry Fisher (@LarryFisher_KDC) September 17, 2014
Larry Fisher is a sports reporter for The Daily Courier in Kelowna, British Columbia, Canada. Follow him on Twitter: @LarryFisher_KDC.