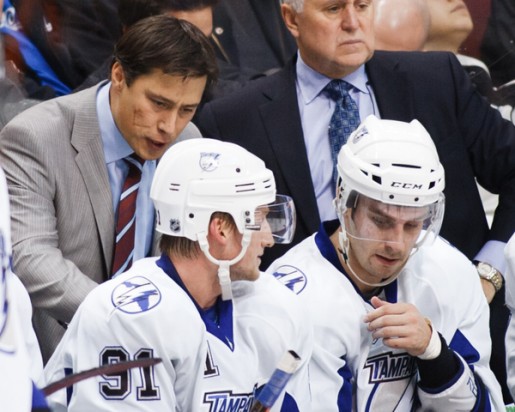 With fifteen games left in the season, The Tampa Bay Lightning find themselves three points outside of the playoffs and five points behind the Florida Panthers for the division lead. With a seven-game home stand looming, the biggest question staring them in the face is not about the goaltending, rather it's "Where are the goals going to come from?"
Mathieu Garon's injury didn't change the situation in goal, it's still inconsistent at best. The only difference is that the choice is between an unproven rookie in Dustin Tokarski and a shaky veteran in Dwayne Roloson. Until last Tuesday the choice was between the shaky veteran and a career backup in Garon. In either case, the only way the Lightning are going to qualify for the playoffs is by outscoring their opponents.
Their second half resurgence has been fueled primarily by having two productive scoring lines. Steve Downie's improved play allowed Coach Boucher to move Martin St. Louis to Vincent Lecavalier's line and both lines benefitted.
Then February 21st happened.
In one day, Boucher saw 1/3 of his top six forwards removed from the lineup. With Downie traded to Colorado and Lecavalier sidelined by a broken hand, Boucher was left with only one line that could generate consistent offense.
In the nine games since the 21st of February, the Lightning have scored a total of 26 goals. The top line of Stamkos, St. Louis and Teddy Purcell have accounted for 18 of those goals. Those three have also accounted for 9 of the 10 power play goals Tampa Bay has scored during the same stretch. That's a lot of scoring from one line.
Based on the last two games, the default second line has consisted of Tom Pyatt centering Ryan Malone and rookie Brett Connolly. The trio has provided a lot of energy since being put together, but hasn't cashed in too many of the opportunities that they've created by crashing the net. Malone and Pyatt each have one even strength goal during this recent nine-game stretch (Malone also has a power play goal).
That line has to start finishing off the chances they create in order for the team to continue its recent run of success. Getting offense from the third and fourth line players would also help relieve some of the pressure from the Stamkos line. Ryan Shannon hasn't lived up to his potential yet, although with a goal and an assist in his last three games he might be emerging from his season long funk.
Keeping the special teams rolling will be another huge factor in their playoff push. During this 9 game stretch the power play is clicking at a 30% success rate – well above their season average of 16%. Scoring with the extra man was a key component for the success of last season's team and its ineffectiveness this season led to a lot of their early season struggles.
Lecavalier should hopefully be back in the line-up within the next 10 days. It will be interesting to see if Coach Boucher breaks up his top line or just inserts Lecavalier into Pyatt's spot. Vinny has always played his best with St. Louis on his wing, but to split that line up when they're playing as well as they have been would be hard to justify.
Until that happens, the lack of secondary scoring remains the biggest question facing the Tampa Bay Lightning. Their chances of making the playoffs (currently at 12.3% according to sportsclubstats) ride entirely on how they fare on their upcoming seven-game home stand. Hopefully, when Paul Porter announces the Lightning goals he'll have to use a name other than Stamkos, St. Louis or Purcell.