Part I: Gilbert Brule & Alexander Burmistrov
Part II: Nino Niederreiter & Josh Bailey
Nail Yakupov, RW, Edmonton Oilers (1st overall pick, 2012)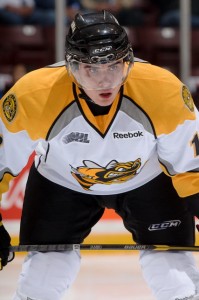 The year before his draft year, Nail Yakupov made the move from Russia to the OHL to play for the Sarnia Sting. The move was a calculated one, intending to show that Yakupov was committed to playing in North America, and eventually the NHL. It was the best statement he could make to avoid the "Russian" label of a moody, inconsistent player that could leave for the KHL.
His first season in Sarnia was spectacular. He finished 4th in the OHL in points with 101, and scored 25 more points than the next highest rookie. In his draft year, Yakupov was ranked first in NHL CSS's Preliminary Rankings, and retained that spot in the Final Rankings as well. This was despite injuries that limited him to 42 games, where he scored at a pace slightly higher than the year before.
Edmonton made Yakupov the #1 overall pick, and by all accounts, he enjoyed a strong rookie year under coach Ralph Krueger. He led the Oilers and all NHL rookies in goals with 17, and tied for the lead in points by a rookie with Jonathan Huberdeau.
Some were not entertained by Yakupov's exuberant goal celebrations, most notably Don Cherry. The noted anti-Russian TV personality went as far to call Yakupov an idiot and said his flamboyant celebrations made him lose respect among his fellow players.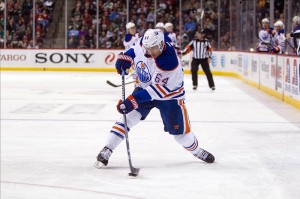 In the offseason, the Oilers fired Krueger and brought in the brash, strong personality of Dallas Eakins. The coaching change would end up having more of an impact on Yakupov than anyone could have imagined.
2013-14 ended up being a disaster for Yakupov. He finished the season with 7 fewer points despite playing 15 more games. He was a team worst -33, despite being 8th among forwards in ES time on ice per game. He was a healthy scratch on a number of occasions because he was not playing the style of hockey that Dallas Eakins wanted to play. Eakins wanted Yakupov to pay more attention to the defensive side of the game and play within his system.
In response to being sat for not playing Eakins way, Yakupov said:
"I'm going to play my game. I'm not going to change but maybe play better without the puck, or forecheck more, but I love playing with the puck. I really don't like skating all the time, and forechecking, and hitting somebody every shift. I don't think it's my game."
Rumors swirled about Yakupov and Eakins not seeing eye to eye about how he should be used as a player. Darren Dreger went as far as to say he didn't expect Yakupov to be an Oiler in 2014-15, and said he lacked commitment. At the end of the season, Eakins shrugged off rumors that the relationship between the two had soured, and he said he had no problems with Yakupov's work ethic.
And my relationship with Nail is a great one. That's why I kind of chuckle with the way it gets drawn out in the media. You take a kid out of the lineup and certainly, suddenly, there's a big fight going on. Well, there's no fight.
Considering how the season played out, it's hard to believe Eakins. Throughout the season, Eakins not only shuffled Yakupov in and out of the lineup, but he shuffled him onto many different lines. Nail Yakupov spent at least 8 games playing on the 1st through 4th lines last season, playing both right and left wing in the process. His linemates ranged from Taylor Hall and Ryan Nugent-Hopkins to Luke Gazdic and Ryan Smyth.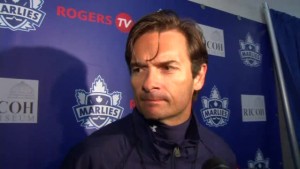 How is a player supposed to build confidence and continuity in his game when there are huge swings in his minutes and the type of role he is expected to play?
Eakins is correct that in order for the Oilers to be successful, they need to improve overall defensively, Yakupov included. He tried to install a complex defensive system in the beginning of the season, but realized that it was too complicated for the inexperienced squad. I don't doubt that Eakins can be a good NHL coach, but I am not sure that he is the coach that the Oilers need right now.
Eakins demands that his players stick to his style of play. That works when your roster is filled with veteran players that are established in the NHL, and know how to play a role. It doesn't work when your roster is littered with young players there are still finding themselves as players in the NHL.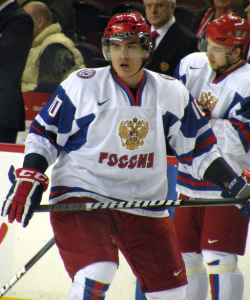 Right now, the Oilers are in the same stage as the Philadelphia Flyers were in around 2006-07 to 2007-08. They have a number of young, quality players, but they are not fully established at the NHL level. The Flyers coach at that time, John Stevens, had little to speak of in terms of a system. Instead, he let his players play and learn the right way to play at their pace. Stevens was great at developing young talent, but very bad with systems.
When Mike Richards and Jeff Carter had matured into elite players under Stevens, it became clear that the team needed a coach with a strong system to take the team to the next level. The Flyers brought in Peter Laviolette, a coach with a strong personality and brash tactics, not unlike Dallas Eakins.
Right now, the Oilers need a John Stevens to take their raw young players with potential and groom them into NHL players. Then, they can hire a taskmaster coach to take that talent and get the most out of it. Eakins is more Laviolette than Stevens.
By making Nail Yakupov a healthy scratch, forcing him to play in a system and under a coach that don't allow him to develop, not giving him consistent linemates, and having him play significant minutes with role players, he has not yet developed as expected.
Mikhail Grigorenko, C, Buffalo Sabres (12th overall pick, 2012)
Mikhail Grigorenko made a similar move to come to North America to show his commitment to the NHL. Playing for the Quebec Remparts in his draft year, Grigorenko racked up 85 points in 59 games. He was ranked 3rd among North American skaters in the CSS Final Rankings, but fell to #12 because some teams thought his work ethic and effort level was not the best.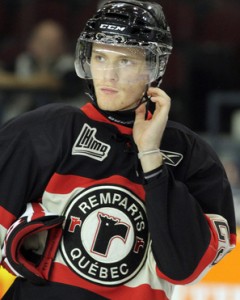 After a strong training camp, Mikhail Grigorenko made the Sabres opening day roster. Through 25 games, he mostly struggled and managed just 1 goal and 4 assists. His two most common linemates were Jochen Hecht and Steve Ott, two third line players. By having Grigorenko play more than 5 games (usually 9, but it was pro-rated for the 48 game season), a year was burned off his entry level contract. In addition, he was on the active roster for 24 games, meaning he is now eligible for unrestricted free agency a year sooner.
He was eventually returned to the QMJHL in March, where he scored 13 points in 6 games between the regular season and playoffs.
Just like 2012-13, Grigorenko made the Sabres out of training camp in 2013-14. And again, he struggled out of the gate. Playing with two youngsters Zemgus Girgensons and Brian Flynn, he did not have the talent around him to allow his game to develop.
He managed 2 goals and an assist in 18 games. Again, he was a healthy scratch multiple times. According to the CBA, Grigorenko was not eligible to play in the AHL. The Sabres attempted to send him there on a conditioning assignment for "general body soreness", but the move was blocked by the NHL.
Basically, the NHL concluded that Mikhail Grigorenko did not have "general body soreness" and was not eligible for conditioning loan.

— John Vogl (@BuffaloVogl) November 20, 2013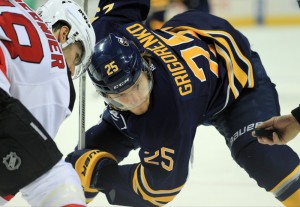 When the Sabres attempted to send Grigorenko back to the QMJHL again, after burning another year off his contract, Grigrenko refused the demotion. In the QMJHL, you are only allowed to have two import players on your roster. And at the time, both of those spots had been filled. Three months after Grigorenko refused the demotion, he relented and reported back to Quebec where he scored 48 points in 28 games playing against teenagers.
In just two years, the Sabres organization has done just about everything wrong when handling Grigorenko's development. They've played him with poor linemates, made him a healthy scratch, burned two years off of his contract for 43 total games in the NHL, destroyed his confidence, and continued to play him in the NHL when it was clear he wasn't ready.
Hopefully under new GM Tim Murray, Grigorenko will be handled properly and allowed to develop the right way.
Bill Schoeninger is a Philadelphia Flyers writer and current Boston University student studying business. Coming to THW from Hometown Hockey, Bill follows and writes about the Flyers, Boston University Terriers, and NHL Draft prospects. Follow him on twitter @BSchoeninger17