His exile to the land of chocolates, fine timepieces, and movie-villain banking accounts is over.  Matthew Lombardi is back in the NHL.
The native of Hudson, Quebec, will now be playing just four blocks from the Hudson River.  The New York Rangers have inked the 32-year-old center to a 2-year, $1.6MM deal.
Matthew Lombardi signs two-year deal w/ #NYRangers

— John Hoven | The Mayor (@mayorNHL) July 16, 2014
Swiss League 2013-14
Lombardi led the Swiss League in scoring last season, posting 20 goals and 30 assists in 46 games with the Genève-Servette HC.  Lombardi played on the club's top line alongside former NHLers Kaspars Daugavins (Bruins, Senators) and Alexandre Picard (Blue Jackets).  He helped the team reach the league semifinals where they were ousted by the eventual champion Zurich Lions.
Lombardi also played a key role in helping Genève-Servette capture its first Spengler Cup.   He led the tournament in scoring with four goals and four assists in eight games, including a three point performance in the club's 6-5 seimifinal win over Team Canada.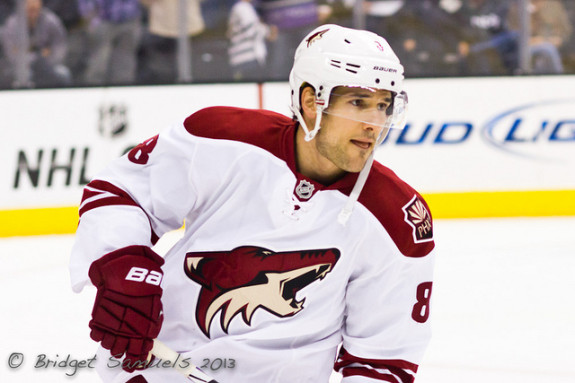 NHL Experience
Lombardi's last NHL season was 2012-13, which he split between the Coyotes and Ducks. In 28 games, he managed just eight points.
He was originally drafted by the Edmonton Oilers in 2000. Unable to come to terms with the club on a contract, he re-entered the draft in 2002 where he was selected by the Oilers' rivals to the south, the Calgary Flames.  He spent five seasons in Alberta before moving on to stops in Phoenix, Nashville, Toronto, and Anaheim.
His best offensive season came with Calgary in 2009-10, when he posted 19 goals and 34 assists for 53 points in 76 games. He bested that goal total just once, when he netted 20 in 2006-07.
Injury History
Lombardi's suffered some injuries over the course of his career.  He's played a full 82-games just once, in 2007-08.  He hit 81 the season before.  Since then, though, he's missed quite a bit of time.  Most signficant was the concussion he suffered in 2010.  In just his second game with the Nashville Predators, Lombardi fell awkwardly into the boards.   He sustained a concussion on the play and missed the remainder of the season.  It was the second confirmed concussion of his career.
He was sidelined early in the lockout-shortened 2013 season with an upper-body injury which Coyotes coach Dave Tippett said was unrelated to his previous history of concussions.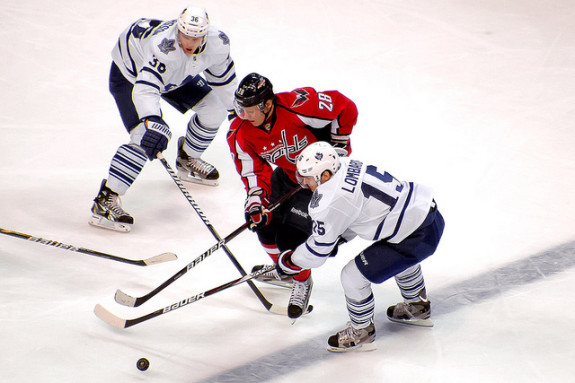 So why did the Rangers go after an injury-prone Swiss-league player?
Rangers' Reasons
Price – The Rangers are working hard to retain their core under the constraints of the salary cap.   Having lost their forward depth – priced out on both Benoit Pouliot and Brian Boyle – Lombardi is a cost-effective solution at just $800k per season.  If he disappoints, the Rangers can effectively bury his contract in the minors.  Under the current CBA, the first $900,000 of a deal will not count against the NHL cap for players sent down.  Based on Lombardi's salary, they can send him to Hartford and take him off the books if things don't work out.
 
Speed – Lombardi's fast.  He should fit well in Vigneault's system.  Having a fleet-footed bottom-six guy is certainly a positive.
 
Penalty Killing – Brian Boyle led all Ranger forwards with an average shorthanded ice time of 2:04 per game.  (Moore was second at 1:40).  While Lombardi can't step into those minutes, he can certainly help pick up the slack when the Blueshirts are man-disadvataged.
 
Leadership – Lombardi's Swiss club noted his leadership both on and off the ice, including the solid work he did mentoring their younger players. Having him available to work with players in Hartford, assuming he's sent down, is another possible benefit.
 
It's a low-risk deal for Sather.  With Dominic Moore locked in as the fourth line pivot and Stepan/Brassard handling the top two lines, Lombardi can slot in as the third-line center.  If one of the Rangers' prospects, namely J.T. Miller or Oscar Lindberg, impresses in camp, they can step right in.   If not, Lombardi can contribute while Miller and Lindberg continue to get top-line experience in Hartford.   It's a depth move and a solid contingency plan for the Blueshirts.  At the very least, he's keeping the spot warm until the kids are ready.  Based on his play in the Swiss League, he might even be able to chip in a few points.
Josh is a life-long hockey fan. He grew up as a fan of the New York Rangers, but thanks to their general mismanagement and years of mediocrity, has developed a great appreciation for every team across the league.
He's been writing about hockey on various sites since 1995. In addition to his work at The Hockey Writers, he also keeps tabs on the referees over at ScoutingTheRefs.com.