For the second straight season, the Columbus Blue Jackets completed an entire season without a captain. That didn't stop the Jackets from turning the corner, boisterously arriving in relevancy. And although naming the next captain for Columbus isn't the top priority for a team looking to build off of the momentum they left on the doorstep of the second round of the playoffs, they'll certainly be looking to fill the void sooner, rather than later. Here are five candidates the Jackets could consider: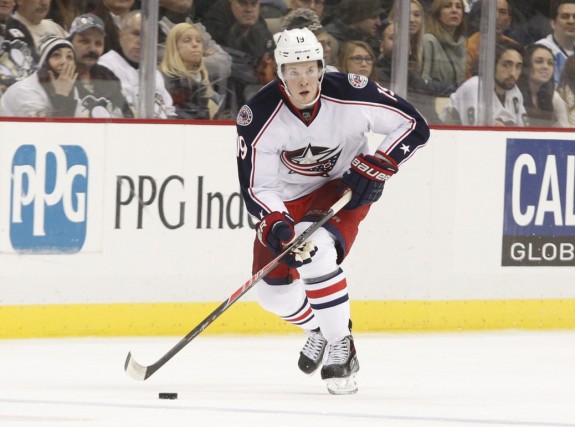 1. Ryan Johansen
At just 21 years of age, Ryan Johansen tops the list for Columbus' next captain. The skilled center gives the Jackets the luxurious option to have their cake and eat it too when his youth and experience are weighed against each other.
In just three seasons, which includes the lockout-shortened 2012-13 season, Johansen has already skated in 189 games. But it wasn't until this past season that Johansen arrived, sledgehammering down the door, placing the rest of the league on notice. At 6-3, 223-pounds, Johansen displayed his durability, playing in all 82 regular season games, while adding a career high in points (63) that is surely anticipated to be surpassed.
"I like playing with him," said teammate Nathan Horton. "He's got great vision. He does everything. We've seen it (recently) with the goals he's scored. This guy has it. He's got all the tools."
Johansen's tools, among other things, leave a new contract for the restricted free agent as  Columbus GM Jarmo Kekalainen's top priority. A task Kekalainen is approaching with comfortable confidence.
"If he signs an offer sheet, he signs an offer sheet," said Kekalainen. "Our ownership is strong, and as I said before, we would match any offer he could possibly sign. If somebody wants to waste their time and effort on that, that's fine for them. We'd just match it and keep the player."
While the Jackets are $22.749 million under the salary cap, Kekalainen shouldn't get too comfortable. With past offer sheets signed by players such as, Shea Weber and Ryan O'Reilly, the dollar amount may surpass the expectations for even more established names in the league. And with a team to build around this budding star, every dollar counts.
Make no mistake about it, though. I don't believe Kekalainen to be a liar, so you can bet the house that he'll remain in Columbus for some time to come. And for that, he'll will be compensated handsomely. What better of a player to hand the dressing room over to?
2. Nathan Horton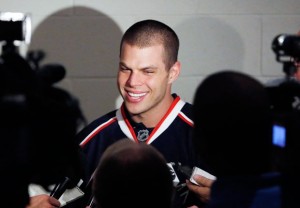 Although Nathan Horton's Blue Jackets debut was delayed due to shoulder surgery, the 29-year-old right winger was a difference maker for a Jackets team that seemed to always lack that extra push in the past. Horton's first game in a Columbus sweater culminated in a power play goal, which turned out to be the game-winning goal in a 2-0 win at Phoenix.
"You can tell we're a good team when we play hard," Horton would go on to say after the win. "I really enjoyed being out there with the guys."
The effort to convince that Horton's sample size with his new team is too small to name him the next captain for Columbus completely misses the mark of why he's a practicable candidate in the first place. Since the captain's role emphasizes leadership over everything else, Horton's past achievements, as well as his sound reputation make him worthy of this role with the Jackets.
"…How can they name him captain already?

Marketing.  That's how.

Think about it.

Horton has been marketed relentlessly since he signed with the Blue Jackets.  He has done everything from opening the new Chiller Ice Rink in Springfield, to passing out pizza and answering questions at Hockey 'N Heels.  Sure, he was hurt and didn't have anything else to do, but I quickly became indifferent to Nathan Horton." — Lindsay Wilson, Union and Blue
Obviously, marketing is not the sole determining factor in naming a captain; but it certainly doesn't hinder the effort. When added to two Stanley Cup appearances in three years, not to mention winning one of them, a proven winner who hasn't even reached the age of 30 yet is a prime selection for handing the reigns of an up and coming team to.
3. Brandon Dubinsky
Brandon Dubinsky is a sleeper candidate for the next captain for Columbus. At 6-1, 216 pounds, this power forward can not only score consistently, but handle the burden that comes along with the highly regarded title of captain.
"Dubi relishes the big moments," said teammate Mark Letestu. "If you think back to the big moments the last two years for this franchise, he seems to be in or around it.
"His game is built for the playoffs. You can see at any moment that he's head-first into it."
This should come as no surprise when speaking of the eight-year veteran. After all, Dubinsky thrived on America's biggest stage for six years, racking up 213 points in 393 games with the New York Rangers. And for the style of hockey Dubinsky radiates, he's been quite durable, despite appearing in only 105 of 130 possible regular season games with Columbus over the past two seasons.
https://www.youtube.com/watch?v=WQGz9UoKOKo
When Dubinsky's attributes and love for the city of Columbus are supplemented, it makes for a legitimate nominee for captain.
"I think there was a lot more excitement here in Columbus than in New York," stated Dubinsky. "New York is crazy and has great fans, but our fans were hungry to make the playoffs and really showed that support. I think Columbus fans were a bit crazier, for sure."
In spite of what the 28-year-old center brings to the table, however, many are still hesitant to endorse the human wrecking ball for the Jackets' next captain. He's developed the reputation as somewhat of an undisciplined player, habitually racking up penalties throughout his career. And although he hasn't surpassed the 100 PIM mark that he did on four separate occasions in New York, he came just a minor penalty shy of reaching that threshold this past season.
"Speaking of leadership, the Blue Jackets have been without a team captain since they traded away Rick Nash before the 2012-13 season. While the team says all the right things about not having a captain, the fact of the matter is that it has to wear heavily on many of the team's players, particularly Brandon Dubinsky and Jack Johnson, both of whom seem to be good options for the role. Of course, that neither of those players has been awarded the "C" seems to suggest that the powers that be would rather award it to a young player. No matter the choice, creating a clearer hierarchy would likely only help the Blue Jackets as they continue to develop into a potential NHL powerhouse." — Andrew Roman, 2 Pad Stack
4. James Wisniewski
Another name that carries respect and credibility is James Wisniewski. The 30-year-old defenseman calls the Jackets his fifth team, verifying the fact that he's been around and seen some things. Since breaking into the NHL with the Chicago Blackhawks in the 2005-06 season, Wisniewski has bounced around both conferences, playing for the Ducks, Islanders, Habs, and now Blue Jackets.
"I've been preaching to some of the younger players that this is still just a hockey game," said Wisniewski after Columbus' Game 1 loss to Pittsburgh in this year's quarterfinal. "The point of the game is still to score more goals than the other team."
Absolutely love that from James Wisniewski. That's leadership.

— Rob Mixer (@RobMixer) November 17, 2013
James Wisniewski picked up 27th power-play point of season vs. #Isles. Only Keith Yandle (31) & Erik Karlsson (28) have more among 'D'. #CBJ

— Pete Jensen 🏒 (@NHLJensen) April 7, 2014
Wisniewski's experience and authentic leadership gives him the authority to speak over a team that now finds themselves ready to take the next step. But it's not just Wisniewski's decade of NHL experience that makes him an automatic claimant for Columbus' vacant captaincy. The Michigan native also possesses an infectious persona, which leaves most loose and relaxed.
"I think (Wisniewski's) been a huge addition for us. It's no secret if you look at the stat sheet," said fellow defenseman, Fedor Tyutin. "He's one of our power play leaders, and if the power play is successful, you have a pretty good chance to win more times than not."
Although Wisniewski only notched two assists in six playoff games for the Blue Jackets this past post-season, he was a monster on the power play throughout the season, and also set a franchise record with 44 assists.
Wisniewski is a battle tested veteran who doesn't shy away from making his voice be heard. Throughout his NHL career, he's encountered his share of criticism, with some even branding him a dirty player. But captains aren't handed the "C" without enduring hardships. Otherwise, how else can they be expected to lead?
5. A Continued Vacancy
Implying a team is doomed without a captain is as silly as it is misleading. After all, the Blue Jackets themselves toiled in futility under the captaincy of Rick Nash. Furthermore, the Jackets have moved on, successfully changing their culture into that of a winning one, without a captain. And as the old cliché goes, "If it ain't broke, don't fix it."
Still, the Boston Bruins were the first, and only team, to win a Stanley Cup without a captain when they did it on two different occasions (1970 and 1972). This interesting fact shouldn't, however, dictate what the Blue Jackets do in handling this role. After all, this year's Los Angeles Kings defied all odds by becoming the only team in NHL history to not only advance to the Stanley Cup Final, but win it after going the distance in all three rounds to qualify.
Will the #Rangers success this year make traditional #NHL fans rethink their insistence on the importance of a captain? Probably not.

— Bill James should be in the HOF (@Huerts31) June 16, 2014
#CBJ anyone questioning the no captain thing now? I vote to keep it this way! #WeAreThe5thLine

— Michael (@M_Westy22) April 20, 2014
Coincidentally enough, L.A.'s opponent, the New York Rangers, also won their respective Conference Championship without a captain.
"I didn't know anything about playoffs," said Rangers forward Derick Brassard, who just happens to be a former Blue Jacket. "It was my first time, and all the leadership guys were like, 'That's not where we want to be, this team has bigger and better expectations.' I was like, 'We won one round, that's pretty good. We got beat by Boston — they're a pretty good team.' But I remember that speech (from Henrik Lundqvist) and I was like, 'OK, this organization wants to win. These players have been here a while and they want to win.'"
Columbus unmistakably has that type of leadership on their current roster. They can hand the duty to one of the players listed above, or they can continue to work collectively with the leadership they have in place.
One thing is for certain, the Columbus Blue Jackets won't be taking anyone by surprise next season. And that's exactly where they've always wanted to be.