How could a man who appeared in only 36 games this past season change the culture in Columbus? Despite an injury-marred 2013-14 campaign, Blue Jackets right winger Nathan Horton did just that. The Jackets have now gone from a desolate location for high-profiled players to a place with growing interest. And it all started with the signing of Nathan Horton.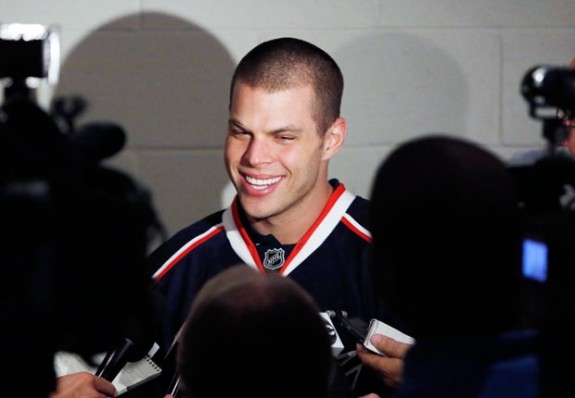 The Calculated Choice of Columbus
After failing to win a second Stanley Cup championship with the Boston Bruins in 2013, Nathan Horton shocked many, including the team he spent his previous three seasons with, by signing a seven-year, $37 million contract with the Columbus Blue Jackets.
"Yeah, I think you're always a little bit surprised because this is a great spot to play hockey," said Horton's former teammate in Boston, Chris Kelly. "I know the team wanted him back, management wanted him back, but for whatever reason he decided to go elsewhere and that's his decision. He has every right to make those decisions. As a former teammate, I've got nothing but great things to say about Nathan. He was awesome for us."
While Kelly's authenticity is certainly genuine, it's not hard to read between the lines.
"For whatever reason he decided to go elsewhere and that's his decision."
This statement is the epitome of your mother's classic advice of, "If you don't have anything nice to say, don't say anything at all."
Kelly's calculated words expressed what everyone else was thinking. Columbus? Really? Who would ever intentionally leave a franchise like Boston to play for a perennial loser like the Blue Jackets?
The answer was a stroke of luck for the organization that has tried feverishly in the past to acquire, and retain big names. And while the organization just completed their 13th season, it wasn't uncommon for recognizable names to be asking for their way out of Ohio's capital. Names like Sergei Fedorov, Rick Nash, Jeff Carter, and Derick Brassard were all granted their release from hockey's purgatory. So it's completely understandable if a double-take or two occurred when Nathan Horton willfully said adios to a championship-caliber team to join a team that had previously qualified for the post-season only once, and had yet to even win a playoff game.
Nathan Horton happy in "quiet" Columbus. He's now going to a car dealership to buy a minivan. And then – a nap. http://t.co/jdCekJWdN6

— Domenic Fazioli (@DomenicFazioli) July 5, 2013
"I'm thankful for my opportunity in Boston. I met a lot of great people, I've had great teammates, I had a great time there," said Horton. "I just think that to be in this city, it's a great opportunity for me and my family to be in a house and for it to be a little bit more quiet. That's what I was looking for."
Unlike the vast majority of star-caliber players, Horton was seeking his way out of a more exposed market. He wanted to live a normal life. This isn't to say Columbus is a one-horse town. But in comparison to a city like Boston or New York, Columbus was exactly what he envisioned – a sneaky relevant city, and a team that was rich in both talent and youth.
"This is the place I wanted to be," Horton declared at his introductory press conference in Columbus. "With (Director of Hockey Operations) Mr. (John) Davidson and Jarmo, (the team) is in the hands of the right people and it's headed in the right direction."
A Change of Culture in Columbus
When Blue Jackets GM Jarmo Kekalainen landed the 6-2, 229-pound forward, he did more than just lock up an experienced power forward with winning credentials; although that alone may be considered a victory in itself.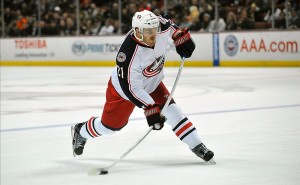 "We are very happy to have him," said Kekalainen. "He brings experience of what it takes to win the Stanley Cup, which is important."
Kekalainen and the Jackets had finally landed a top-tier free agent, with no disrespect to David Výborný, who previously recorded consecutive 60-point seasons with Columbus. Furthermore, the Jackets were able to shatter the illusion of Columbus being an undesirable destination for the game's best players.
"I don't think we'll catch anybody off-guard anymore," said Jackets defenseman James Wisniewski. "It's not a situation like it was a couple of years ago, where you can cheat (against us) and still get your cookies. It's going to be a hard-fought game every game now. You get ramped up to play the teams like Montreal, Detroit, Chicago, Pittsburgh … We're going to be in that group now where we'll get everybody's 'A' game, or we'll run them out of the building."
Although the Blue Jackets rode the contributions of several other key players to their second post-season berth in franchise history, Horton's small sample size shows exactly what kind of difference he's capable of making. And while Kekalainen was aware of Horton's shoulder injury that would keep him on the shelf until Jan. 1st, he eagerly offered the Welland, Ontario native the $37 million deal.
"We've got more skill than I ever thought. We have great players on this team that are just ready to be stars, you know?" said Horton. "When you go through the playoffs year after year and you get a taste of it, that's what you wait for. That's the funnest time in hockey. When you don't have experience, the only way to get it is to go there and do that. We're right there. Once we get there, we're never going to want to leave."
In 36 games, however, Horton was irrefutably a difference-maker. When he made his debut on Jan. 1st against Phoenix, he scored the game-winning goal, which came on the power play. It was the beginning of a month where Columbus would go 10-4-0, including an eight-game winning streak. This was no aberration, though, since the Jackets finished the season 23-11-2 in games Horton dressed for.
Separate from his production when healthy, are other factors, including leadership, experience and knowledge, as well as being a teammate everyone enjoys playing with.
"If there's one thing Nathan Horton brings to a team — besides his superb power-forward skills and propensity for scoring big goals — it's energy. The guy's smile could be a backup generator for at least a medium-sized city. He literally lights up a room when he enters it, and the combination of that smile and happy demeanor are absolutely infectious." — Fox Sports
The Blue Jackets have unquestionably found chemistry that looks to be kept in tact. Even with Horton's 36 games this season, he is surely part of that cohesiveness. And although the Jackets were able to push the Pittsburgh Penguins to a decisive seventh game in the quarter-final, it's hard not to question if the outcome would have been different had a healthy Horton been in the lineup.
"Though the Blue Jackets have been able to make do without Horton, they are a better team with him in the lineup. His playoff experience would have been a huge bonus to a team with a lot of young players getting their first taste. Losing experience on top of depth definitely hurts." — CBS Sports
A Pioneer in Blue Jackets Free Agency?
Nathan Horton's decision to sign with the Jackets turned out to be the right decision, even if it was somewhat by chance. In year's past, Columbus' front office either had to develop homegrown talent, or contrive trades to bring household names to Nationwide Arena in blue. Whether it was obliging star captain Rick Nash's request for a trade, or unloading an unhappy Jeff Carter, former GM Scott Howson lacked the substance that Horton finally brought in either luring free agents to Columbus, or keeping the upper echelon players on the roster happy.
Howson's inability to do either of the two ultimately cost him his job, despite architecting a team that went 41-31-10 in the 2008-09 season.
"Scott Howson is a caring man who gave everything he had to the Columbus Blue Jackets over the past six years," said Columbus President of Hockey Operations, John Davidson. "This was a difficult decision but one that I thought was in the best interest of moving our hockey club forward. I have enjoyed working with Scott and want to thank him for his service."
Fast forward to the 2013 offseason and the tale of two franchises is clearly noticeable. Out with Steve Mason, Rick Nash, Jeff Carter, Derick Brassard, and Antoine Vermette. In with Sergei Bobrovsky, Brandon Dubinsky, Jack Johnson, Nick Foligno, and of course, Nathan Horton.
"The cultural change has settled in a little bit in the fact that we're just not a hockey team in the NHL, we're a good hockey club in this league," added Davidson.
While it's likely that Horton has dusted off the trail for potential free agents to sign with Columbus, the emergence of Ryan Johansen, along with head coach Todd Richards' schemes have the team in an ideal situation as of the present moment.
 "The Blue Jackets' forward crew isn't just made up of decent goal scorers, but solid two-way players. Coach Todd Richards has been able to use his group in offensive and defensive situations. Ten of their current regulars have Offensive Zone Start % between 45% and 52%.

"Reflective of the current St. Louis Blues team that Jackets' GM Jarmo Kekalainen helped build, the Jackets have quite a few hard-nosed two-way forwards. Brandon Dubinsky, who is leading Columbus' forwards in Relative Corsi (On-ice shot attempts for minus against vs. off ice), also sees the lowest percentage of offensive zone starts. Artem Anisimov, Horton, and Nick Foligno also play a hard, two-way game that is fit for the postseason." — Matthew Coller, Hockey Prospectus
Kekalainen's job didn't get any easier, however, since there are many holes that are left to be tended to; most importantly, re-signing star restricted free agent Ryan Johansen. Johansen is one of 11 Blue Jackets who are now either restricted, or unrestricted free agents. And with forward R.J. Umberger's request for a trade, Kekalainen will sure to be busy this summer.
Still, the club is in good shape moving forward. Depending on the return for Umberger, unloading his $4.6 million cap hit will be a burden set free. After all, a yearly cap hit of nearly $5 million isn't a good investment for a player with declining production and minutes. 
Only seven other teams are entering the free agent period with more cap space than the Jackets, which is key to re-signing Johansen, as well as another scoring threat from the market, like Ales Hemsky.
"We have to be careful. We want to keep our good chemistry," Kekalainen said. "We always want to bring in the right kind of people, not only as hockey players but as teammates and human beings. It's going to be an important part of our scouting manual."
https://twitter.com/nickjbiss/status/462284646978691073
Being cautious to keep a good thing going is a good problem to have. One that was all but attainable before Nathan Horton. As for those who were left scratching their head in amazement, it's Horton who appears to be the one who knew what he was doing all along.
The man who's arguably responsible for the changed culture in Columbus is now the one laughing last.