With the state of the new NHL salary cap there appears to be more emphasis on providing franchise draft picks with the opportunity to play sooner and more often.  Every June, the NHL Entry Draft rolls around and organizations turn to their scouting department and General Managers to make the best possible selection for the future of the team.  Regardless of a team's draft position, every pick becomes vital in replenishing the farm system with new talent.
As the start of the hockey season nears, fans and experts take pride in attempting to correctly predict players likely to stand out in the upcoming season.  Today is no exception.  Below is a short list of potential Calder candidates ready to take advantage of an opportunity staring them right in the face.  While there may be some more favourable players to take home the rookie hardware, the following three candidates, one at each position, should give the Johansens, Schenns, Landeskogs, Nugent-Hopkins, Niederreiters and Rundblads a run for their money.
Center – Zac Dalpe (Carolina Hurricanes)
The former Ohio State University star has made a flawless transition to the professional game after posting an impressive 21 goals and 45 assists in 39 games as a sophomore for the Buckeyes.  Dalpe impressed enough to receive a nine-game tryout with the Hurricanes' baby club, the Albany River Rats, where he recorded a dazzling six goals and eight points before adding six points in eight playoff games finishing third on the team as a call-up.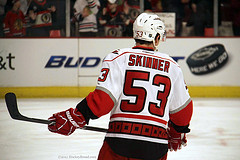 Last season, Zac Dalpe continued his strong play as an AHL rookie recording 23 goals and 57 points (61 GP) that placed him fourth in team scoring and third among all AHL first year players earning him a spot on the AHL's All-Rookie Team.  The native of Paris, Ontario has made quite the name for himself as a hard working player who competes in all areas of the rink.  Dalpe projects to be an offensive player at the NHL level but his above-average compete level and on-ice awareness makes him a valuable commodity in the defensive zone as well.  The former second-round selection in 2008 (45thoverall) has quickly emerged as the Hurricanes' top prospect passing several high profiled prospects along the way.
The Canes' 2010-11 rookie sensation Jeff Skinner was the surprise Calder Trophyrecipient last season and Zac Dalpe has his eyes on the prize this time around.  The competition in training camp will be fierce as Dalpe will be competing with the likes of Drayson Bowman and Zach Boychuk for second line ice time in the upcoming season.  It appears that Carolina has an opening at their second-line center position which would allow both Skinner and Dalpe to play their natural positions, right wing and center respectively.  Do not be surprised if the Calder Trophy remains in Raleigh, North Carolina for yet another season.
Defenseman – Brendan Smith (Detroit Red Wings)
It is no secret that the Detroit Red Wings have had their way with drafting and developing prospects over the last two decades. Due to their consistent NHL success, the team is rarely rewarded with a top draft pick and are normally allotted a pick in the later parts of each round.  Look back five draft years to 2007 and you will find the Red Wings' picked Mimico-native Brendan Smith.  The six-foot-two-inch offensive defenseman has had the rare privilege of a slow development, a process that most Red Wings prospects need to accustom themselves to.  The patient approach in player development by the Detroit organization has, again, paid off as Smith appears to be NHL ready and waiting for his opportunity. Nicklas Listrom is six games shy of reaching 1,500 regular season games played and will not be holding onto the torch for too much longer.
Brendan Smith's hockey success can be retraced way back to his junior days in Ontario.  As a teenager, Smith notched 78 points (27 goals) over three seasons and 99 games before arriving in Madison, Wisconsin to play collegiate hockey.  After the 2007 draft, Smith would spend the next three seasons playing for the Wisconsin Badgers and developing his game.  The smooth skating big defenseman quickly racked up the points but also showed that his overall game started to take form.  Brendan Smith finished his tenure with the Badgers with a full resume that included 87 points in 95 NCAA games, a NCAA Defensive Player of the Year Award, a NCAA First Team All-Star nomination and was a finalist for the prestigious Hobey Baker Award for the top collegiate player.  Last season, Smith made the jump to professional hockey with the AHL's Grand Rapids Griffins and quickly adjusted to the game scoring 32 points, 134 penalty minutes in 62 professional games.  The 22-year old is now ready to take his talents to the NHL level and as the Red Wings' top prospect all eyes will be on him this fall.
Smith's 2011 Calder Trophy hopes rely solely on his ability to crack the Red Wings' roster whether that be via training camp or injury is the biggest question.  Currently, Smith needs have a very strong training camp as a standout in order to make the opening day roster.  The unexpected retirement of Brian Rafalski left a temporary opening but the organization filled that hole with the free agent signing of Ian White.  Ken Holland has already stated that Ian White will start alongside veteran Nicklas Lidstrom while he expects Niklas Kronwall to earn Rafalski's former powerplay minutes.  What does this mean for Brendan Smith?  Smith will likely require an injury to one of Lidstrom, Kronwall or White in order for him to get the opportunity to show his offensive flare with the main club but do not count him out as a sleeper Calder pick.
Goaltender – Mark Dekanich (Columbus Blue Jackets)
Dekanich is another product of an impressive Nashville Predators goaltending factory that has included netminders such as Tomas Vokoun, Chris Mason, Dan Ellis and most recently Pekka Rinne.  The native of Vancouver has since departed from Music City after a loophole in group-six free agency allowed him to become an unrestricted free agent and sign on as the back-up in Columbus.  For the first time since Steve Mason's Calder winning season, the Columbus netminding situation will now have youthful competitiveness to push both young goalies to their top level of play.
Over the past two seasons, Steve Mason has struggled with his consistency and with Dekanich waiting in the wings the leash on Mason might just be a little shorter this season. Dekanich will start as the back-up in training camp but if Mason begins to unravel then the former Predator fifth round pick (2006) has the chance to un-seed the young lad from Oakville.
Dekanich is coming off a strong AHL season where he posted a dazzling league leading .933 save percentage and set club record for his 2.02 goals-against-average. The Colgate University alum is entering Blue Jackets' camp with some swagger after finishing strong with the Milwaukee Admirals and recently tying the knot over the summer.  Things are looking up for the six-foot-two netminder and by next June the "Dekanich" name might just become a more common name in NHL circles.
The historical recipients of the Calder Trophy define an interesting group of former and current NHLers.  The Calder hype surrounding most top draft picks often blinds the regular fan from choosing the forgotten prospects that have the potential to finish as the NHL's top rookie performer.  Recent recipients include Jeff Skinner (not Taylor Hall), Tyler Myers (not John Tavares), and Steve Mason (not Steven Stamkos).  While the above not-so-obvious Calder candidates may have some hurdles to leap their skills and NHL-readiness are two factors that cannot be forgotten.
Please check back for the next trio of not-so-obvious Calder candidates.
Follow all the chatter on prospects on twitter @rossyyoungblood.