It's one of the hottest debates facing the hard luck fans of the Edmonton Oilers. With Taylor Hall making the jump from OHL superstar to NHL rookie and faring relatively well, will Ryan Nugent-Hopkins follow suit? Everyone knew the questions surrounding Hopkins heading into the NHL Entry Draft. With seemingly every first overall pick making the direct jump from junior to NHL, would his game translate to the next level? More pressing, how would his thin frame hold up playing against Douglas Murray, Kevin Bieksa and Shea Weber night after night? Would his persona be able to, at such a young age, handle the pressure of playing in the heartland of hockey? How would he handle the public opinion of himself changing on a whim?
Why Hopkins Should Play in the NHL This Season
While it's a decision yet to be made, but like any decision, there are pros and there certainly are cons. Let's start with the pros. If Nugent-Hopkins proves worthy of a top-6 spot on the roster, why deny it to him? It's no doubt that the coaching and exposure playing in the pros will serve him far better than riding the buses in Red Deer. Nugent-Hopkins also has clear offensive ability, and maybe more paramount to him making the Oilers this year, is responsible at both ends of the ice.  If he shows the chemistry with Taylor Hall and Jordan Eberle we as Oilers dream of, why deny him a roster spot?  Like last year, there will be very little if any pressure on this team to make a playoff run (that's what two years of Steve Tambellini gets you).  Why not take advantage of that and have Nugent-Hopkins acclimate to the NHL in as stress-free a way possible.
Is Hopkins Ready for the Show?
And of course, there are a few cons to him sticking around in the bigs.  For starters, unlike Taylor Hall last season Nugent-Hopkins still has quite a bit to prove at the CHL level.  Hall led his Windsor Spitfires to consecutive Memorial Cup Championships and was named tournament MVP both times.  Nugent-Hopkins has yet to lead his Red Deer Rebels on a long playoff run, and hasn't proven he's able to carry a team throughout the course of an entire season.  Another stat which may alarm Oilers fans is that Nugent-Hopkins didn't produce a ton in the WHL during even-strength time.  At just 0.68 points per game 5 on 5, Nugent-Hopkins is behind fellow 2011 draftees Jonathan Huberdeau (1.03 PPG), and even Detroit Ty Rattie (0.87 PPG).  By contrast, Hall averaged 1.03 even strength points per game, granted on a much better Windsor Spitfire team.  What this signifies is that Nugent-Hopkins has unfinished business in the WHL, and there is a very tangible benefit in having his NHL debut delayed by a year.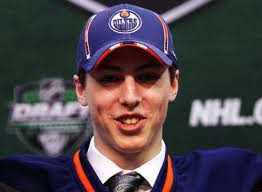 Sam Gagner's Role With the Edmonton Oilers
Another factor to consider is Sam Gagner.  At just 22 years old and already with four NHL seasons under his belt, Gagner has everything to prove this season.  Is he capable of being a top-6 forward in the NHL, or will he join the long list of Edmonton Oiler first round flameouts (Alex Plante, Riley Nash, Marc-Antoine Pouliot)?  If Ryan Nugent-Hopkins plays with the team, he will get top-6 minutes and quality powerplay time; and his development is far more of a priority for the franchise than Gagner's.  With Nugent-Hopkins in the lineup and the free agent signing of Eric Belanger, a faceoff winning center who is proven defensively and can contribute offensively as well, Gagner will be relegated to a role where his opportunities will be very limited.  He will be stuck behind three higher-priority players (captain Shawn Horcoff being the other), and will have next to no opportunity to prove himself to the organization.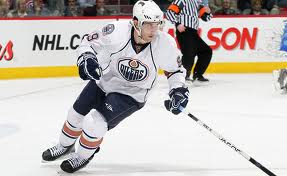 On the other hand, is Gagner's fate already sealed regarding his future with the Edmonton Oilers?  Ryan-Nugent Hopkins will surely make the team in 2012-13, and next fall the depth chart at center should read Nugent Hopkins-Horcoff-Belanger.  With centers Tyler Pitlick and Anton Lander coming up, is there any room for Gagner period?  At just 22 years old, has he already run out of second chances with the organization that drafted him only four years ago?
The pros to Nugent-Hopkins becoming a full-time Oiler are very obvious:  if he wows us in training camp, if he shows us the deft vision and playmaking ability that seduced the franchise into taking him first overall, if he can play well without the puck, why shouldn't he make the team?  On the other hand, he still has something to prove at the junior level.  The Oilers rushed another highly touted center, Mr. Gagner, into the show too soon and now he's perceived by many to have unfulfilled potential and could change organizations soon.  As always, what do the readers think?