Armchair GMs have long enjoyed trying to construct the ultimate NHL roster from a pool of every player in the league. With Capgeek's Armchair GM mode, fans can build and tinker with any team's roster to create an unbeatable roster.
There are a few approaches that you can take to build the roster. Do you load the team with stars with high cap hits, and populate the lower ranks with low cost players to stay cap compliant? Or do you go for balance throughout the entire roster, utilizing players with sweetheart deals? In making my roster, I limited myself to only two entry-level contracts to make it more realistic. Without this rule, you could litter the roster with players on their cheap first contracts.
The Forwards
Jamie Benn (5.25) – Sidney Crosby (8.7) – Jakub Voracek (4.25)
Ondrej Palat (3.333) – Tyler Seguin (5.75) – Vladimir Tarasenko (.900)
Jaden Schwartz (2.35) – Ryan Johansen (4) – Wayne Simmonds (3.975)
Matt Beleskey (1.35) – Sean Couturier (1.75) – Gustav Nyquist (.950)
Michael Raffl (1.1)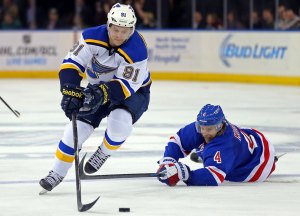 In constructing my forwards, I opted for the balanced approach. Crosby is a big ticket, with the 3rd highest cap hit among all NHL forwards. But as the best player in the world, he's worth it. The next highest paid player is NHL points leader Tyler Seguin, who checks in at 42nd among forwards in terms of cap hit.
I used one of my two entry-level contracts on Vladimir Tarasenko, and it wasn't a very tough decision. Tarasenko's 36 points this season lead all forwards that are on entry-level contracts. The next closest were Nikita Kucherov with 29, and Johnny Gaudreau with 23.
Maybe it's because I'm a Flyers fan, but I honestly believe four Flyers forwards belong on this team because of the incredible value they offer compared to their cap hit. For all the mistakes they've made in giving out contracts (mostly to defensemen), they hit home runs in signing Voracek and Simmonds to those deals. You could definitely argue Raffl as the 13th forward, but his two-way play and ability to play multiple forward positions is definitely valuable.
The roster includes six of the top thirty scorers in terms of points this year.
The Defense
Mark Giordano (4.02) – Ryan McDonagh (4.7)
Victor Hedman (4) – TJ Brodie (2.125)
Aaron Ekblad (.925) – Sami Vatanen (1.262)
Jake Muzzin (1)
Similar to the forwards, I took the balanced approach towards the defense. There are 36 defensemen that make more money than Ryan McDonagh, but he's easily a top ten defensemen in the game right now. Ditto for Mark Giordano, who has been the backbone of a surprising Calgary team this year. He and TJ Brodie are the highest scoring tandem of defensemen in the NHL.
Rookie sensation Aaron Ekblad was the second ELC I included on my roster. His 18 year old season in the NHL so far has been one of the best all-time among rookies that age. It's scary to think of how good he'll be in a few years.
The Goalies
Jonathan Quick (5.8)
Frederik Andersen (1.15)
Total Cap Hit: 68.64M
Cap Space: .36M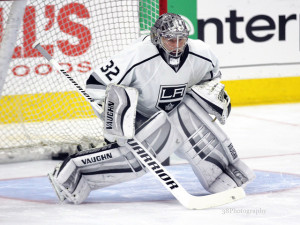 Looking at the top ten highest paid goalies in the league, you'd be hard pressed to find one offering better value for his cap hit than Quick. Henrik Lundqvist, Tuukka Rask, Cam Ward, Ryan Miller, and Kari Lehtonen all make more money than Quick, but have been much worse this season. Quick's 2.24 GAA and .926 save percentage and clutch play in the playoffs are too much to ignore. Pekka Rinne has been lights out this season, but his $7.5M/year cap hit was too thick for my blood.
Your Turn: Build Your Ultimate NHL Roster!
Using Capgeek, I challenge you to build a roster that's better than this one that complies with a salary cap of $69 million. You must limit yourself to 2 entry level contracts as well. You can ignore bonuses on entry level contracts as well. Leave your roster in the comments!