As the first round of the NHL playoffs winds down, the members of the Calgary Flames are surely strewn well across the globe.  Some are playing for their respective nations at the World Championships, others honing their golf game, and perhaps some are even relaxing.
It is peculiar to describe the 2012-2013 Calgary Flames as a disappointing installment in the franchise as hockey minds outside of the organization universally saw a team that could battle for a bottom two playoff seed at best.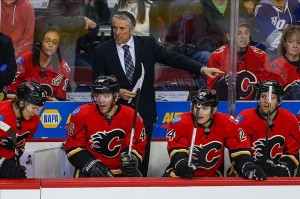 But a disappointment is exactly what this team was, in almost every facet.  The management failed to put a winning product on the ice for the umpteenth time then proceeded to promptly mismanage tradable assets for lacklustre and uninspiring returns (not to mention the biggest RFA offer sheet gaffe in recent memory); the coaching staff failed to get the players to buy into a new system in time to battle for a playoff spot- instead simply ruining a lucrative draft position with a late season surge; the goaltending, normally a bright spot thanks to workhorse Miikka Kiprusoff, was derailed by both injury and bad play; the defence was porous at times, especially during third period leads; and the forwards were inconsistent and sporadic.
The only silver linings to be taken from this season are the three first round draft picks (two of which that will greatly improve in value if St. Louis and Pittsburgh are bumped in the first round) and a refreshing acknowledgment that youth is the priority.  While this is certainly the first of many steps forward, the current regime provides little intangible proof that they will be successful.
President Ken King has seen the organization acquire the NLL's Calgary Roughnecks and the CFL's Calgary Stampeders– creating a Flames monopoly in the area's major professional sports.  While the purchasing of these franchises certainly saves them from any financial concern, especially the Roughnecks, it also incorporates them under the umbrella of a sports empire that has won three playoff series in 24 years- all of them in the same year.  Yet ticket prices continue to soar, merchandise continues to sell, and hot dogs continue to be eaten.
As such, King has become the lightning rod amongst the Flames faithful, and it is difficult to argue that it is not deserved.  He was the first to maintain the mantra of playoffs or bust over the last four unsuccessful years, believing his team could contend.  What else could underlings do but follow the rank and file?
This brings us to General Manager Jay Feaster.  Until this season, it was difficult to truly judge Feaster's dealings as it was debatable that he was working under a winning mandate with losing pieces.  While it was easy to give Feaster the benefit of the doubt for the majority of his tenure, this came crashing down during the ill-fated offer sheet to Ryan O'Reilly in February.  As has been much ballyhooed, O'Reilly would have had to clear waivers had Colorado not matched Calgary's offer sheet- meaning that he likely would have been claimed and Feaster would have shipped precious draft picks to Colorado for absolutely nothing.
Now, in Feaster's defence, even O'Reilly's agent claimed to have no knowledge of this CBA loophole, as it was broken by Chris Johnson of Sportsnet after the fact.  While this is an elusive gaffe, you would think that such a tedious and boring legal document such as the NHL-NHLPA Collective Bargaining Agreement would be right in Feaster's wheelhouse considering that not only is he a general manager of an NHL franchise, but a lawyer by trade.
This is simply inexcusable, and Feaster's own statement that the Flames simply interpreted the rules differently than the NHL is embarrassing at best.  Then, one month later, the same man is responsible for moving Jarome Iginla and Jay Bouwmeester for two first round picks (one of them conditional), two NCAA prospects, an AHL defenceman, and a goalie playing in the Swiss League.
It's certainly difficult to be a Flames fan and the executives either need to be held responsible or absolutely outperform at the draft and free agency periods this summer to the point of earning redemption and forgiveness for the last half decade of disappointment.
Having just received a Bachelor of Arts in History (with a concentration in Canadian History) from the University of Calgary, Thomas Strangward is pursuing his passion of sports journalism and has recently accepted a seat in the renowned Radio, Television, and Broadcast News Program at SAIT in Calgary, Alberta.