'The Nuck Stops Here' is a Vancouver Canucks news, opinion and analysis column that runs every Sunday throughout the regular season.
News
Troy Stecher, Jayson Megna Recalled
The following is a press release from the organization:
Vancouver, BC – Vancouver Canucks General Manager Jim Benning announced today that the club has recalled forward Jayson Megna and defenceman Troy Stecher from the AHL Utica Comets.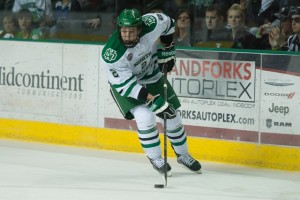 Megna, 26, has appeared in four games with Utica this season where he currently ranks tied for fourth on the team in scoring (1-2-3). The 6-1, 192-pound forward split the 2015.16 season between the New York Rangers and the AHL Hartford Wolf Pack. In six games with the Rangers, Megna tallied one goal and one assist (1-1-2) along with two penalty minutes. In 68 games with Hartford, he finished tied for third on the team in goals (15), tied for first in assists (29) and second in points (44). His totals on the year in games played, assists and points were all AHL career-highs.
A native of Fort Lauderdale, Florida, Megna was originally signed by Pittsburgh as a free agent on August 1, 2012.
Stecher, 22, has registered an assist (0-1-1) along with four penalty minutes in four games with the Comets this season. In 2015.16, the 5-11, 191-pound defenceman completed his junior season with the University of North Dakota, helping the Fighting Hawks to their eighth NCAA Championship while being named to the All-Tournament Team. A Second Team West All-American, Stecher also led the Fighting Hawks defencemen in goals (8), assists (21), and points (29).
A native of Richmond, British Columbia, Stecher was signed by Vancouver as a free agent on July 1, 2016.
Megna Injured, Mike Zalewski Recalled
On Thursday, against the Edmonton Oilers, depth forward Jayson Megna sustained a shoulder injury, putting the 26-year-old on the sidelines for 10-14 days. The game was Megna's second as a Canuck — he's played 56 over the course of his NHL career. As a result, the organization recalled forward Mike Zalewski, who made his season debut Saturday against the Washington Capitals. Zalewski has played six career NHL games, all with the Canucks, posting two assists in the process.
Burrows/Dorsett will not play tonight.
Gaunce skated and may play. Option to use Biega up front, if necessary.
Megna 10-14 days with inj

— Jon Abbott (@HockeyAbbs) October 29, 2016
Scores of the Week
Anaheim Ducks – 4 : Vancouver Canucks – 2
Vancouver Canucks – 0 : Ottawa Senators – 3
Vancouver Canucks – 0 : Edmonton Oilers – 2
Vancouver Canucks – 2 : Washington Capitals – 5
Record: 4-4-1 (9 Points ~ 4th in Pacific Division, 7th in Western Conference, 14th in NHL)
Analysis
Time for Eriksson, Baertschi to Step Up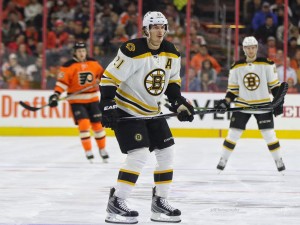 Nine games into the season, two of the Canucks' more prominent offensive weapons heading into 2016-17, Sven Baertschi and Loui Eriksson, have combined for zero goals. This is not only shocking but incredibly damaging to the offensive output of the club. Given that up and down the lineup, consistent offensive producers appear scarce, the club needs production from two guys being given top six minutes.
While both have had chances, specifically Baertschi of late, the production is simply not there, and for the Canucks to have any sort of success, that needs to change. Is it early enough for things to shift in the right direction? Absolutely, it's only been nine games, after all.
That said, the slump needs to end soon — even just for the good of their personal confidence, and they need to at least begin to live up to what was expected of them. This holds true especially for Eriksson, who signed a $36 million contract this off-season, and who will be endlessly scrutinized should he not pick it up soon. The Canucks' depth is certainly an issue, and because of it, the struggles of these two have been magnified, which only increases their need to pick up the pace even slightly.
Philip Larsen Not Giving Enough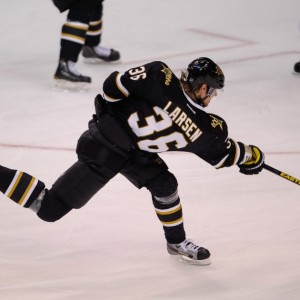 With a recent injury to top defender Chris Tanev, the door opened for the much-hyped Troy Stecher to show his stuff, and he certainly took advantage. While this is great news for the organization, it may not be so good for Philip Larsen, a puck-mover brought over from Europe this off-season. Brought in as an offensive catalyst, Larsen has underwhelmed, rarely demonstrating dynamic abilities and only putting up three assist to-date (with two of those coming in the same game).
With Stecher posing as on option with far more excitement and upside, one has to question whether or not the placement of Larsen into the nightly lineup is a particularly significant positive for the Canucks.
Has he given enough to warrant a spot over Stecher? The resounding sentiment in all Canucks circles has been no, and when Tanev eventually returns, it's quite possible that he finds himself in the press box, if not on the waiver wire or in Utica. Larsen was brought in to provide a shot of offense and explosiveness for the team, and to-date, he hasn't exactly set the world on fire,and it may have killed his shot at a regular rotation.
Around the Blog-O-Sphere
Fun links about the Vancouver Canucks from all around the internet.
Alex Biega biding his time until he gets into the lineup [The Province]
The 411 on Troy Stecher [Sportsnet]
Loui Eriksson planning to put more pucks on net [Vancouver Sun]
Have the Canucks found their future top line centre in Bo Horvat? [Vancouver Courier]
Why Jake Virtanen should stay in Vancouver [The Canuck Way]
Fantasy Hockey and the Goalie Conundrum, featuring Jacob Markstrom [The Hockey Writers]