'The Nuck Stops Here' is a Vancouver Canucks news and opinion column running every Sunday throughout the season.
NEWS
Canucks fall two spots in draft lottery, to pick 5th overall in draft
This past Saturday, the Canucks received the news that they will pick 5th in this year's NHL entry draft. After heading into the draft with league's third-worst regular season record (31-38-13), and an 11.5% chance at the first overall selection, the Canucks fell to the fifth slot, to the chagrin of every Vancouver supporter. The Toronto Maple Leafs won the first overall selection, with the Winnipeg Jets, Columbus Blue Jackets, and Edmonton Oilers filling in spots two through four. This will be the third time in four years that the Canucks have held a spot in the top 10 of the draft (Bo Horvat, 9th in 2013 and Jake Virtanen, 6th in 2014).
https://twitter.com/ryanbiech/status/726575797784334336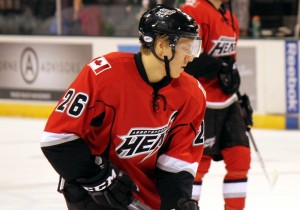 Canucks Sign Markus Granlund to two-year extension
The following is a press release from the organization:
Vancouver, B.C. – Vancouver Canucks General Manager Jim Benning announced today that the Canucks have signed center Markus Granlund to a two-year contract extension.
Granlund, 23, appeared in 16 games for the Canucks this season, registering two goals and an assist (2-1-3) along with six penalty minutes. Prior to being acquired by Vancouver on February 22, 2016, he also split time in 2015.16 between the Calgary Flames (4-3-7 in 31 games) and the Stockton Heat (5-4-9 in 12 games). The Oulu, Finland native has appeared in 102 NHL regular season games, notching 31 points (16-15-31) and 30 penalty minutes.
On the international stage, Granlund won a bronze medal at the 2010 IIHF U18 World Championship and has represented Finland multiple times. He is set to represent Team Finland at the 2016 IIHF World Championship in May.
The 6'0", 178-pound center was originally selected by Calgary in the second round, 45th overall, at the 2011 NHL Entry Draft.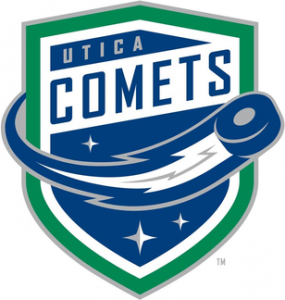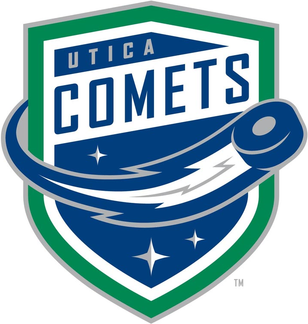 Utica Comets eliminated from AHL playoffs
This past Thursday, the Utica Comets were eliminated from the AHL post-season after a 6-to-3 loss to the Albany Devils, who took the best-of-five series by a score of 3-1. This comes on the heels of a Calder Cup Final appearance by the Comets last season. Alex Grenier, Alex Friesen, and T.J. Hensick all scored in the losing effort for the Comets.
Big thanks to all of the fans in Utica for unbelievable memories and great atmosphere every night #bestFansEver #grateful

— Andrey Pedan (@AndreyPedan) April 29, 2016
Canucks sign goaltender Michael Garteig
The following is a press release from the organization:
Vancouver, B.C. – Vancouver Canucks General Manager Jim Benning announced today that the club has signed goaltender Michael Garteig to a one-year entry-level contract.
Garteig, 24, recently completed his senior season at Quinnipiac University, leading the Bobcats to the ECAC Championship and a berth in the NCAA National Championship. In 43 games played this season, Garteig posted a record of 32-4-7, along with a career-best .924 save percentage and 1.91 goals against average. His 43 games played and 32 wins led the NCAA while his eight shutouts and .826 win percentage ranked him second in the nation. The 6-1, 190-pound goaltender has appeared in 124 NCAA games over four seasons for Quinnipiac University, where he has compiled a record of 78-25-16, a 1.98 goals against average, and a .917 save percentage.
Prior to his collegiate career, the Prince George, British Columbia, native spent parts of four seasons in the BCHL, split between the Penticton Vees and Powell River Kings. He earned back-to-back BCHL Top Goaltender Awards in 2011 with Powell River and in 2012 with Penticton en route to an RBC Cup National Junior A Championship.
ANALYSIS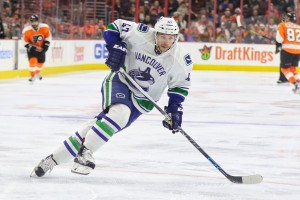 Will Sven Baertschi lead the Canucks' offence next season?
Over the past several months, there has been, predictably a lot of talk about who will replace the Sedin twins. Who will be the next core of this team, and who will take over the role as the team's leading point producers when the Sedins inevitably retire within the next handful of years. While it's not set in stone, and we certainly shouldn't be looking for Art Ross trophies anytime soon, it appears as if Sven Baertschi is the player that can push the twins for the team's scoring lead. While that total is unlikely to exceed 70 points, it is intriguing to potentially be talking about a non-Sedin winning the Canucks scoring title. Baertschi had a superb second half of the campaign after a brutal first and was arguably the team's most consistent producer January onward. Taking into consideration the fact that the Sedins look to scrape 60 points at best next season (which would still be excellent production for two 35-year-olds), and the fact that Baertschi looks to head into 2016-17 with a fair bit of momentum, besting 60 points is not unattainable for the 23-year-old forward, especially considering he put up a 33-point pace despite a dreadful first half. Once again, don't expect Baertschi to put up a point-per-game season, but if he can keep his 2014-15 back half going into next season, don't be shocked if the Canucks have a new player atop the points leaderboard by campaign's end.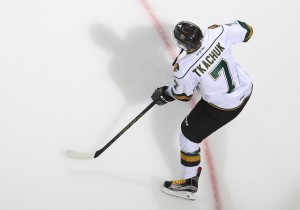 Lots of options for Canucks at 5th overall
The initial reaction for just about every Canucks fan after learning that the club would select 5th overall in the NHL's upcoming entry draft was a disappointment. After finishing behind just the Toronto Maple Leafs and Edmonton Oilers in the regular season, falling from 3rd to the 5th overall seems dreadful to many, especially considering the drop in quality from the third spot to the fifth. While it would have been nice to snag one of the superstar Swedes (Patrik Laine or Jesse Puljujarvi), the Canucks have no shortage of options when it comes to what to do with their 5th overall selection. The early consensus seems to be down to one of Pierre-Luc Dubois or Matthew Tkachuk. Both wingers, either would offer the Canucks another strong piece to the build their franchise around, and while neither are Auston Matthews-good, or even Laine/Puljujarvi-good both appear to have some top-line potential. Another option would be to select defenceman Jakob Chychrun, widely regarded as the best blueliner in the draft. While some deem him a risky pick, it's one the organization might consider taking, if only to get a true top-end defense prospect into the system. Of course, there's always the option of trading down, and picking up some other assets via trade. We're only just skimming the surface at this point, as there are plenty of other scenarios that will be broken down in due time. It's going to be an exciting several weeks for Canucks fans, so they better start to buckle up.
AROUND THE BLOG-O-SPHERE
Fun links about the Vancouver Canucks from all around the internet
Canucks hoping for Baertschi-esque improvement from Markus Granlund next season [Vancouver Sun]
Trevor Linden shrugs off missing out on top 2016 draft talents [Vancouver Sun]
A player autopsy for Jake Virtanen [Nucks Misconduct]
Three players the Canucks could pick at 5th overall [CanucksArmy]
Canucks prospect report for the month of April [Sportsnet]
Thatcher Demko making waves early in Vancouver [The Canuck Way]
Markus is a Vancouver Canucks columnist out of Victoria, BC. Markus is also a Staff Writer for Last Word on Hockey, an Editor and Staff Writer for country music website The Shotgun Seat, and founder of This Is Country Music.