A collection of the latest news from around the world of hockey:
When Brooks Orpik had to be helped off the ice after taking a hit from Ryan White, it was a scary-looking scene. But either he is fully recovered or lost his short-term memory, because you would think his own experiences might cause him to be a little more careful out on the ice. But that's not the way he operates. And it's not the way hockey operates. The NHL knows that big hits sell, and they want to cash in. [Times Online]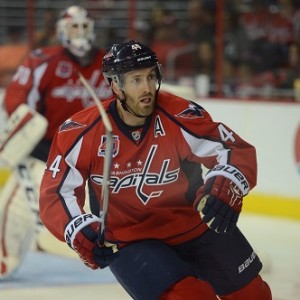 (One could argue that not having Orpik actually helps the Capitals because he isn't very good. But it gives the Pens one less head-hunter to worry about, and maybe the suspension will give other Caps players pause before they try to take someone else out. That's supposed to be the plan, right?)
For the Caps fans who are outraged at the suspension (which is equivalent to six regular season games), I'm just curious as to what you expected to happen. Not only was Orpik's hit late, it was right to the head of Olli Maatta. Brooks has a history working against him, and Maatta was injured (that shouldn't make a difference in punishment, but this is the NHL we're talking about). The inconsistency of player safety came down hard on Washington, so I understand the frustration. But it's really difficult to defend that hit. The league felt the same way. [For the Win], [Yahoo Sports]
The Penguins and Capitals renew their pleasantries tonight in Pittsburgh. Through the first two games of the series, Alex Ovechkin has one assist and Sidney Crosby has no points. Surely that can't continue. But if it does, I'd like to thank them for putting a temporary stop to the played-out tiresome rivalry talk. [ESPN], [Washington Times]
So the Leafs did it. They had a terrible season and have been rewarded with the first overall pick in this summer's draft. The reaction and celebration were expectedly overblown, but this is Toronto we're talking about. They haven't had a thing to celebrate in a long time, so I don't blame them for being happy. But I will caution them. Auston Matthews is a great player. He's just what they need. But he isn't Connor McDavid. He will not single-handily turn around the organization. Things may be painful for a long time. I hope he's up for the task, because fans will live and die with his every move. [CTV], [Sportsnet], [Pension Plan Puppets]
Or the team could draft Patrik Laine and cause the city to explode. Because they will still try to sign Steven Stamkos. [Todays Slap Shot]
Don't expect the Coyotes to trade the farm for Matthews. [HockeyBuzz]
Were the Winnipeg Jets the real winners? [The Hockey News]
The San Jose Sharks are up 2-0 on the Predators, and they have looked pretty unflappable in the process. With all of the Blackhawks, Kings and Ducks out of the picture, you'd have to think this is the year for San Jose to finally make the Stanley Cup final. And it's not just because of their opponents, they are actually good enough and deep enough to do it. This has to be the year, right? [National Post], [Deadspin]
And finally, find out what Peter Chiarelli has in store for the Oilers. [Cult of Hockey]
Marcy, a former hockey player, is a hockey correspondent on CTV News and TSN radio. She began her career as a Sports Journalist in 2009 and has been part of The Hockey Writers since 2010, where she is currently a senior writer and editor.