'The Nuck Stops Here' is a Vancouver Canucks news, opinion and analysis column that runs every Monday throughout the regular season.
News
Canucks Won't Re-Sign Carl Neill, Tate Olson
The Canucks have revealed that they will not sign 2015 draft picks, defensemen Carl Neill and Tate Olson (taken in the fifth and seventh rounds respectively). The move comes as a bit of a surprise considering both players demonstrated respectable upside.
Neill ranked second in scoring from defensemen in the QMJHL, with 69 points in 67 games (split between the Sherbrooke Phoenix and Charlottetown Islanders). Olson, meanwhile had focused on developing a more well-rounded game, but put up 47 points in 65 games with the Prince George Cougars in 2015-16. Both prospects will re-enter the 2017 NHL Entry Draft.
Canucks Re-Sign Andrey  Pedan
The Canucks have announced that they have re-signed defenceman Andrey Pedan to a one-year deal. Pedan, 23, scored five goals and 10 points in 52 games with the Utica Comets this past season. The 6'5″, 218-pound defender has appeared in 13 NHL contests, all with the Canucks, and all throughout the 2015-16 season. He accumulated 18 penalty minutes in that process.
Pedan was acquired from the New York Islanders in 2014 for Alexandre Mallet a 2016 third round draft pick. He was originally drafted by the Islanders in the third round of the 2011 NHL Entry Draft.
Canucks re-sign defenseman Andrey Pedan!

Story: https://t.co/BnNl9NjeSY pic.twitter.com/Vhj90yhy5Q

— Utica Comets (@UticaComets) May 3, 2017
Analysis
Nikolay Goldobin: Wild Card?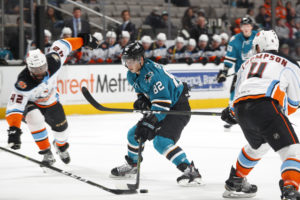 The Canucks rebuild officially took flight this past trade deadline, when the team traded veteran wingers Alex Burrows and Jannik Hansen. One of the prospects acquired was Nikolay Goldobin (the centrepiece of the Hansen trade to the San Jose Sharks). Goldobin, 21, is a dynamic, highly-skilled winger that provides the Canucks with the type of high-end talent they've been severely lacking.
He showed some chemistry with Henrik and Daniel Sedin towards the end of the season, before scoring four goals in three games with the Utica Comets at the end of their campaign. He demonstrated an ability to drive offence, create scoring chances, and put pucks in the net. However, some concerns have been raised about his defensive awareness and overall work ethic. This may have an affect on his ability to make the squad in 2017-18.
On a team officially in rebuilding territory, Goldobin is exactly the kind of player the Canucks should be looking to integrate into their lineup. That said, he needs to earn it. Should the former first-round pick be able to make the team, he could have a significant impact on the outcome of the season, and thus, can be seen as a wildcard as we head into the offseason.
Anton Rodin Deserves Another Shot
Anton Rodin, 26, was a Canucks draft pick in 2009, drafted 53rd overall. Despite showing some offensive potential, Rodin was never able to put it all together and compete for a roster spot on the Canucks. He ended up in Europe, playing in the SHL for three seasons from 2013-2016. In 2015-16, Rodin managed a remarkable 37 points in 33 games and finished near the top of the league in scoring despite playing roughly 20 fewer games than most (due to injury). He won the the league MVP award and proceeded to sign a one-year contract with the Canucks.
After returning to North America, injury caused the winger's season to start months late and was then limited to just three games (scoring one assist in the process). Safe to say, Rodin was never really given a chance in Vancouver. Now that the team is looking to rely upon younger players, Rodin deserves a real opportunity to make an impact in the NHL. He clearly has the skill, and seeing as the Canucks are in desperate need of goals, bringing Rodin back would be a no-lose situation.
Whether he would start with the Utica Comets or in Vancouver is an entirely other question, but there is no doubt that signing him to at least a one-year contract would be a smart move. This is a club that needs to play exciting hockey or risk alienating its fan base. Rodin would at least symbolize an attempt to do that.
Around the Blog-O-Sphere
Fun links about the Vancouver Canucks from all around the internet.
Canucks' young talent may spur turnaround [The Hockey Writers]
The Canucks' off-season game plan [TSN]
Meet Jonathan Dahlen, one of the Canucks' newest prospects [NHL.com]
A case for taking a defenseman at fifth overall [The Province]
Evaluating Jim Benning's first three drafts [The Canuck Way]
Why the Canucks shouldn't make a splash in free agency [Vancouver Courier]
Markus is a Vancouver Canucks columnist out of Victoria, BC. Markus is also a Staff Writer for Last Word on Hockey, an Editor and Staff Writer for country music website The Shotgun Seat, and founder of This Is Country Music.