The Vancouver Canucks are picking up the pieces after posting their worst season in nearly 20 years — there is some light at the end of this otherwise gloomy tunnel, though. When a team hits its veritable rock bottom, vertical trajectory (i.e., moving up) is the only direction to go.
Better days seem to be ahead with the young talent the team has in Ben Hutton and Reid Boucher. These players are blossoming before our collective hockey eyes. In addition, the Canucks have more reinforcements waiting in the wings on their Utica Comets AHL team.
Ben Hutton
Ben Hutton was drafted in 2012 by the Canucks in the fifth round (No. 147) as a defenseman but chose instead to enroll in at the University of Maine to pursue higher education and gain the experience of Big East college hockey. In his sophomore year in Orono, Maine, Hutton scored 15 goals and made the Hockey East's First All-Star Team.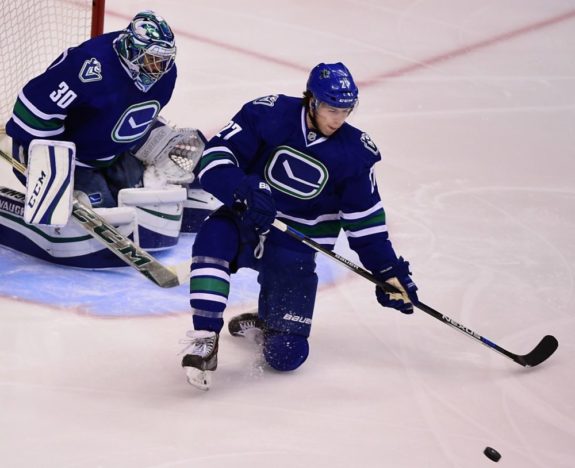 While initially a forward, Hutton shifted to defense while at Kemptville during the 2010-11 season before moving up to play for Utica and the Canucks, respectively. His previous life as a forward has made Hutton into an offensive-minded defenseman in the vein of a P.K. Subban or Ryan McDonough. While Hutton may not develop to their level, his future looks bright on the Canucks.
He joined the Canucks for the 2015-16 season and recently completed his second season as a defenseman. Hutton has averaged 73 games in each of his first two seasons, which shows his durability, and he hasn't been sent down to the minors since getting called up to the Canucks.
During his first two seasons, he has paired up well with defenseman Erik Gudbranson, adding some stability to a team looking for something around which to build a nucleus. With Hutton and Gubrandson as a solid defensive tandem, the Canucks can build outward and then fortify their forward lines.
Reid Boucher
Reid Boucher has potential and promise. This journeyman played on three different teams in two different time zones during the 2016-17 season for a total of 39 games in which he scored six goals and four assists.
In his first two seasons with the New Jersey Devils, Boucher played only 23 and 11 games respectively, but the left-handed sharpshooter played 39 games, nearly half an NHL season in the last two campaigns (2015-16 and 2016-17). If he continues to hone his shot and his overall game, Boucher could develop into a sniper and become a patented weapon for the Canucks. He may eventually blossom into a 15 to 20 goal scorer.
During the 2017-17 season, Hutton was impressive — number one in unblocked shot attempts and number two in shots on net among Canuck players. The team also played better and had more shots (and by extension scoring opportunities) when he was on ice. And this was only in a half season of play (i.e, 39 games). With a full season of 75+ games (barring injury), his future looks promising.
In addition to the two young players with some NHL experience under their belts, the Canucks have a couple of other players who may make the team for the 2017-18 season. They are Olli Juolev and Darren Archibald.
Olli Juolevi
From Finland, this defenseman, who just turned 19, tallied 42 points (10 goals, 32 assists) with the London Knights during the 2016-17 campaign. Juolevi has a ton of upside and has a good chance at making the Canucks next season. Along with Hutton, he is another young, talented defenseman who should help stabilize a defense that was hemorrhaging goals against this past season.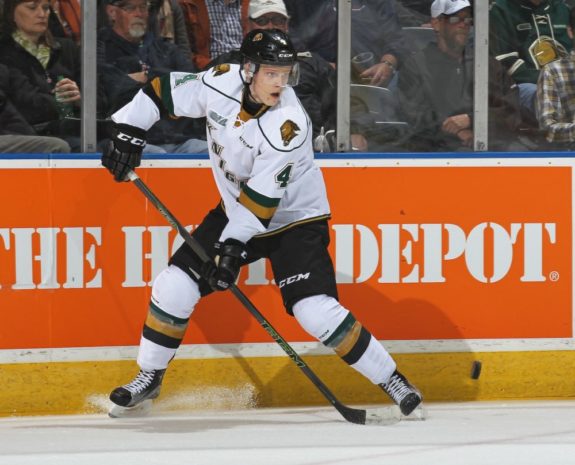 Darren Archibald
Compared to Juolevi, Darren is a 10-year veteran of minor league hockey (save a brief 16-game stint on the Canucks in 2013-14). While he has spent almost a decade in the minors, Darren had what could be considered a breakout season with 47 points (23 goals, 24 assists) in 2016-17. This near-even distribution of goals vs. assists makes Darren both valuable (potential production) and versatile (ability to fit on many lines with scorers and play-makers alike).
Next season may prove to be Darren's 'now or never' moment — whether he makes the Canucks for good or remains in Utica for what would be his 11th season at the minor league level. Based on Darren's stellar 2016-17 campaign, he deserves a shot. If things go well and he continues, or even elevates his level of play, things could get interesting.
Final Thoughts
As you can see, the Canucks have a few reasons to be excited about their future. With young talent being developed at the NHL level and others waiting for the call up from Utica, things look encouraging for next season. Couple the influx of youth with veterans like the Sedins and Brandon Sutter and we have a recipe for improvement. After the disappointing 2016-17 campaign, things hopefully can only get better.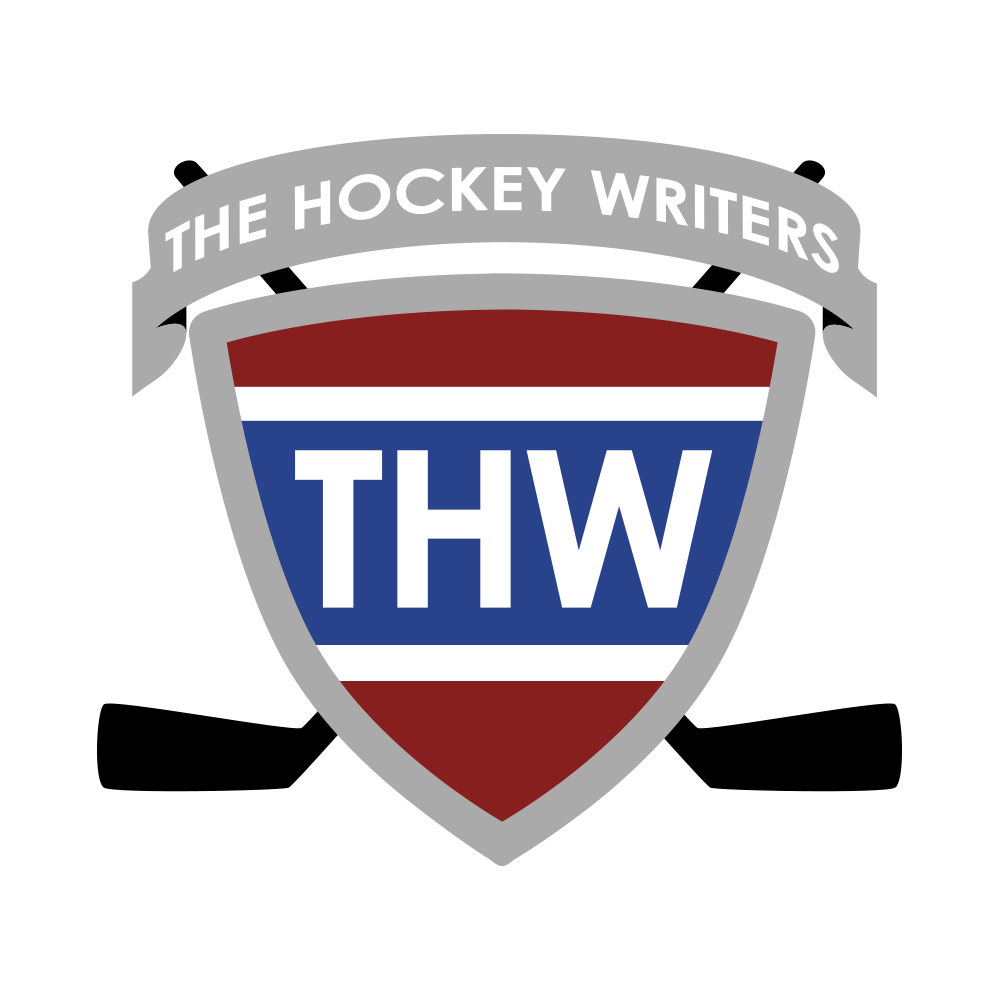 The Hockey Writers is:
1) A top-tier hockey media company delivering a top-notch, in-depth look at the NHL
2) A collective of some of the best hockey writers anywhere
3) A multimedia provider with daily podcasts and YouTube shows
4) Well-respected and widely-cited NHL prospect and draft resource