NEWS
Canucks to host Shareef Abdur-Rahim for Grizzlies Night on November 2nd
The following is part of a press release from the Canucks organization.
Vancouver, B.C. – As part of the Rogers Arena #20in20 celebration, "Grizzlies" night will feature a special appearance and ceremonial puck drop from former Vancouver Grizzlies great Shareef Abdur-Rahim when the Canucks take on the Flyers on Monday, November 2nd. The evening-long tribute and celebration of the Grizzlies six-seasons in Vancouver will also feature special video highlights and other fun surprises.
Fans are encouraged to wear their Grizzlies colours alongside Canucks jerseys to celebrate Vancouver's former NBA team. For one night only, the Canucks Team Store inside Rogers Arena will also have retro Vancouver Grizzlies memorabilia for sale including jerseys, t-shirts and hats.
Read the full release here.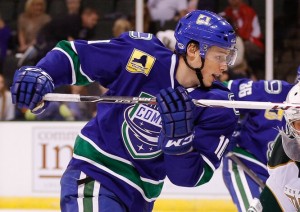 Alex Biega, Brendan Gaunce Recalled
The following is a press release from the Vancouver Canucks organization:
Vancouver, BC – Vancouver Canucks General Manager Jim Benning announced today that the club has recalled defenceman Alex Biega and forward Brendan Gaunce from the AHL Utica Comets.
Biega, 27, has appeared in five games with Utica this season registering an assist (0-1-1) and two penalty minutes. He made his NHL debut in 2014.15, appearing in seven games and notching one goal as a member of the Vancouver Canucks. Last season, Biega registered 19 points (3-16-19) and 24 penalty minutes in 62 games, ranking second in scoring among defencemen on the Utica Comets. Biega also played in 23 playoff games for Utica, collecting four points (0-4-4) and 16 penalty minutes.
The 5'10", 194-pound Montreal native was originally selected by Buffalo, 147th overall in the 2006 NHL Entry Draft.
Gaunce, 21, has recorded two points (1-1-2) and six penalty minutes in five games with Utica this season. He made his professional debut playing with the Comets in 2014.15 where he finished seventh on the team in scoring, collecting 29 points (11-18-29) in 74 games. Gaunce also appeared in 21 playoff games for Utica, registering nine points (4-5-9) and 12 penalty minutes.
The 6'2", 210-pound Markham, ON native was originally selected by Vancouver, 26th overall in the 2012 NHL Entry Draft.
Brandon Prust, Dan Hamhuis Injured
Brandon Prust, who has five assists in nine games, sustained an ankle injury Tuesday against his former team, the Montreal Canadiens. He will reportedly be out for four-to-six weeks, and winger Brendan Gaunce, drafted 26th overall in 2012, has been called up in his absence.
Defenceman Dan Hamhuis was held out against the Montreal Canadiens, and did not participate on the Canucks' recent two-game road trip in Dallas and Arizona due to a lower-body injury. He is still being available, and Alex Biega, who scored his first NHL goal last season with the Canucks, has been called up in his absence.
Scores of the Week
Vancouver Canucks – 5 : Montreal Canadiens – 1
Dallas Stars – 4 : Vancouver Canucks – 3 (OT)
Arizona Coyotes – 3 : Vancouver Canucks – 4
Current Record: 5-2-4 (14 points ~ 2nd in Pacific Division, 7th in Western Conference, 12th in NHL)
With Dan Hamhuis and Brandon Prust injured, #Canucks call-up Brendan Gaunce and Alex Biega from Utica https://t.co/Oo77Mhp0Fe

— Rob Williams (@RobTheHockeyGuy) October 28, 2015
ANALYSIS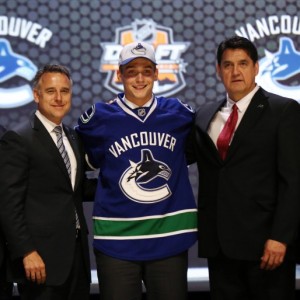 Jake Virtanen hardly a sure bet to stay in NHL
Heading into the season, many had Jake Virtanen penciled in on the Canucks roster, likely in a bottom-six capacity. Now, things aren't looking nearly as good for the 19-year-old winger. The most damaging factor to the teenage forwards chances is the emergence of Jared McCann as a consistent scoring threat. With five goals in just nine games, McCann has established himself as a legitimate offensive threat for the club, while Virtanen has failed to score a single goal in his eight games with the team. While it's true that Virtanen brings a game-breaking physical aspect to the table that arguably no other Canuck does, it's not even close to enough to defend his spot over McCann (and arguably not even over the recently re-called Brendan Gaunce, who poses as a safer option for the coaching staff.) Him staying on the team is certainly still in the question, but it's safe to say he's hardly the near-lock he was once considered to be.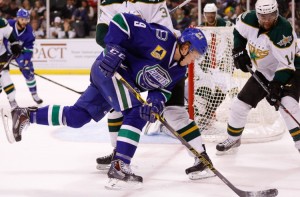 Hunter Shinkaruk tearing up AHL with Utica Comets
With all the talk surrounding top prospects Jared McCann, Jake Virtanen and Ben Hutton, Hunter Shinkaruk has been absolutely dominating the American Hockey League. Shinkaruk, 21, has put up an astonishing six goals and seven points in just six games, tremendous progress for the young winger. The 24th overall pick in 2013, Shinkaruk has had three successful training camps with the Canucks, but thus far, has been unable to play in even a single National Hockey League game. Considering his tremendous production and the fact that there is a great possibility the Canucks' goal well dries up eventually, it seems like a safe bet that the dynamic forward will get at least a sniff of what it's like at the NHL level. Should he translate his AHL success to the big leagues, it won't be long before he's a full time member of the Vancouver Canucks either.
AROUND THE BLOG-O-SPHERE
Fun links about the Vancouver Canucks from all around the internet
Canucks prospect report for the month of October [Sportsnet]
Looking at the Canucks' struggles in 3-on-3 overtime [Vancouver Sun]
The call-up of Brendan Gaunce could be a bad thing for Jake Virtanen [Vancouver Courier]
Five things you should have watched for Friday night against the Arizona Coyotes, according to Jon Abbott [TSN]
Does size matter for the Canucks blue line? [The Hockey Writers]
A game recap of the Canucks' 4-3 win over the Arizona Coyotes [CBC]