'The Nuck Stops Here' is a Vancouver Canucks news and opinion column running every Sunday throughout the season.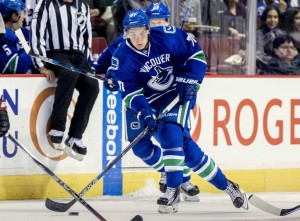 NEWS
Personalized Goal Songs
The Canucks have announced that they are following in the footsteps of baseball by introducing personalized goal songs for each player, as opposed to a single song for every goal scored by the team. The move could prove significant, seeing as the goal song was the center of intense scrutiny over the past several years.
Lines Tweaked in Practice
Sedins with Hansen/Prust-Cracknell-Dorsett as other forward pairs. Remember..No McCann #Canucks practice #TSN1040

— Jon Abbott (@HockeyAbbs) October 17, 2015
Baertschi-Horvat-Virtanen over the boards at #Canucks practice.

— Jon Abbott (@HockeyAbbs) October 17, 2015
Alex Burrows, Brandon Sutter and Radim Vrbata made up the remaining line.
Scores of the Week
Anaheim Ducks – 1 : Vancouver Canucks – 2 (SO)
Los Angeles Kings – 0 : Vancouver Canucks – 3
Vancouver Canucks – 3 : St. Louis Blues – 4
ANALYSIS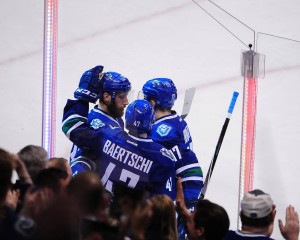 Yannick Weber needs to be in the lineup
After a 1/18 start to the 2015-16 power play, it's evident the Canucks need a spark plug to get their man advantage going, and the solution is quite obvious: put in Yannick Weber. The right shot defenceman scored 11 goals last year, most in the back half of the season, and proved to be a legitimate weapon from the point, something the club lacks (aside from arguably Alex Edler, who has seen his production drop significantly since his 49-point, All-Star season in 2011-12). In addition to his prowess on the power play, Weber appears to have the ability to solidify Dan Hamhuis and be a generally steady defensive presence, which is more than first-year Canuck (and front runner to be replaced by Weber) Matt Bartkowski can say thus far. On all fronts, it appears to be the logical decision to plug the 27-year-old Swiss into the lineup.
Sven Baertschi needs to show more
Swiss rookie Sven Baertschi was pulled out of the lineup on Friday against the St. Louis Blues in favor of Jared McCann, and it's hard to say that was the wrong move. Baertschi, playing on the 2nd line alongside Bo Horvat and Radim Vrbata, had shown nothing that even remotely defended his spot in the top-six, and was rightfully pulled in favor of the rookie McCann (who scored in the 4-3 loss to the Blues.) It's looking like Baertschi will get another chance Sunday against the Oilers playing with Horvat and 19-year-old Jake Virtanen, and he'll have to make the most of it should he want to be an everyday player on this Canucks roster. With McCann and Virtanen playing solid, NHL level hockey and Chris Higgins set to return in a few weeks time, Baertschi has to start putting things together if he wants to stay with the big club throughout the entire season.
AROUND THE BLOG-O-SPHERE
Fun links about the Vancouver Canucks from all around the internet
Jake Virtanen bringing a physical presence to the Canucks [MetroNews Canada]
Jason Botchford on the Sven Baertschi situation [The Province]
Game review of the Canucks' 4-3 loss to the St. Louis Blues [HockeyBuzz]
Canucks relying on Ryan Miller, puck luck for hot 3-1-1 start [The Globe and Mail]
Trevor Linden on keeping both Jake Virtanen and Jared McCann to start the season [Sportsnet]
The Canucks have launched a campaign to select Radim Vrbata's goal song [FOX Sports]