Like any other hockey season, I look at the team schedule, circle which games I would like to go to and then list how much each ticket will be for each game. You would think that with the high expectations of the Washington Capitals, it would be like the days of 2009 when Alex Ovechkin and most of his friends were not even 24-years old and just learning how to dominate the league and make hockey the most fun sport in the world. Crowds would be packed and even games against the worst teams in the league would find a way to be $50 each. Even die hards almost forgot what playoff heartache felt like for a franchise that has had one too many of them. Why, because no one has ever seen a force, let alone a human being, like Ovechkin.
What people need to remember is that the last MVP a Washington DC athlete has ever won before Ovechkin was a place kicker in a strike-shortened 1983 NFL season. Yes, the football team will always reign supreme in this town, no matter how offensive the team nickname will be and no matter how disgustingly biased the local journalism is. But it can't be mentioned enough that the Capitals have been the most consistently successful team in the city.
The truth was, however, that hockey wasn't popular in Washington for almost a generation. The majority of the 1980s brought the first wave of fans after consecutive playoff appearances, but any momentum came to a halt after the horrifying limousine incident in 1990. Yes, Peter Bondra, Dale Hunter and Olaf Kolzig brought the team to its only Stanley Cup Final appearance, but there was no one universally world class on that team. Watch some of the old footage and you could still hear and see those home Cup Final games with a bit too many Red Wings fans in the arena. Ovechkin changed that.
Even so, with Ovechkin now an almost-guaranteed Hall of Famer and being surrounded by the best and most well-rounded team he has ever had, you would think the buzz of the late 2000s would be around in 2015. Not so much so on opening night. You could see seats empty here and there in the lower bowls of the Verizon Center. Even last Thursday's Blackhawks game (you know, the defending Stanley Cup Champions) could be bought for $45 on Stubhub or Seatgeek.
This is not so much a time to insult the Capitals fans, especially all the loyal season ticket holders that will stick to the very end. Almost every team in the NHL will struggle to get sell outs every game during the regular season. A hockey game in October certainly isn't as important as a hockey game in March or April. Most importantly, the real fun doesn't begin for another six months when the playoffs come around. Until then, an 82 game schedule is present and there is time to make new opinions, get excited for the future and be happy that there is something to do when the weather gets cold. Yet I can't help but feel like there is something not right on Gallery Place-Chinatown.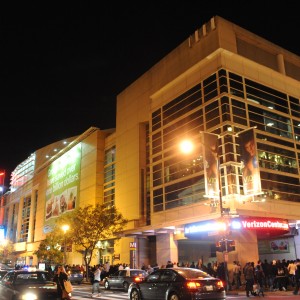 The city has now reached four years of World Series or Bust expectations from it's baseball team only to see it ripped to shreds by incompetent management and Jonathan Paplebon's doing Jonathan Paplebon things. The city is also in a state of confusion of what to make of a professional basketball team that never likes the team nickname and hasn't seen consistent playoff success in almost 40 years. Oh, and did we mention how much nobody likes the football team anymore?
Even in recent years, the scars of the Montreal playoff series and the firing of Bruce Boudreau have left a mark on the Capitals where, for some, they will never recover. Yes, there is optimism for 2016, but it certainly isn't without shifting in a guard position or feeling a harsh flinch when anything negative happens. With a city-wide title drought going on for so long, why can't we celebrate a series winning goal that only advanced us to the second round. Or even a home run that only led to a scarring game five defeat the next night in a divisional series.
Last Tuesday's San Jose game was a perfect example of that. Despite having a history of struggling to the Sharks, it was a good barometer game for Washington to measure itself with where they are early in the season. A 5-0 loss didn't help any pessimists in the building, even if it was because Martin Jones is playing at an abnormally high level or that Nicklas Backstrom and Ovechkin were out of the lineup.
Last Thursday's 4-1 win against the Blackhawks hopefully reminded locals the true meaning of the regular season hockey. With pretty plays from all the skilled forwards and the aggressive back-checking by almost every player, Washington seemed to have returned to their expected article.
The reality of it all is we don't know if they have or they have not the goods to win a Stanley Cup in mid-October, that's ok. Last year, Washington was 10-10-4 coming into December 3rd. They would go 35-16-7 the rest of the way. Even then, we didn't know that they would beat a better New York Islanders team in the first round of the playoffs. We also didn't know that they would lose to a lesser New York Rangers team in round two.
Line combinations will change. AHL call-ups could end up on the lineup come May. Injuries will happen. Autumn becomes Winter and then Spring and a new story is told every game. If fans can see all that, it makes going to a game worthwhile. If not, it'll make you shiver too early and too often.
Ben covers the Washington Capitals at the hockey writers. He has been blogging about the NHL since March 2013. Follow him @DCSportsDork