LEAFS DAILY 
Well, if the Penguins are a Cup Contender and the Leafs an Auston Matthews contender, you wouldn't have known it by watching last night's game in which the team filled with superstars looked decidedly mediocre against a team made up of cast offs like Arcobello, Parenteau and Boyes.
Now, this isn't to say the Leafs were the better team last night – they weren't. The Penguins had more shots, more chances and generally controlled the play. However, when you account for the fact that the Penguins have four of the best hockey players in the world on their team, and the Leafs' two best players (Gardiner and Kadri) are players most of their fans don't even seem to like, I would say the Leafs did OK.
This team is really starting to grow on me. I was apprehensive at first – happy the team was going to rebuild patiently, but also somewhat frustrated about the fact they've had one playoff appearance in a decade and won't be going this year.  But despite this apprehension, the team has done nothing but put up solid efforts in every game and impress me on virtually every level when you account for the lack or high-end talent on the roster.  Sure, they lost 2-1 last night, but compare the rosters and that score is a compliment to the Leafs.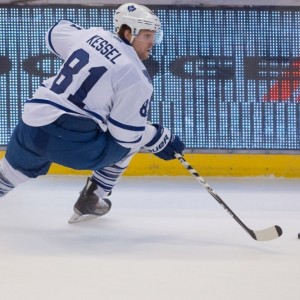 Phil Kessel
The reason most Leafs fans are – at worst – ambivalent about trading the most talented player this franchise has seen since Sundin retired, was on full display last night.
You'd think the guy would be pumped up to face his old team and at least have a little jump in his game. Now, in all fairness, the entire Pens team seemed flat to me (vs. the dynamics I expect from them) and Kessel seemed invisible all night.
I counted two scoring chances by him, and neither was all that dangerous. I thought he shot too early on the partial breakaway, but maybe he didn't – these things can be hard to judge on TV.
It's not like he played awful or anything, when the puck came to him he looked like Phil Kessel. But I guess you expect a guy to get up for this game and score a hat-trick or whatever, and the fact that it just looked like it was a normal game to him sort of encapsulates  what Phil Kessel is and why he wasn't beloved in this city as someone like Jose Bautista – who always looks like he cares.
Just watching the Jays this past week and seeing how they dine out on their emotions made me realize that maybe the biggest problem with the Phaneuf/Kessel foundation was that they're just a couple of laid back dudes who don't get angry enough, and that this translates to them looking like they don't really care, even though they almost certainly do.
Who knows though? These are my perceptions; I don't know if they're right. Hell, maybe Kessel had a good game last night and because I didn't see what I wanted to see, I'm not giving him enough credit. The stats tell me that when he was on the ice – for 15 minutes at 5v5 – he and Crosby absolutely dominated the game – to the tune of 70% CF.
So no one can say he played badly. Just like if you watched him with the Leafs for the last five years you know he was regularly amazing, but also frustrating as hell. Last night, despite his line with Kunitz and Crosby making an absolute mockery of the Lupul-Spaling-Winnik line in terms of puck possession, Kessel was nowhere to be found. Two shots.
His line had the puck whenever they hit the ice, and he got two shots and you barely noticed him unless you were looking for him.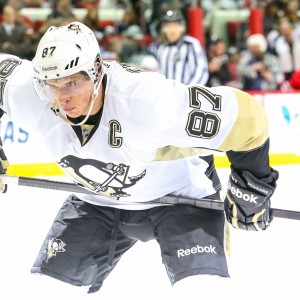 Best Part of the Game
The best part of watching any game the Penguins play is watching Crosby and Malkin.
But from a Toronto perspective, and this is probably getting old, it was: Nazem Kadri. His breakout year is happening before our eyes and he's been the best Leafs forward in pretty much every game this year except for the second and third periods of the Red Wings game.
Last night he had 6 shots and almost 19 minutes of ice-time. Except for when he was on the ice with Harrington and Polak (4 mins with them, O shot-attempts for, 9 against) he was absolutely dominant (13 shot attempts for, 4 against).  If you go back and look at the game-sheets (waronice.com) Kadri is killing it whenever he is on the ice with Jake Gardiner. It's quite remarkable actually.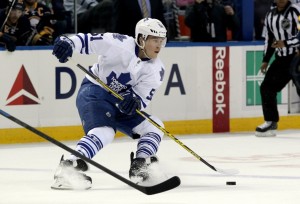 Worst Part of the Game
Two worst parts.  First, Bernier. Yes, he did great after it was 2-0 and didn't allow another goal, but he also let in two crap goals that he needs to stop. To me, the Bernier experience is a weak one and I don't see him here as the goalie of the future. I believe James Reimer is a better goalie and that the Leafs should take whatever they can for Bernier and be happy.
Second, Roman Polak. OK, Pittsburgh presents some difficult matchups for slow players, but he was on the ice for 14 minutes (5v5) and allowed ten more shot-attempts than his team had. He looked slow and overmatched and made at least one horrible give-away.
The Leafs are rebuilding and just think it's ridiculous to play Polak over a guy like Marincin who may have some actual long-term value to the Leafs.
Anyways, that's my take on the game – please feel free to give me yours. Leafs are off until Wednesday when they play the Sabres.