The Edmonton Oilers had a torrid start to the season and found themselves on top of the Western Conference with a 7-1-0 record. Since then, they've rattled off three straight losses, and haven't looked particularly good in any of them. When a team is winning, flaws are easily hidden. When they're losing, the worst parts of the team are glaring. The Oilers didn't always look fantastic in their wins, but they kept getting two points. Now, they've appeared to regress, though not as much as one might think.
Goaltending Isn't the Problem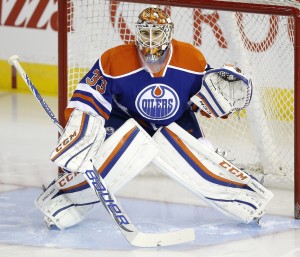 As expected with a struggling team, there have been plenty of hot takes on the current state of the Oilers. Kris Russell is slowing down, Jordan Eberle needs to be traded, Milan Lucic can't keep up with McDavid (that one is true), Todd McLellan is making bad decisions, etc. Russell has been a pleasant surprise for the Oilers; regardless of what his Corsi stat might say, he isn't the reason they're losing. Eberle is what he is; a skilled player who doesn't provide much else. He has occasional chemistry with McDavid, and perhaps if that silly goalie interference play wasn't called, we'd be having a different discussion.
Lucic looks like he's skating in mud most of the time. That doesn't mean he isn't a good skater. But McDavid is so good, that Lucic is having trouble keeping up. McDavid zips around creating chances off the rush and Lucic isn't always where he needs to be. But that's not a slight on Lucic. He is what he is as well and belongs on a line that cycles the puck, where he can make plays down low using his body. Perhaps trying him on a different line would be a good idea.
The one line that had a solid game on Thursday night, in particular, was the Lander, Pitlick, Letestu line. They're scrappy and hard-working and enjoyed a lot of puck possession.
One area that hasn't been lacking for the Oilers is their goaltending. Cam Talbot has been solid all season save for that one game against the Buffalo Sabres. Rick Nash being left alone in front of the net last night on the winning goal was hardly Talbot's fault but the problem is that he has to be even more air tight. There isn't much margin for error.
The Anatomy of a Losing Streak
As David Staples of the Cult of Hockey pointed out, the Oilers have been "wobbly". They gave up too many high-quality scoring chances against the Rangers. They were very close to getting at least a point from that game, but the Rangers were the superior team. For a team that has been on fire lately, the Oilers kept up with them remarkably well. On the road in a hostile building against one of the better teams in the Eastern Conference, and having a lead in the third period? That has to be noted, despite the slight late game collapse.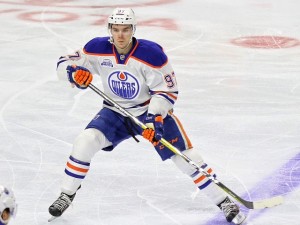 The game against the Toronto Maple Leafs on Tuesday was winnable, if not for Nazem Kadri. There has been chatter that Kadri showed the "blueprint" for shutting down McDavid but that's slightly overstated. Kadri is a skilled player with the speed to keep up with number 97. The game-winning goal in overtime was interpreted in different ways. Some saw it as a battle for a 50-50 puck. Some felt that Kadri held McDavid (he kind of did). Some felt that Kadri outmuscled him. It appeared that McDavid didn't want to take a holding penalty, rather than flat out getting beat.
The game against the Ottawa Senators – dubbed the Craig Anderson game – well, they weren't winning that one. So this three-game losing streak isn't as dire as it might appear. Have the Oilers reverted to their former ways? That's an overstatement as well. The fact of the matter is, they are a slightly improved team that would have been in tough to make the playoffs no matter what. Don't let a winning streak fool you. They are still incomplete in one key area.
Connor McDavid Needs a Kris Letang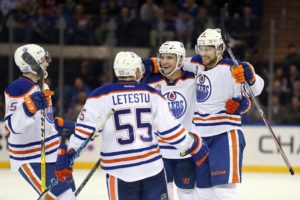 Adam Larsson scored a goal last night. His first as an Oiler. The euphoria was short-lived because his giveaway led to the game-tying goal less than a minute later. Larsson has been good this season. He might chip in with a goal every now and then. He might commit a turnover every now and then. He isn't particularly strong at moving the puck and he won't be a quarterback on the powerplay. The Oilers always knew that.
The acquisition of Larsson didn't solve their need for a true number one defenceman. Kris Russell is great at moving the puck but he isn't a number one on any team. Oscar Klefbom could be a candidate to be "that guy", or maybe even Darnell Nurse. But the Oilers' lack of hierarchy on the back-end is evident, especially when they lose.
Last night, while many hockey fans were asleep, Sidney Crosby and Kris Letang put on a show in Los Angeles. Both players have missed time this season due to injury, but they're healthy again and wreaking havoc on the rest of the league. The Penguins fell 3-2 in overtime, but both of their goals were scored by Crosby and assisted by Letang. The way that the Pens' top-dog blueliner moves his feet, the way he creates and controls the play is often a sight to behold.
Letang and Crosby are quite the dynamic duo tonight! pic.twitter.com/3GFiUCPTRG

— Pittsburgh Penguins (@penguins) November 4, 2016
The Penguins aren't the same team when Letang is out of the lineup. Sure, his game isn't perfect, but you often accept the bad when you get that much good. He's easily one of the most skilled defensemen in the league and probably would have at least one Norris Trophy if not for his injury troubles. (And if not for a guy named Erik Karlsson). Crosby's chemistry with Letang is magical, and it proves that the presence of a mobile defenceman can make a huge difference in the overall performance of the team.
What a bounce pass! pic.twitter.com/n2T7ypgntg

— Pittsburgh Penguins (@penguins) November 4, 2016
Connor McDavid doesn't have a Kris Letang creating stuff from nothing on the blueline. He doesn't have a rear guard who holds the line and dangles opposing forwards and keeps the play alive. It's absolutely possible to have success with a bunch of number two guys. But is the sum of Andrej Sekera, Russell, Nurse, and Larsson a formidable enough group? We all knew the gaping hole in the Oilers defence. That's why many fans didn't like the Hall/Larsson trade because it still didn't address the need for a true blue number one guy.
Can another move be made, maybe for a guy like Cam Fowler? Does he even fit the mould? Jacob Trouba's name is still out there but he probably isn't that guy either, and it doesn't appear he wants to play in Canada. The issue for the Oilers is that number-one defencemen don't just fall from trees. In the early days of the season, it felt like a collective effort was going to be enough. But that was something of a mirage.
The Oilers might be able to shake this slump and go on another winning streak. Maybe a guy like Nurse can and will emerge as that number one guy. But right now, they are missing an important ingredient for success. And filling that void isn't going to be easy.