Spencer Watson, a seventh-round pick, 204th overall by the L.A Kings in the 2014 NHL Entry Draft, is on the move in the Ontario Hockey League.
On Nov. 3, the Kingston Frontenacs dealt the star winger to the Mississauga Steelheads, who are loading up for what they hope will be a long, deep playoff run. In return, the Steelheads sent a number of draft picks Kingston's way. In particular, Mississauga moved Sarnia's second-round pick in 2017, Windsor's third-round choice in 2019, their own second-round selection in 2020, and, finally, a conditional seventh-round pick in the 2017 OHL Priority Selection.
Although Watson underwent wrist surgery during the offseason of 2016, and as such has yet to play a game this season, the London, Ontario, native is expected to return to the ice before the end of December.
The Scouting Report
On Aug. 31, 2016, I wrote about Watson's emergence as a truly elite player in the OHL, and his rise as a quality NHL prospect. Despite being slightly undersized throughout his career, a factor which has certainly inhibited his progress in the eyes of scouts, Watson, who now stands 5'11" and weighs 170 pounds, has long shed this critique through his excellent on-ice play and relentless work ethic.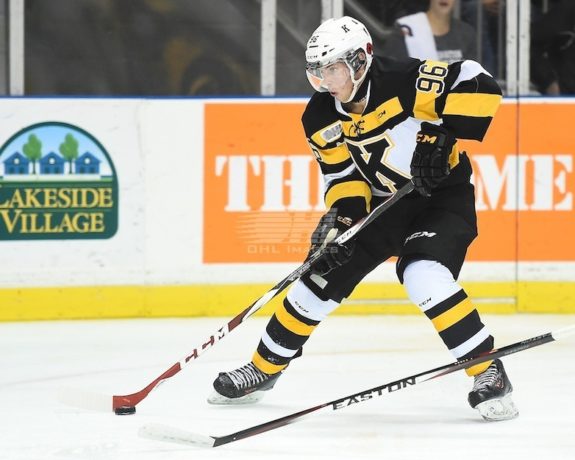 The first facet of Watson's game which will immediately stand out to his new Mississauga teammates is his break-neck speed, an ability which could draw comparisons to current Steelheads captain Micheal McLeod. An effortless skater who can hit full speed in a few short strides, Watson has the ability to blow by opposing defenders, and the willingness to drive the net in doing so. Gifted with an excellent shot in addition to quick feet, Watson can also handle the puck well at full speed, making him an all-around threat offensively.
One area to watch in Watson's debut with the Steelheads, however, will, in fact, be his ability to handle the puck. A noted puck-handler who can maneuver the puck in close to the net as well as around opposing players, Watson's stick-handling will likely be a step behind, and expectantly so given he has not played since the conclusion of the 2015-16 OHL season.
History of Success
In addition to his incredible skill-set, Watson will also bring a history of success to Mississauga. A two-time 20 goal scorer who also netted 33 in his sophomore season of 2013-14, and, most recently, 43 tallies in 2015-16, Watson is a seasoned offensive threat whose shot will provide the Steelheads with yet another immense offensive force up-front. Further, his 89 points last season ranked 11th highest in the entire OHL, illustrating him as one of the league's best offensive players.
In terms of team success, making the playoffs is not hoped for, but, instead, an expectation for Watson. Having reached the playoffs in all four of his seasons in Kingston, anything but in Mississauga will surely be viewed as a failure for Watson, who, through 22 career playoff games, has scored an amazing 25 points. However, considering the Steelheads are coming off of a seven-game, first-round series loss to the Barrie Colts in 2015-16, and are a markedly improved team this season, a long playoff run is all but expected.
The Right Fit?
Yet, all of this considered, will Watson be able to enter the Steelheads' lineup mid-way through the season, following injury, and provide a consistent offensive output?
Well, fortunately, General Manager James Boyd made a fantastic decision when he acquired Watson, as his playing style should allow the right-winger to immediately gel with Mississauga's existing lineup. A team based on speed and skill, Watson's game is defined as exactly that and will allow him to find instant chemistry with new teammates. In particular, Watson could find a home on the Steelheads' first line, alongside McLeod and top 2017 NHL prospect Owen Tippett. Both McLeod and Tippett are lightning quick skaters who make excellent decisions with the puck, where McLeod is a phenomenal playmaker and Tippett possesses an NHL caliber shot. Together, the trio could become an elite offensive line in the OHL this season, and one that could push the Steelheads to new heights come the playoffs.
I would also like to say I am very excited to join the @OHLSteelheads and their organization. I am looking forward to get things started.

— spencer watson (@swatty96) November 3, 2016
In all, the acquisition of yet another NHL drafted and seasoned OHL veteran should provide the Steelheads with not only another boost offensively, but with additional depth of front. With a proven pedigree of success in the league, Watson's presence, once healthy, will undoubtedly be a welcome, and incredible, addition to Mississauga's regular season and playoff push.