With the latest playoff disappointment for the Pittsburgh Penguins, many individuals have begun to brainstorm on how the Steel City can regain its winning form. As a result of this fervent speculation, a small but vocal contingent of Penguins writers and fans have begun to call for the trading of superstar center Evgeni Malkin.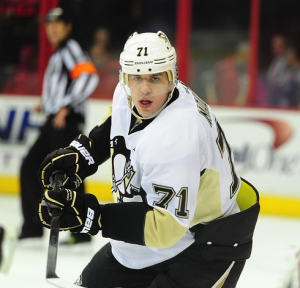 From columnist Rob Rossi to writers of this very website, these folks believe that the solution to many of the Penguins' woes can be achieved through trading the powerful Russian center. The argument is, at its core, rather simple: Malkin is the team's highest paid player at $9.5 million per season, their second-best producer near the twilight of his peak, and would yield a high return in a trade via draft picks, prospects, and even other stars.
Considering that a great deal of the team's problems manifested themselves through salary cap woes, breaking up the superstar pair of Sidney Crosby and Malkin sounds like a good idea to some. And factoring in that former GM Ray Shero and current GM Jim Rutherford have both traded away huge numbers draft picks, resulting in a dearth of top-tier forward prospects, the potential returns for the 28-year-old Malkin, who is in his peak years, are too tempting.
But there are discrepancies in the argument, which need thorough examination, especially if this theory begins to become a reality, something the Penguins and Malkin have adamantly denied would ever occur.
Is Malkin's salary a hinderance?
The short answer is no. The longer answer is that the Penguins should not have to break up their superstar players who command superstar salaries. They are hardly the only team with such a dynamic. For instance, the two teams currently duking it out in the Western Conference Finals, the Anaheim Ducks and the Chicago Blackhawks, have managed to field complete, versatile rosters despite having two highly paid stars.
For the Ducks in the 2015-2016 season, Corey Perry and Ryan Getzlaf will be earning a combined $16.875 million. For the Blackhawks, Jonathan Toews and Patrick Kane will make $21 million. By comparison, Crosby and Malkin will make $18.2 million, falling between the two teams. Crosby's status as the world's premier player stands largely unquestioned, but if Malkin is making more money, has his performance lived up to the weight of his contract?
Does his performance meet expectations?
Not counting the injury shortened 2010-2011 season of the labor stoppage shortened 2012-2013, Malkin has never scored less than 70 points in a season. He is a two-time Art Ross winner, a Hart Trophy recipient (and two-time runner-up), and has routinely proven that he can carry the squad when Crosby has faced injury woes. He also earned a Conn Smythe during the team's successful run to the Stanley Cup in 2009.
Admittedly, Malkin was virtually non-existent in the series defeat to the New York Rangers during this postseason, as he tallied no points on only 11 shots in the five games. But this may have simply been a blip for the center as he has managed double-digit point totals in six of his eight trips to the Stanley Cup playoffs.
Malkin is a player who, on almost any other team, would be the best player. Playing behind Crosby can obscure this fact from time to time, but when you examine his immense body of work, it is hard to deny his talents.
His natural scoring touch, bulky physicality, fiery intensity, and incredible stick skills make him a force to be reckoned with any time he touches the ice. Any team would kill to have his tools being deployed on their behalf night in and night out during the season. So if someone Rick Nash could command hefty returns for their services, what could one expect out of moving someone of Malkin's stature?
Would a trade provide adequate return?
Malkin's abilities are such that, in order for a team to even approach matching his value, a crazy deal would have to be orchestrated for another team to obtain him. Some have postulated that if the Edmonton Oilers were to offer a deal on the order of Taylor Hall, Jordan Eberle, and their upcoming first overall selection (otherwise known as Connor McDavid), the Penguins should listen.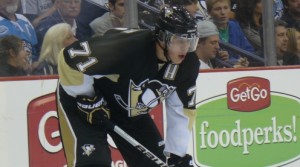 But the odds of that actually occurring are next to zero, unless Peter Chiarelli has a screw loose. But the idea that a team would have to essentially sell the farm proves that Malkin's value is almost too high for anyone to match and too high for the Penguins to want to part ways with. Furthermore, the Penguins have not developed enough forward prospects capable of filling the depth Malkin's absence would create either, so getting rid of him might simply create more problems for the team.
One can also not forget that Malkin has a no-trade clause in his contract. He would have to approve any potential move and would probably deny all of them, especially to somewhere as notorious as Edmonton. So even if moving him was a legitimate possibility, it would likely never even happen because Malkin can control his own future.
So what's the problem?
The blame for Penguins' woes should not be placed upon the shoulders of one of their top-scorers and best leaders. Much of it during this past season, and even in a number of the past few seasons, had to do with incessant injuries. When three of the four top-four defensemen go down with injuries and top-six forwards battle injuries all season, it is hard to imagine that a team will be able to play top flight hockey.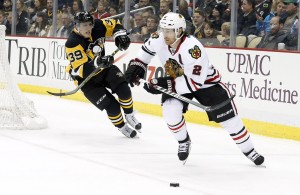 But if one wishes to look beyond something that cannot be easily predicted, one can instead look to the team's finances. This problem can be found by, again, comparing the Penguins' ledger to that of the Blackhawks.
Chicago, a team that has won two Stanley Cups (and are currently competing for a third) in a significantly smaller time frame than Pittsburgh was able to even win one with their superstar duo, has achieved this through smart and crafty signings. The Penguins have struggled by doing the exact opposite.
For instance, the 2015-2016 Blackhawks will have $8.3 million wrapped up in the contracts of Niklas Hjalmarsson, Andrew Shaw, and Kris Versteeg. Meanwhile, the Penguins will have $9.425 million invested in Rob Scuderi, Chris Kunitz, and Nick Spaling. The level of production and upside provided by the three players contracted by the Blackhawks is lightyears ahead of what the Penguins received from their counterparts, especially when you consider that all three Blackhawks are under the age of 30 while Scuderi is 36 and Kunitz is 35.
How do the Penguins fix it?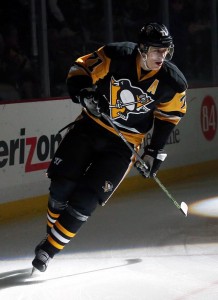 The solution clearly does lie in trading Evgeni Malkin. His production could not be reasonably matched in a trade and his salary is far from handicapping for the Penguins. And if even if they wanted to trade him, Rutherford would need Malkin's approval, something he likely would not receive. For these reasons, this idea should be stopped immediately. It would not and should not happen.
Instead, Penguins analysts and fans alike should follow management's example and direct their vigor and zeal toward finding solutions for the team's poor contracts. Rutherford is notoriously bad at handling the salary cap, so his work should be scrutinized greatly. But if he can manage to resolve the real issues that plague the team, such as the needlessly excessive contracts, mediocre drafting, and poor draft pick conservation, then the Penguins will be able to regain their footing. Evgeni Malkin is not a real issue and the idea of moving him should be forgotten until further notice.