The Hockey Writers Nashville Predators staff writer Colin Fitts will evaluate the performance of each player on the 2014-15 Predators roster every weekday in alphabetical order. You can follow Colin on Twitter, @FittsTHW.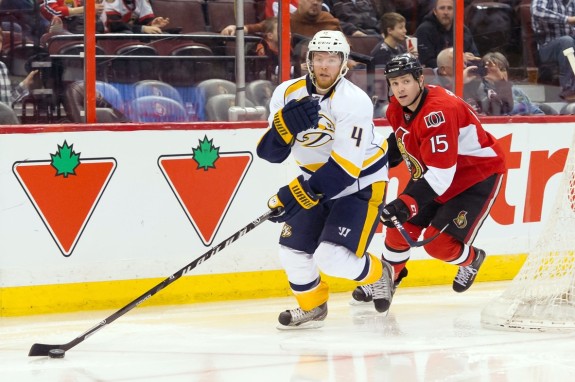 Ryan Ellis
Position: Defense
Age: 24
Height/Weight: 5-foot-10, 175lbs
Stat Line: 58 GP, 9 G, 18 A, 27 PTS, +8 +/-, 27 PIM, 41 hits, 74 blocked shots, 18:58 AVG TOI
Playoffs Stat Line: 6 GP, 0 G, 3 A, 3 PTS, +4 +/-, 2 PIM, 20 hits, 16 blocked shots, 26:24 AVG TOI
*Points at Home vs Away: Home – 7 G, 9 A | Away – 2 G, 10 A
*Giveaway/Takeaway Correlation: 27 giveaways, 21 takeaways
Contract Status: 4 years remaining on a 5-year, $12.5 million contract ($1.5 million cap hit in 2014-15)
Highlight of the Year: Ryan Ellis had his first three-point game of his career with 1 goal, 2 assists and scored the game-deciding shootout goal in a 4-3 shootout win against the Arizona Coyotes on October 21.
Strengths: Ellis displayed his quick speed and fast slap-shot that has not been seen much since his days with the Windsor Spitfires in the OHL. Despite only playing 58 games last season, he tied his career high point total of 27 set in 2013-14 and set a career high in goals with 9. He was also able to handle on average nearly three minutes of time on ice per game with ease.
Weaknesses: Ellis staying healthy next season is going to be critical to Nashville's success. Last season, he missed 24 games after suffering a lower-body injury. He needs to improve the defensive side of his game. His small stature is not an excuse for not forcing turnovers and playing aggressively.
What to Expect Next Season: All it took for Ellis to feel comfortable in the NHL was a change in system. Thanks to head coach Peter Laviolette's fast-paced system that allows defensemen to take the puck coast-to-coast, Ellis had a career year on both sides of the puck in 2014-15. Ellis should be on track to score 35-40 points next season if he can stay healthy.
Subscribe to our Predators stories to get email updates every time a new story is published.
Colin Fitts is a Nashville Predators staff writer and is a credentialed media member of the Chicago Wolves. From Nashville, Tennessee, Colin majors in journalism and public relations at Columbia College Chicago. Follow him on Twitter, @FittsTHW. Email: 22fitts [at] gmail [dot] com.