There's no two ways about it , Sean Couturier receives way too much unwarranted criticism in the city of Philadelphia. His ex-coach criticized his offensive production and fans are already labeling him a bust, but is any of this really true?
What is Couturier's Role?
A shutdown center. There isn't any other words to describe it. In fact, if you go back and look at his draft profile, you will see that this was well established as Couturier emerged from juniors. An excerpt from NHL Central Scouting's Chris Bordeleau:
"At his size, he'll be hard to pass up in the draft. He possesses a very good work ethic and he's out there for every important

Couturier netted a playoff hattrick at just 18 years old.(Charles LeClaire-US PRESSWIRE)

faceoff. He's very responsible in the defensive aspect of the game — a rare quality for such a young player in junior hockey."
And another from NHL Centeral Scouting's Chris Edwards:
"Sean has excellent puckhandling and playmaking ability; he sees the ice and reads the play very well . . . He's extremely smart and gets himself into good scoring position. He plays a solid two-way game and is very responsible defensively."
Once again, the Flyers drafted Sean Couturier fully aware that he played a very defensive minded game, and was able to shut down the opposition's best players. So just how good is Couturier at filling his role?
Just a few weeks ago, former Flyer head coach Craig Berube decided to call out Couturier, among others, and compare him to the best defensive forward in the NHL, Patrice Bergeron. Keep in mind  Bergeron has played 11 NHL seasons to Couturier's 4. Bergeron also has 2 Selke Trophies, 2 Olympic Gold medals, and a Stanley Cup.
Let's start with some intriguing stats about how the 22 year old plays his game
Since 2011, only 16 forwards across the entire league started a larger percentage of their shifts in the defensive zone.
Out of those 16 players, Couturier has the 3rd best Corsi percentage over that time period.
Since 2011, only 14 forwards have started a lesser percentage of their shifts in the offensive zone.
Couturier had the most even strength points over that time period than anyone else with 85, the next closest was Kyle Brodziak at 73.
Couturier was also the youngest out of any of those players.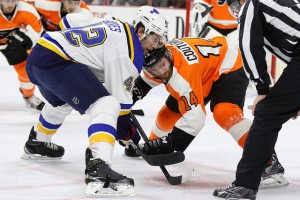 The zone starts illustrate how Couturier has been used throughout his short four year career. The Corsi percentages illustrate just how good he is at neutralizing opponents in his own zone. Despite starting so many of his shifts in the defensive zone, Couturier still has a relatively even CF %.
Narrow down the criteria a little bit to just this past season and Couturier's importance stands out even more. As we all know, the Flyers were not a playoff team this season, and had some major defensive problems. So just how much did the Flyers need defending against big name players? Take a look at who Couturier played most against this past season and their production:
John Tavares: (46:14 TOI with, 0 points)
Ryan Johanson (37:06 TOI with, 1 point)
Nicklas Backstrom (35:17 TOI with, 1 point)
Alexander Ovechkin (34:13 TOI with, 1 point)
Sidney Crosby (30:28 TOI with, 1 point)
Since Couturier was compared to Patrice Bergeron, let's look at who he is matched up with most:
Jaromir Jagr: (34:09 TOI with, 2 points)
Kyle Turris (31:47 TOI with, 0 points)
Max Pacioretty (25:45 TOI with, 0 points)
Henrik Zetterberg (25:23 TOI with. 2 points)
Mark Stone (25:15 TOI with, 0 points)
Bergeron had Riley Smith and Brad Marchand alongside of him, Couturier had Matt Read and RJ Umberger alongside him.
Couturier played most of his minutes against four of the top six scorers in the league. None of the players in Bergeron's top 5 cracked 70 points this season, and all 5 of the guys Couturier played against cracked 70 points.
That speaks volumes for what Couturier does in terms of defense for this team. Especially when you look at the minutes he played against them, and the points he surrendered.
Couturier's role is that of a defensive center, and at just 22 years old, he's proven that he is more than capable of doing that job with flying colors. As for his offense….?
Lack of Production? Hardly.
Couturier played most of his time this season with Matt Read and RJ Umberger. Two guys who struggled to find the scoresheet whatsoever. Couturier still managed to put up 37 points. That's the same point total Umberger and Read had combined. Look at possession stats and it gets even worse.
Sean Couturier finished the season with a Corsi percentage of 48.9%, RJ Umberger at 46.5%, and Matt Read at 47%. The telling part comes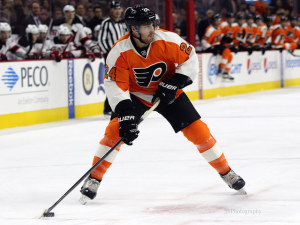 when you separate the players from each other. When Couturier is apart from Umberger, his Corsi goes up to 50%, and apart from Read it goes up to nearly 53%. When Umberger is apart from Couturier his stays relatively the same, and when Read is apart from Couturier his plummets to 43%.
Point? Read and Umberger are held together by Couturier, and holding back scoring opportunities.
In fact when you think about it, it's insane that Couturier matched the point total of his two linemates combined. In what world does that ever happen? Put Couturier between two wingers who actually will produce and his production just might spike. But were still missing something.
That's right, Couturier is only 22 years old.
There's always exceptions, you have your Crosby's and Ovechkin's that come into the league at 18 years old, and do big things, but with Couturier, that wasn't going to happen.
Couturier has already come into the league and shutdown the top players in the NHL. On top of that he has shown that he can score on a line with two players that are offensively stunted. Expecting him to put up huge points at 22 years old while in the role he is in, is crazy. Even Claude Giroux didn't have his breakout season (in terms of points) until he was 23, and Jakub Voracek just had his at the age of 25. Why can't we give Couturier that type of time to develop?
A Keeper
That's what Sean Couturier is. In his four seasons in the NHL, he has quielty neutralized the opposing teams' top players, night in and night out. That's something that is a dime-a-dozen in the NHL nowadays. At 22 years old, and with a very reasonable cap hit, he is a diamond in the rough. Couturier will never put up 80 or 90 points in a season, but arm him with some decent wingers, give him more time in the offensive zone, and the man will start to put up more points.
The criticism in Philadelphia should stop, because Sean Couturier fits his role perfectly and losing him would be a huge mistake.
Matt is a contributor for the Philadelphia Flyers at The Hockey Writers. He has previously covered the Flyers for GrandstandU. He enjoys playing hockey and making music in his spare time.