There are very few times when you can definitively say a coach needs to be fired. Craig Berube has become the exception. If there was any doubt that there was tensions behind locker room doors, today erased that. Both sides spoke to the media yesterday, and it did not go well.
Vincent Lecavalier
It's really hard to deny that Lecavalier has been a tough fit in Philadelphia, but there were multiple points this season where he was severely misued. There's no doubt Lecavalier is no longer the player he used to be, but he still had 20 goals just one year ago. There were long stretches this year where Lecavalier could have easily been used over Zac Rinaldo. Even when he was playing, he was stuck on the fourth line, why wasn't Matt Read or RJ Umberger ever sent down there? They were performing ten times worse than Lecavalier ever did.
Well everything is coming to light now.
Vinny says he loves the organization and fans, but "things changed when Chief came on board."

— Sam Carchidi (@BroadStBull) April 13, 2015
If there is a coaching change, Vinny says his outlook would be different.

— Sam Carchidi (@BroadStBull) April 13, 2015
https://twitter.com/JohnBorukCSN/status/587653766658273280
Berube responded by saying that Lecavalier doesn't accept his role.
As we said before, it's no secret that Lecavalier hasn't lived up to expectations since he became a Flyer. But, could this situation have been handled better by the coach? Absolutely. And it's understandable that Lecavalier isn't happy with.
Hearing those words from a potential hall-of-famer with a Stanley Cup under his belt says a lot about how the players may be feeling in the locker room. Lecavalier isn't lighting up the scoresheet anymore, but it is very telling when someone with a decorated past such as his comes out and says something like that.
Sean Couturier
I'll start with the comments.
Berube: "You're telling me Couturier starts in the defensive zone too much. Well, that's his job."

— Frank Seravalli (@frank_seravalli) April 13, 2015
Fair enough, he has more than proven he is a great defensive forward. But…
Berube: "Bergeron starts all those shifts in his own end. He seems to come out OK, right?"

— Frank Seravalli (@frank_seravalli) April 13, 2015
Berube: "We're trying to make a little bit of an excuse that I'm using him too much in the defensive zone. (1/2)

— Frank Seravalli (@frank_seravalli) April 13, 2015
Berube (2/2): "For him to develop as a better player and a better offensive player, he's got to learn how to produce starting in the DZ."

— Frank Seravalli (@frank_seravalli) April 13, 2015
To sum it all up…
So, Berube compared Couturier and Bergeron and their usage. Couturier had 109 fewer Off ZS (EvS) than Bergeron and 9 fewer pts. 8 yrs youngr

— Frank Seravalli (@frank_seravalli) April 13, 2015
Honestly dumbfounded. "Let's compare our guy to 2-time Olympic gold medalist, 2-time Selke winner, Cup-winning scorer who is 8 yrs older."

— Frank Seravalli (@frank_seravalli) April 13, 2015
Let's examine the multitude of problems with Craig Berube's comments.
Sean Couturier is 22 years old. Nowhere near his prime yet. As mentioned above, how in the world can you compare him to a guy who has
been the best defensive forward in the NHL for years now? You can't, and it's an insult to Sean Couturier. In fact, it's a knock on his personal development. Couturier proved when he came into the league at 18 that he could shut down some of the league's top talent. Evgeni Malkin probably still has nightmares about the 2012 playoffs. Just because Couturier hasn't been an offensive machine yet, doesn't mean he won't get better. Travis Hughes over at Broad Street Hockey put everything into perspective:
"Among all NHL forwards that played at least 1,000 minutes at five-on-five in 2014-15, Couturier started the fewest percentage of his shifts in the offensive end of the ice — just 25.5 percent. Of that same group of forwards, Couturier also started the highest percentage of shifts in the defensive end of the ice — 38.7 percent of his total 5v5 shifts"
Dig even deeper.
Sean Couturier was just one of four Flyer forwards who finished as a plus this season (+4). Not anything to be overly impressed about, until you realized who he played with. For most of the season, Couturier skated along side RJ Umberger and Matt Read. Read finished the season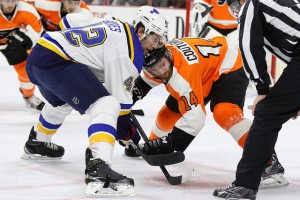 minus-4, and Umberger finished the season a team worst minus-9.
It gets better.
Couturier's Corsi percentage was a 48.3% on the season. The guy Couturier spent most of his time playing alongside was Matt Read. His Corsi was 47%. When Couturier was apart from Read, his Corsi shot up to 52.9%  When Matt Read was apart from him, his Corsi plummeted to 43.1%. Combine those statistics with the fact that Couturier started almost 39% of his shifts in the defensive zone, and that speaks volumes about just how good the young forward is defensively. Not to mention the fact that he was between two of the worst defensive forwards on the team.
Give the kid some credit.
Steve Mason
As if Steve Mason wasn't sore enough from carrying this team all season, Craig Berube just took a shot right to his ego.
Craig Berube on whether Steve Mason can be a voice of leadership in the room: "He's got enough to worry about."

— Dave Isaac (@davegisaac) April 13, 2015
As we've said before, it's borderline torture.
For the first time in a very long time, the Flyers had a goalie who put up numbers that were worthy of considerations for the Vezina trophy.
Mason was arguably the Flyers MVP this season. Take him away from this team and I would say the Flyers could have easily finished in the bottom three of the league. He more than proved that he could be leader for this team, so where in the world does Craig Berube come up with a response like that?
Mason lost his mentor, played through injuries, played through questionable goaltending choices, and played behind an abysmal defense. What did he give? 110% every single time he was on the ice. That included an insane 46 save performance when the Flyers were long out of the playoffs. What more does a coach want to show leadership? More importantly, how many times can a coach throw him under the bus? Mind you, that comment came just a little while after Berube agreed that the Flyers need more leadership.
Mason has two more seasons left on his contract. He has already lost his goaltending coach, and if things keep going the way they are, it's hard to imagine he will want to stay in Philadelphia.
The Flyers have a goalie that they need to keep. He has been consistent through last year, and put up outstanding numbers behind a bad team this year. If Ron Hextall wants to avoid another goaltending carousel in Phialedelphia, he is most likely going to need to chose between Steve Mason and Craig Berube, and that choice should not be hard.
Matt is a contributor for the Philadelphia Flyers at The Hockey Writers. He has previously covered the Flyers for GrandstandU. He enjoys playing hockey and making music in his spare time.