Let's take a second and compare the Pittsburgh Penguins of 2013 and the Boston Bruins of 2014:
The Similarities are Stunning
March of 2013, the Penguins won 15 games outscoring opponents by 27 total goals. March of 2014, the Bruins won 15 games outscoring opponents by a 33 total total goals. Pittsburgh's stretch saw four shutouts. Boston's stretch saw three shutouts. The Penguins won the Eastern Conference in early April of 2013; Boston has clinched the Eastern Conference with multiple games to play still in the regular season. And lastly, both teams started the month of April off rough dropping a couple of games and playing poorly.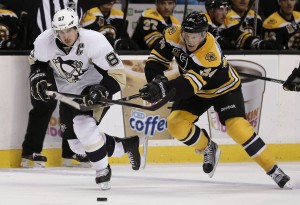 Pittsburgh has since said that last March was to easy for them and they didn't feel that they were ready for the playoffs, in particular the series with Boston. If you flip the scale and examine Boston in March of 2013 and the Penguins in March of 2014, you see a lot of the same trends. Boston struggled last March before hitting their stride and winning the Eastern conference. Pittsburgh has seen nearly all of their talent sidelined by injury and have dropped a few try ugly hockey matches. Could it be that the tables have turned in 2014?
The Common Factor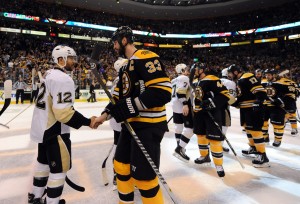 I can't finish these comparisons off without mentioning the one common factor between these two teams: Jarome Iginla. Iginla was supposed to go to the Bruins a year ago and then decided against it last minute. Iginla played well for the Pens, but nothing extraordinary. He then signed with Boston in the off-season and during the month of March played absolutely incredible. But is Iginla carrying a curse with him? He is, after all, one of the few great NHL legends who will likely be first ballot Hall of Famers, but have never won a cup.
There is a reason why they play the game. As of now, all of this is speculation, but as everyone is taught in grade-school, history tend to repeat itself. Watch out Boston, the Pens are bringing the brooms.
Be sure to jump into the action on twitter by using the hashtag #THW.
Smith works full time with Rise Against Hunger, a non-profit set on ending world hunger by 2030. He's a hockey enthusiast living in Pittsburgh, PA and formerly covered the Pittsburgh Penguins for THW.
Follow him on twitter @BSmithWV