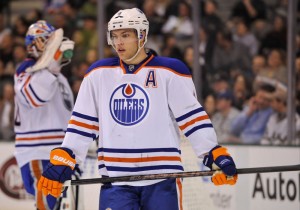 In 2010, Taylor Hall's draft year, there was a seemingly endless debate over who should be the number one pick. Would it be Taylor Hall, or Tyler Seguin? Both had similar numbers in Junior. Both were forwards. Both had a strong skill set.
Taylor vs. Tyler
Ultimately, the Oilers went with Hall. Seguin went to the Boston Bruins (thanks to a trade), and promptly won the Stanley Cup that year. But perceived off-ice problems forced the Bruins to send him packing to the Dallas Stars. Seguin is having a career year, as the Stars fight for a playoff spot. He has found tremendous chemistry with Jamie Benn and seems to be the perfect fit for the Stars.
Hall has been an Oiler since he was drafted first overall, and has enjoyed little team success as Edmonton continues to toil in the NHL basement. Both players are 22 years old, so it's probably still too soon to debate which is the better player. But stats-wise, Hall has the slight edge. In 243 games, he has 92 goals and 222 points, playing for a terrible team. Tyler Seguin has 92 goals and 203 points in 279 regular season games, most of the while playing for a much better team. However, Hall usually plays on the top line, whereas Seguin saw limited minutes at times during his stint in Boston.
But, it's still too close to call. Ultimately, the Oilers are likely extremely pleased with their choice of Taylor Hall, as he is quickly emerging as one of the better wingers in the league.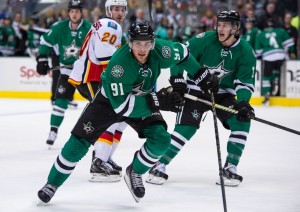 Hall Continues to Move Up in League Scoring
Taylor Hall is currently 7th in league scoring with 27 goals and 77 points. He's also played the fewest games of all players in the top 10 (72). He's already surpassed his career high in assists and points, and with one more goal he will have reached a career high in that category as well.
Hall's overall numbers are impressive, considering the team he plays for, and also considering the tough luck with injuries he's had. In his rookie season, Hall played 65 games, and then 61 the following year. But he's been relatively healthy since then, and the Oilers are counting on that continuing. Early in his career, Hall would often play with somewhat of a reckless style, putting him at risk for injury. But he's seemed to have turned a corner in that regard. If he continues his scoring pace over the last three games of the season he should stay in the top-10 in scoring. It's an accomplishment for a player who largely flies under the radar.
Taylor has placed high expectations on himself. He knows the team needs him to the be a star. He certainly has the goods to do that.
"I'd like to think that's where I should be," Hall said. "I think I've kind of set a game for myself where people know what to expect from me and they know what I'm going to produce. I'd like to be one of the top left wingers in the league and I'm right up there (second only to Patrick Sharp in Chicago). I still have a lot of places to improve on. It's nice to have a full season where I've done well and played with great players." [Edmonton Sun]
Hall is the NHL's first star of the week. Obviously he would rather have team success, but his growth as a player, and a leader is not lost on anyone. It's likely he will be the team's captain in the future. Many say that Taylor Hall is on his way to becoming a star, but anyone associated with the Oilers would argue that he already is one, and he's only going to get better. Let's just hope his team follows suite.