The New York Rangers are headed for Game 3 of their first-round series against the Pittsburgh Penguins tied at 1-1. Thus far both teams have had to deal with critical injuries which paved the way for players like Jeff Zatkoff and Brady Skjei to make impressive appearances. Following Game 1, Rangers' defenseman Dan Girardi was listed as day-to-day which opened the door for Dylan McIlrath to dress in his first playoff game. Now with the series set to continue New York has called up veteran right-handed defender Raphael Diaz, combine that with Ryan McDonagh returning to practice and fans are wondering if the team will keep their gritty young defender in the lineup. He wasn't terrific in his first playoff appearance, but he certainly wasn't bad, and you could make the case that some veterans on the team have been worse. If the Rangers win this series, they will need more of what McIlrath brings, not less.
Boyle It Down
It's only been two games, but Dan Boyle hasn't been great. It seems like he never makes that great offensive play and in his end, he appears to struggle to keep it together. Boyle has lost a step, and when your 5'11", not that fast and not that physical it only spells trouble. One of the ugly plays came on a goal that gave Pittsburgh a 3-1 lead in Game 1. Boyle was up the ice on the man advantage but when the play turned the veteran rearguard hardly took a stride to get back on defense.
To be fair, every single Ranger on the ice lacked hustle and execution on the defensive side of the puck, not just Boyle. New Yorks' Head Coach Alain Vigneault did notice the lack of effort coming back, which seems especially unacceptable when the games mean so much.
AV calls out two #NYR who "didn't even take a stride to get back"on Kuhnhackl goal. Miller/Boyle caught watching. Says Yandle misplayed 2on1

— Pat Leonard (@PLeonardNYDN) April 14, 2016
Back in February, I wrote about Boyle and how I thought his game could be an issue come playoff time; now we're here, and number 22 just looks like he's fighting it. I'm not saying that he has to watch the rest of the postseason from afar, I just think that one or two games off could shoot some life into his legs. Better to have a Boyle at full strength than a man that looks (and probably is) exhausted.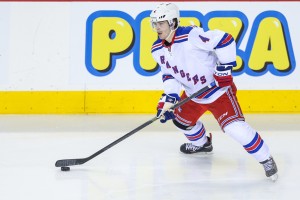 Is Diaz a Good Option?
Diaz is a good defenseman; he has 201 NHL games under his belt and this season in the minors he had 21 points in 37 contests. Still he's been in the AHL all season. Injuries did play a big part in keeping him there, but the fact is he's still only an option when a few guys are hurt. Vigneault spoke to the media following practice about what the defender could bring, "We know him well, he's a defenseman that can help out on the power-play and that can move the puck. He's got NHL experience; he's got playoff experience.  So he's good depth for us at this time. If we need him, he's ready."

Diaz was good for the Rangers when they made a run at the Stanley Cup back in 2014, but he hardly has any experience playing with this years team. Against a Penguins team with considerable firepower, it seems like a bad idea to have two defenders in the lineup who are unfamiliar with the rest of the club. Diaz is the better offensive option than McIlrath, but at the moment, this team needs stability on the back-end.
My Take
Playoff hockey between rivals always has a way of bringing out grit, and that element is something that McIlrath has in abundance. But big hockey isn't just hitting and fighting; it's the ability to close off the wall and eliminate speed, along with the capacity to make a straight forward play, which the can be a struggle with the Rangers. In other words, sometimes New York gets too cute, and it seems like having at least a few guys that play a north-south game can break the Rangers' issues with over passing.
McIlrath only played 9:07 in one playoff game. It's nothing to get too excited about, but it's a start and everyone starts somewhere. He's earned his spot on this team with a sturdy regular season where he had four points in 34 games played with a +7 rating. In Game 1 I thought the big defender did a good job of getting the puck out of the zone, and engaging in front of the net. I expect him to be in the lineup for Game 3 but in the words of Coach Vigneault, "Stranger things have happened."
I graduated from Brooklyn College with a B.S. in Broadcast Journalism. Shortly after, I began writing for the Full Tilt Hockey Network, where I still contribute, covering a broad range of topics across the NHL.
I have been contributing to The Hockey Writers since February of this year focusing on the New York Rangers. My articles tend to focus on analysis of players, and possible directions that the organization could go.